Hi friends from Goal.com, Diego Restrepo here. After a tough start to the season, which I had touched on in the previous blog, these last two weeks have been very positive. The team has gotten some good results, and for me personally, I had the opportunity to debut in Venezuela as an Aurinegro.
The last couple of weeks we played two league games and one Copa Venezuela match. Sunday, Aug. 19 we had a long bus trip to face Yaracuyanos FC in the city of San Felipe. The bus trip was about 12 hours, and San Felipe is historically a tough place to get a positive result at. Still, the team played very well, very organized defensively, with a pair of clear chances for us to take the three points home. At the end, it was a 0-0 draw, and we took home our first point of the 2012 Venezuelan league.
This last Sunday we had our second home game, at Pueblo Nuevo Stadium, where we faced Monagas F.C. and we finally got to showcase the type of soccer this squad was put together for. In a very entertaining game, our team played well, we won, and we scored plenty of goals. The 3-0 score line was decisive, and we could've scored more. Táchira showcased cohesive play, with plenty of flare and the fans left Pueblo Nuevo smiling and happy, hopeful for the rest of the season.
On the personal front, I was the backup GK for all three league games, working hard every day in practice and being a positive locker room presence, waiting for my shot to be able to showcase myself in a competitive match. Yesterday, Aug. 29, after 7 months of being a member of Deportivo Táchira, my number was called and I got to debut officially in Venezuela.
My first game was against second division outfit San Antonio F.C., and the match was our Copa Venezuela opener. The way the competition works, first and second division squads get matched up to play a home and away series, with aggregate scoring rules in effect and the winner moving on to the next round.
Ironically, our game was played at San Antonio, a couple of yards away from the Bolivar Bridge, which is at the border that divides Colombia and Venezuela. The San Cristobal media had a funny and catchy headline for the game: The keeper without borders debuts at the border, referencing my Venezuelan background by birth, and Colombian background of my parents and the place I grew up as a kid.
On paper, you would think the game would not have been too difficult for us. Coach Contreras did not mix up our first-string starting eleven very much at all, with only a few changes to the lineup, me being one of them. Also, our roster is very deep, filled with very skilled players, and the team we were facing is a second division club, without the resources of a team like Deportivo Táchira. As it often happens in soccer and sports, what people see on paper is usually not how things work out on game-day.
San Antonio's squad is full of veteran players with long resumes, mixed with young up-and-coming pros, and the opportunity for them to face a big team like Táchira definitely brought out 100% effort from their side. You add to that, the field conditions and the weather and suddenly both squads are facing each other on even terms.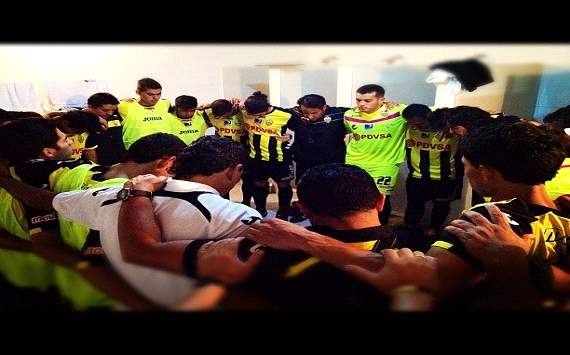 The game was played on a converted baseball stadium, with a very tough and uneven field of play, which made every shot an adventure, as the ball would bounce like a football after a punt. You add to that, tropical storm-like gusts of winds, which made the flight of the ball totally unreadable, and gave a distinct advantage to the team that had the wind (them in the first half, us in the second). All those factors made it a perfect trap game, with an upset a definite possibility.
It was an extremely physical game, very choppy, lacking fluidity. It was also a game where both squads played with courage and both had a strong will to win. The setting was also very cool, with a full stadium, and our supporters group, La Avalancha Sur (The Southern Avalanche), making the trip in great numbers, creating a festive atmosphere in the stands.
As far as my performance, I had a very good feeling going into the game. I have been working very hard since before the start of pre-season, I felt in great form coming into the match, and thankfully I was able to showcase myself with several important plays throughout the game. One of my strong points is my ability to secure shots, allowing very little rebounds and overall having strong hands, which yesterday was helpful with dealing with the wind and the crazy bounces due to the uneven turf. I'm also known as a keeper with good positioning and quick reflexes, which both came into play at a critical juncture in the game. In the 85th minute, San Antonio had a corner kick, which was played at the heart of the box. Their forward head-passed the ball to an open player five feet in front of the goal line, and he headed the ball hard and low. Thankfully I was able to shift my position during the play, and get low quick enough to make the save and keep the clean sheet. The game ended in a 0-0 draw, which we considered a positive result. Even though we are not happy that we didn't get the W, we are definitely satisfied with our collective team effort, specially playing under such tricky conditions.
As far as my performance, the local media named me man of the match after the game, which motivates me to keep working hard, stay focused and continue to push for more minutes. The only thing that would've made my debut sweeter would've been a victory. But it was a result that leaves us in great shape to move forward in the Copa, since the return game will be played at home, in our stadium in front of our fans, where we will be able to showcase our style of soccer.
That's it for this week, enjoy the FIFA dates and World Cup Qualifiers next week.
All the best!
Diego Restrepo
Facebook.com/DiegoRestrepoGK