Hello, Goal.com friends and readers, Diego Restrepo here.
For this blog entry I wanted to focus on the last couple of weeks, mainly pre-season training camp. The team got back together for training in San Cristobal first, 25 first team players and ten youth players were called in for camp, three first-team keepers and two youth keepers. We started off with conditioning tests in order to assess how everybody was physically after our time off. My hard work at the gym definitely paid off, as I did very well in our tests. The team was divided into different work groups based on fitness level, and I was placed in the top group, the only keeper there.
With the first part of camp over, we headed to Margarita Island, in the Caribbean, for three-a-day training sessions on the beach. Margarita was fun, it was great team bonding time, but it was very demanding physically and mentally. We would wake up at 5 a.m. for beach runs, then we would have a second training session at noon where we would do explosive exercises in the sand, and in the afternoon/evening our third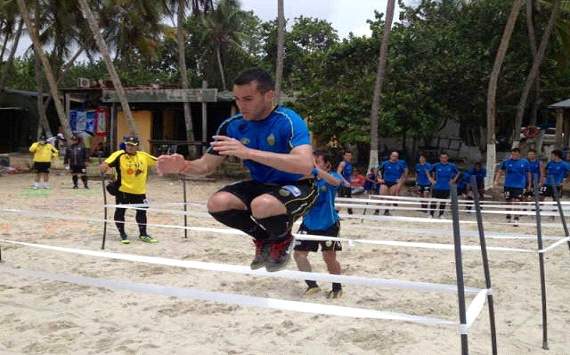 session would be on training pitch where we would do ball and soccer work. We also had a couple of pre-season games where I was placed with the second team, and we did pretty well. We won both of our matches, and I kept a clean sheet in both games, so I was really happy with both our work as a team and my individual performance. The goals during camp are twofold for me: Obviously you want the team to do well and be as prepared as possible, but also there's the personal goal of being in the best shape and form possible, so the coaching staff can feel comfortable in calling my number during competition.
After a long week in Margarita, the coaching staff called an 18 man roster to travel to Mexico for a friendly match against San Luis, of the Mexican Primera. Two keepers were called for the trip, Roberto Rivas the veteran starter, and me to serve as his back-up. It was a great trip, where I ran into a former teammate from America de Cali, Andres Cadavid, who recently signed with San Luis.
The game was hard fought, with chances for both squads. The final score was 2-1, and I got to play in about 15 minutes in the second half, which was very exciting. I was very happy to make the trip, since it placed me in the coaches' eyes as the back-up going into the season, having beaten out the other three keepers in the roster. Now my job shifts to competing directly with Roberts every day, and supporting him on gameday as much as possible. We have strong goalkeeping corps at Táchira, and daily competing between all of us has helped elevate everybody's game.
After the Mexico trip, our focus shifted immediately to our first official match, the first round of the Copa Sudamericana vs. Barcelona of Guayaquil, the Ecuadorian Champions. If the Copa Libertadores is the Champions League of South America, then the Copa Sudamericana is the Europa League equivalent. It is an international tournament, with teams from every South American country in competition. The way it works, is that after the draw, every team is place in a two league bracket. Our bracket with Barcelona had us opening at home, and then going to Ecuador for the second league.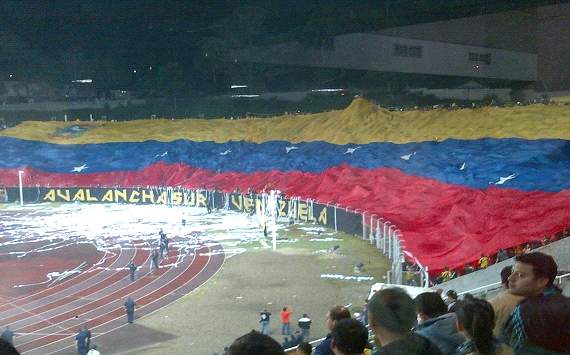 We played the opener last Wednesday, and I made the first-team squad again for the first match. We were at a disadvantage going into the game, because we hadn't played a competitive match in about two months, and Barcelona is in full form since the Ecuadorian tournament has been going on full swing for a while now. Regardless, we played a good match, with a couple of chances to go ahead, specially late in the game. The final was a 0-0, which means we go to Ecuador needing a result.
Any win by us, or any draw with goals (1-1, 2-2, etc.) and we qualify since away goal rules are in effect. Another 0-0 and we to PK's, and obviously any Barcelona win and they go through. So everything is still on the table to play for, and we're excited for the opportunity.
That's a quick look at our pre-season and first match of the year. Next week I'll let you guys know how we did in Ecuador and I'll introduce you guys to my family, who has made the trip down to San Cristobal with me.
Until next time!
Diego Restrepo
Facebook.com/DiegoRestrepoGK
Goal.com has a new podcast! Goal Daily Podcast is a MUST for all Soccer fans and discusses the very latest news and views. What's more when you sign up the service is FREE for the first month and you can cancel anytime.