Hello friends of Goal.com!
My name is Diego Restrepo. I am a Venezuelan-born, Colombian-raised and American-made professional goalkeeper. The fine folks of Goal.com were gracious enough to give me this space to blog about my life and work as a soccer player in South America. The idea is to post an entry every couple of weeks to give you guys a behind-the-scenes look at my life as a player in this soccer-mad part of the world, as well as give you a sense of the ups and downs of a soccer season.
For this first entry, I figured I would give you a bit of background on my life and my career up to this point. I was born in Merida, Venezuela, in February of 1988. Both of my parents were born in Colombia, and while visiting family in Venezuela my mom found out she was pregnant with me - talk about a nice surprise in the middle of a vacation! Shortly after being born, my parents decided to move to Colombia and raise both myself and older brother Alfonso in the city where they grew up: Cali, Colombia.
I had a great childhood in Cali, playing soccer for fun starting at a very young age. My brother tells me that I would crawl with a soccer ball before I could even walk, so I guess I was born with the love of the beautiful game. Colombia is a soccer-mad country, so that only fueled my love for the sport. At age 11, my folks decided it was time to move to the United States for me and my brother's upper education.
Both my parents met and got married in the States; my dad was a naturalized citizen and my mom a resident. My brother was born in Miami, and I was an American citizen due to my dad's citizen status, and their plan was always to have us do high school and college in the States.
Once in the U.S., I started playing organized soccer and went through the youth ranks in Florida: AYSO,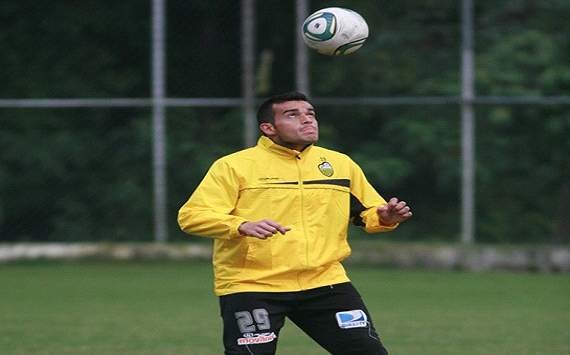 club/travel teams, high school, ODP, and finally in 2005 I was invited to the U.S. Soccer Residency Program in Bradenton, Fla. Once in Bradenton, I was selected to be part of the 2005 USA U-17 men's national team World Cup squad. I participated as the No. 2 GK for the U.S. in the 2005 U-17 World Cup in Peru, and during this tournament I realized that my ultimate goal in soccer was to be a professional at the highest levels.
After residency, I received a scholarship to play for The University of South Florida, where I was part of the squad for a couple of seasons. After my time at USF, I received an opportunity to play for the (arguably) most prestigious college soccer program in the country, The University of Virginia. My time at UVA was amazing. During my first season we won it all, and my defense and I shattered records that had stood for over 20 years.
With my college career coming to a close, it was time to look at the next step, the professional ranks. During my time in youth soccer and in college, I had the opportunity to train by invitation with several professional clubs all over the world, including Reading (England), A.C. Arezzo (Italy), Deportivo La Coruña (Spain), Sporting Lokeren (Belguim), among others. I think having these experiences as well as my international background helped me have multiple options when it came time to jump into the pro-ranks, not just having the MLS route.
I received an invitation for a trial with America de Cali, historically a Colombian and South American powerhouse, and I jumped at the opportunity. The trial was before the MLS draft, so I figured I had nothing to lose. It was a no-risk proposition. After a successful trial, I signed with America where I played all of 2011, made my professional debut and got to play on some pretty big games. In December, another South American club, Venezuelan champion Deportivo Tachira, signed me on. So now, I'm back to the country of my birth, as the backup GK for the "Aurinegros". In a sense you can say my life has gone full circle, back to where it all started – literally.
So that's a bit about me and my journey. I look forward to sharing my experiences with all the Goal.com readers in the coming months!
All the best!
Diego Restrepo
Facebook.com/DiegoRestrepoGK
Goal.com has a new podcast! Goal Daily Podcast is a MUST for all Soccer fans and discusses the very latest news and views. What's more when you sign up the service is FREE for the first month and you can cancel anytime.