Hey Goal.com readers,
This is Brek Shea (
@BrekShea
), left winger for FC Dallas and the United States national team. The past few months have been crazy. A lot of new experiences, a lot of traveling, and training. I think they're all experiences that are going to help me with the upcoming season.
The win against Italy was definitely memorable
It was a lot of fun getting a chance to play against a team like that, getting to go against guys like Andrea Pirlo and Gianluighi Buffon. Getting that win, it was the first time we ever beat them so it was special to be a part of that.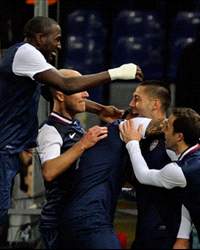 Even if everything came together on short notice, having a chance to go to Genoa is impossible to turn down. I remember getting the text message from Jurgen Klinsmann a couple days before the game in Genoa saying he needed me to play with the senior squad due to injuries. Within a few hours, I was heading to the airport to board a flight for Italy.
No matter how many times Jurgen sends a text message, there's always a shock or elevated level of priority when hearing from him. The message was literally like: "Hey Brek, its Jurgen. I'm going to bring you to Italy." Nothing too big but still getting a text from him is pretty cool. He communicates a lot with the guys in the national pool whether it's texting or calling.

Genoa is a pretty cool little city


I think it was my first time in Italy (I travel a lot). The city was cool, there was a bay there and it was real colorful and mountainous. The water was pretty.
As some of you may know,
I am into art
but I didn't get to see much of the city while I was there. Since I was only really there for two days, between travel, jet lag and the game itself I didn't get to see much of the city except for drive in and out of town.
Back to the game itself.
Having a chance to play against Italy, which is known for its strong defense, was exciting as an offensive player. People ask whether or not I get nervous for games against big teams but to be honest, I get nervous every time I play whether it's with FC Dallas or the national team. Under Jurgen, we've played against big teams like France, Belgium and Italy, guys that I've seen play in the World Cup or on club matches in Europe, so it's pretty crazy to be on the same field as them.
The international game is fast
The biggest adjustment of playing with the national team versus playing in Major League Soccer is the speed of the game.
It's always a learning experience but it adds to your game playing with the best of your country and going against top competition.
Every time you play for the national team it's a whole new level. Putting on the crest and representing the whole country, you dig a little bit deeper than you normally would. Not saying that you don't play hard for your club, but it's just a different feeling on the national level. Playing with guys like that on the national team stage, you can't really explain that feeling.
It was a pretty busy offseason for me

Between training with Arsenal, playing in the United States January camp and preseason, I think those things are all going to help me this year.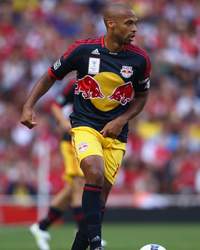 Aside from learning from top coaches and training with some of the best players in the world, the best thing about the experience was seeing how down to earth those guys are. Even now, I still stay in touch with players on twitter.
But getting back home was fun too
.
I am from Texas and you really appreciate having the chance to chill with your friends and relax. A typical night includes video games. I love Call of Duty even though I am not too sold on the new one. I like the Black Ops one better.
Our home opener is against the New York Red Bulls and we want payback for what happened in the playoffs. For some reason or another, I think there's a bit of rivalry growing between both sides. I think it's because they are such a big team with big-named players Thierry Henry and Rafa Marquez. And considering what we've done these past couple of years, we want to show what we're capable.
I think it makes it out to be a big game, which is good. It makes it more fun to play in when the hype is like that.
Alright everyone, hope you enjoyed the first post. Stay tuned, and there's definitely more on the way,
-Brek
Think you've got the talent and hunger to train like an elite athlete? Prove your skills, show your side in action and get people talking about your game. Getting noticed starts here. Stand Up, Stand Out.