Arsenal's mutiny could spell the end of Wenger's regime, Pepe needs to get help, Dempsey and Bradley's adventures outside the U.S. intrigue.
Arsenal's loss to Manchester United on Sunday will not be remembered for United's ability to keep pace at the top of the table with its rival Manchester City. It will not be remembered for Ryan Giggs's cross of perfection and Antonio Valencia's header of equal perfection for United's first.

And Arsenal's loss will not be remembered for Andrei Arshavin's inability to stay with Antonio Valencia that resulted in the winner. No, Arsenal's loss will be remembered for the mutiny of the Arsenal captain and the Arsenal fans.
Arsenal has now lost eight Premier League games including three on the trot to Fulham, Swansea and Manchester United. The last is acceptable, the previous two wholly unacceptable for a club that has found a normal home on Tuesdays and Wednesdays in the Champions League.
The substitution of Alex Oxlade-Chamberlain could well be a watershed moment in Arsenal's already rollercoaster of a season. For Robin Van Persie to visibly be questioning his manager at the substitution of Oxlade-Chamberlain for Andrei Arsahvin will surely have repercussions.

The ground under Arsene Wenger is shaky. When your own fans are singing "There's only one Arsene Wenger" with just a hint of sarcasm in their tone it is clear to see that Wenger's time at Arsenal could well be over if the team fails to qualify for the Champions League, as some are predicting.

It has been suggested that Wenger's obsession with youth has been to the detriment of Arsenal, but to play the other side of that coin it is his very obsession with youth that has brought Oxlade-Chamberlain to our attention. So it is with bewilderment that he chose to substitute the 18-year-old on Sunday in direct opposition of why the youngster was chosen in the first place.

To the neutral and I suspect to the fanatical Arsenal fan the teenager was Arsenal's best player on Sunday (although Djourou might think otherwise) and did not appear tired, despite suggestions that he had been unwell since last Sunday. So we are perplexed to know why Wenger chose him in the first place and if he was well enough to start and surely at 18 he should be well enough to complete the game. Arsenal has become one long and winding contradiction.
In his press conference after the game Wenger once again trotted out the same old tired comments. He spoke of how his side lacked the maturity and experience against a club like Manchester United. But he does not examine the fact that Arsenal has lost 10 of the last 13 games versus United and he makes these claims as if he has not been saying the exact same thing for the last five years.
Whatever shortcomings Arsenal might have, the responsibility for those shortcomings is his.
It will be only fitting for Wenger to fall on his sword if and when Arsenal fails to qualify for next season's Champions League. In addition, the team would then be surely right on schedule to lose the best finisher in the Premier League. Wenger gambled and he has lost to this point, and with those loses the only thing left are consequences. A season without the Champions League should be a consequence that even Arsene Wenger cannot overcome.
Pepe becomes the poster-child for the kid who does not get his way
Last week's Clasico in Madrid was an illuminating match. It started as many of the recent games between these two giants have. Real Madrid controlled the opening salvos and looked very comfortable at 0-0 and even more comfortable on 10 minutes when Ronaldo put Los Blancos in front with a well-taken goal.
That was the high point for Real Madrid as Barcelona took control of the rest of the game and while it should have been level by the interval there was never any doubt what was coming.
The score is not what I am interested in concentrating on, but rather the utter loss of mental control, fouling and play-acting from Real Madrid, which usually becomes directly proportional to Barcelona's stranglehold on a game.
Even the Madrid media have started to call the club out over this. Not so much for its overall play but for its behavior and the player who is quite correctly singled out for the most criticism is Pepe.
There was the fight on the training ground with Javier Balboa in 2007 and then there was THE incident in April 2009 vs. Getafe. Tied 2-2, Pepe brought down Javier Casquero in the area and then kicked Casquero in the shins and then again in the lower back and did so violently. He then pushed his head into the turf and hit Juan Angel Albin in the face as he exited the pitch. He was suspended for 10 games by the league but the club took no action.
Pepe's violent and churlish behavior in the Clasico's is well documented but his latest disgrace was stepping intentionally on the hand of Lionel Messi just after giving him a knee to his body while he was still on the ground after yet another cynical Madrid tackle on the world's best player. The fact he has the nerve to claim it was not intentional is a joke of monumental proportions as you can see him change the pace of his steps in order to step on Messi's hand.
The point is that Pepe seems unable to control himself. Sure when Real Madrid is hammering someone 5-0 he is just fine and can be relied upon to play a complete game, both in terms of performance and time on the pitch and to do so without incident.
But when the stakes get bigger as they usually are against Barcelona he cannot control himself whenever the tide turns in a game and the pressure mounts. In fact, Pepe becomes the poster-child for the kid who does not get his way and pulls a tantrum because he does not have the mental skills to know how to react in the face of adversity.
He is a player who has anger control issues and so it begs the question what is the responsibility of the club and the league to do something about it? When does he become not just a danger to his team but to the opposition?
Mourinho said that if it were intentional he would punish Pepe. Mourinho has accepted Pepe's version of events but has given Pepe a 15-day leave of absence anyway. It is not punishment per se, more like 15 mental health days. Real Madrid should be partially commended for this action but they do not go far enough.
Pepe should be given an extended leave from the game. He has become dangerous and it is clear that in the heat of battle he cannot control himself and with every continued defeat to Barcelona his behavior is seemingly coming closer and closer to the edge.
Something needs to be done for Pepe, not to him, before someone gets seriously hurt. It is for the good of the game and the opposition, but also for the good of the player who will, after all, need a satisfying life beyond football.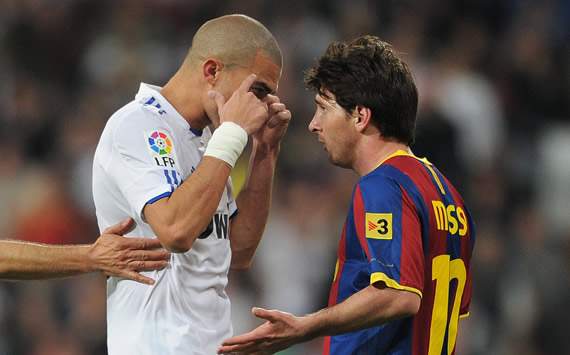 Clint Dempsey does work in Europe and Bob Bradley has work to do in Egypt
The debate over the best American player ever rages on and will continue to do so. The choices are crystal clear: Landon Donovan or Clint Dempsey.
From where I sit I think there is no argument: Clint Dempsey wins by a country mile and he wins because he has chosen to challenge himself at the highest level while Landon has chosen to compete in the relative mediocrity and comfort of MLS.
Clint scored yet another hat trick on the weekend for Fulham further solidifying, in my opinion, his status as the best American player ever produced. If scoring goals is indeed the hardest thing to do in football, he is not only doing it but he's doing it at the highest level.
Whether we care to admit it or not, the highest challenges in this sport lie beyond the shores of the U.S. and therefore, it's exciting to see how Bob Bradley will do with the Egyptian national team. He has chosen to challenge himself in the tradition that Clint Dempsey has adopted.
His work is certainly cut out for him as Egypt has not qualified for the African Cup of Nations that is currently being played in Equatorial Guinea and a tournament that Egypt has won the last three times. Additionally it has not qualified for a World Cup since 1990. So Bob has serious challenges ahead beyond just the obvious cultural ones, which he is wrestling with as evidenced by his choice to move to Cairo and immerse himself fully in the job.
But it is only with American coaches making themselves available for such positions that the coaching in the U.S. will ever get better and so I hope Bradley is successful. His first order of business will be qualifying for next years CAN (as it goes through a re-shuffle) and then of course the 2014 World Cup.
If he gets it done then Egypt's footballing Arab Spring will have an American at its helm. Bradley will become the blueprint for other American coaches who, just likes its players, need to challenge themselves beyond their comfort zones and that will always inevitably be away from the U.S.
Until then…