D.C. United returns to the top ten in this week's Rankings after posting a 1-0 victory at New York on Saturday night.
1. Los Angeles – When in doubt, rely on David Beckham's set pieces. (1)
2. Seattle – Mighty impressive effort from Sounders FC to extend its unbeaten run to eight matches with that gutsy 3-2 win at Portland. (4)
3. Real Salt Lake – The home victory over FCD dispatched a fairly important mental hurdle – the apparent infallibility of Kevin Hartman – in time for Tuesday's Lamar Hunt U.S. Open Cup quarterfinal in Frisco. The win won't hurt if the two teams come together down the line in a potential playoff rematch, either. (3)
4. FC Dallas – Oh, Jackson. There's always a talking point or two with you, isn't there? (2)
5. Philadelphia – Another road match, another point gained by determination and grit. (5)
6. New York – Saturday night represented the classic letdown game, didn't it? (6)
7. Sporting Kansas City – Tough to argue with a ten-match unbeaten streak, but Peter Vermes likely won't accept the performance his side submitted in the first half of Saturday's 1-1 home draw with Chivas USA. (7)
8. Colorado – Conor Casey picked the right time to string together his recent scoring binge. (8)
9. Columbus – The Jeff Cunningham watch commences with San Jose's visit on Saturday night. (9)
10. D.C. United – Could this victory at New York serve as a coming of age moment for Ben Olsen's young side? (11)
11. Houston – One sure sign of an easy night at the office: Brad Davis trudges off the field with 25 minutes to play. (13)
12. San Jose – Function ruled the day over form in Saturday's 0-0 home draw with Philadelphia. Now the Earthquakes must build upon this result by addressing their concerns in front of goal after posting four scoreless outings in their past five matches. (10)
13. Chicago – Tough to determine Frank Klopas' most pressing source of frustration after Saturday's 2-1 defeat at Los Angeles: two set piece goals conceded or one scything tackle by Chris Birchall on the lively Patrick Nyarko. (12)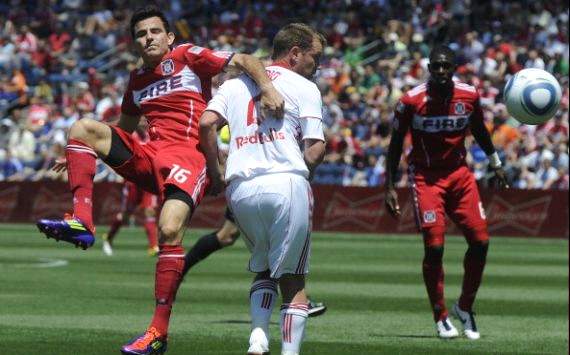 14. Chivas USA – Nick LaBrocca deserves a spot in the 32-man All-Star squad. (15)
15. Portland – Step one for the Timbers during the summer transfer window: sign another central midfielder to facilitate the switch to the new 4-1-4-1 approach. (14)
16. New England – Huge week on tap for the rested Revs: Manchester United visits on Wednesday before Philadelphia travels up I-95 for a vital clash on Sunday. (17)
17. Vancouver – Give credit to a youthful Whitecaps side for its earnest effort in Saturday's 2-1 defeat at Colorado. Will the highly touted signing set to be unveiled on Tuesday morning add the necessary bit of quality once the transfer window opens? (18)
18. Toronto FC – Two expensive foreign signings won't stop the rot. (16)
Kyle McCarthy writes the Monday MLS Breakdown and frequently writes opinion pieces during the week for Goal.com. He also covers the New England Revolution for the Boston Herald and MLSsoccer.com. Contact him with your questions or comments at kyle.mccarthy@goal.com and follow him on Twitter by clicking here.
Follow Goal.com on

to get the latest soccer news directly. Check out Goal.com's

page; be part of the best soccer fan community in the world!