It's early May, which means there's less than a month before full-blown transfer frenzy begins.
England's transfer window opens on June 9 and applying for the rest of Europe starts on July 1. Though there isn't a proven star like Clint Dempsey available, several impact American players will be on the market.
Speculation continues to follow Jozy Altidore after a record-breaking 30-goal (and counting) season in Holland, and there will be plenty of suitors for young LA Galaxy defender Omar Gonzalez, whose contract comes to an end in December.
Top American Transfer Candidates:
Gonzalez - 24 years old, CB - LA Galaxy


Gonzalez's rise is extraordinary considering his recovery from a severe ACL tear just a season ago. Some players never completely come back from that injury but Gonzalez has actually improved and is the Galaxy's second-best player after striker Robbie Keane.
With his deal ending at the end of the season, Gonzalez can either join a team for cheap this summer or leave on a free in January. His agent Richard Motzkin wouldn't rule out either possibility for Gonzalez.
"Omar is open-minded [about both options]," Motzkin told Goal.com in a phone interview.
Outside of the Galaxy - who are clearly interested in re-signing Gonzalez - Motzkin stated that there is legitimate interest from clubs in Mexico's Liga MX, England's Premier League and Germany's Bundesliga.
While there is only seven months remaining on his contract, Motzkin insists that Gonzalez is focused on the Galaxy's current season and his future with the U.S. national team. Gonzalez's decision will be determined by where he sees a possibility to improve and cement a role in Jurgen Klinsmann's team.
"Omar's priority is remaining grounded and focusing on playing well for the Galaxy. He's not taking anything for granted. He wants to be somewhere where he's playing regularly and continues to develop," Motzkin explained.
Jozy Altidore - 23 years old, FW - AZ Alkmaar


What hasn't been said about Altidore's stellar season at AZ?
Against Heerenveen last Friday, the former New York Red Bulls starlet showed his full range of ability, scoring in open play and on an astonishing free kick, to go along with an assist. After bouncing from club to club early in his spell in Europe, it's clear that Altidore has found his comfort zone in Alkmaar. Now the focus is on whether or not it's time for him to leave.
The Dutch media continues to suggest that AZ will try to cash in on Altidore but that claim was strongly denied by general manager Earnie Stewart in an interview with Goal.com. Stewart insists that AZ would like keep the 23-year-old and revealed that the two parties have discussed a possible contract extension. However, there will be some interest in Altidore.
Prior to Altidore's record-breaking season, a source close to the striker confirmed that teams from England and Germany were looking at him. In December, it was also revealed that a club from Russia was interested in Altidore. Now that Altidore sits near the top of the Eredivisie in scoring, more tempting options may emerge heading into the summer. Stay tuned.
Juan Agudelo - 20 years old, FW - Chivas USA
Agudelo continues to be an enigma as his production doesn't match his vast potential.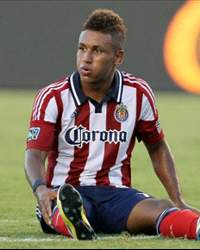 The ability is clearly there as Agudelo has the skill to become an elite striker. The problem is putting it together. Agudelo has scored only 11 goals in 59 appearances for both the New York Red Bulls and Chivas USA. Yes, it's unfair to solely point to the numbers and say that Agudelo isn't producing. Between injury and being stuck on a poor Chivas USA squad last year, it has been difficult for Agudelo to find the consistency to develop confidence in front of goal. All of that could change as soon as this summer.
Similar to Gonzalez, Agudelo's contract expires at season's end. Agudelo almost moved to Celtic this past January and he has impressed in trials with Liverpool and Stuttgart. Prior to this season, a source close to Agudelo mentioned that he would be interested in remaining with MLS if he had a Designated Player deal similar to the one Brek Shea had while with FC Dallas, but it is more likely that Agudelo will play out his contract and try his hand in Europe. His retweet of
Sky Sports
saying that he was close to joining Celtic proves that desire.
Herculez Gomez - 31 years old, FW - Santos Laguna:
Sports Illustrated's
Grant Wahl reported earlier in the week that Toronto FC (yikes) and the Seattle Sounders are interested in the United States striker, which was only fueled further by Gomez humorously tweeting MLS commissioner Don Garber about why Sporting KC still holds his rights. Gomez's agent Motzkin wouldn't confirm or deny the report, and neither have Seattle or Toronto.
"He still has one more year on his Santos contract, so [it's] unclear what will happen," Motzkin told Goal.com.
Carlos Bocanegra - 34 years old, CB - Racing Santander (on loan from Rangers
)
Bocanegra's future with the U.S. depends on this summer. It's no secret that Bocanegra wants to return to Rangers, despite Klinsmann strongly advising against it. If Bocanegra decides to continue to vie for U.S. spot, there will be a few MLS clubs interested in the [likely former] U.S. captain.
Here's a crazy suggestion: Why not join the Galaxy? It would be complicated to steer out of MLS's archaic lottery process for American-born players and make it work within the stringent MLS salary cap, but LA always finds a way to bend rules in its favor.
Bocanegra grew up 40 minutes away from LA in Alta Loma, Calif. and constantly chronicles his search for all things California (Mexican food, sunny beaches) in his stops in Europe. Returning to his home state would likely be the best way of tempting Bocanegra to rejoin MLS after a nine-year absence. He could fill in at left back for this season and then next season replace Gonzalez in the middle if Gonzalez leaves the club. Not to mention, Bocanegra might be able to motivate fellow U.S. international Landon Donovan, a free agent at season's end, to re-up for another season or two.
Follow Alex Labidou on

Free Kicks:
Barcelona's decline is similar to the mid-90s Dallas Cowboys...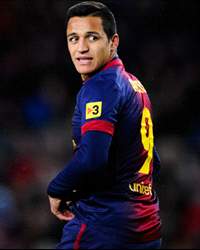 Years of stubbornly focusing on offensive side of the ball has hurt Barcelona when it comes to competing with Europe's best. In the same brazen way that the Cowboys were willing to deal away any young prospect or draft picks to sign the biggest names in the NFL, Barcelona neglected an aging and porous back line to sign unnecessary offensive talents.
Did Barca really need Alexis Sanchez or even Cesc Fabregas when it had Pedro and Thiago Alcântara waiting in the wings? That's 55 million euros that could have spent on strengthening a declining back line that features 35-year-old center back Carlos Puyol. Is Sandro Rosell running Barca or is Jerry Jones secretly pulling strings from his $1 billion playpen in Arlington, Texas? Thankfully for Barcelona, there's no salary cap or draft picks in European soccer, but it will be an expensive transfer window for the Catalan club to rebuild its defense.
It takes a scoreboard fire to pay attention to the Columbus Crew...


Sad state of affairs for one of MLS's pioneer clubs but true. For about 30 minutes, people were actually talking about the Crew on Twitter last weekend, which is about 30 minutes more than usual.
Nineteen days until the new Daft Punk album comes out....
If the rest of
Random Access Memories
is even half as good as
"Get Lucky"
with Pharrell, we are talking about a classic record and a few annoyed neighbors. It will definitely be blasted loud on heavy rotation at my apartment. May 21, folks!
What to watch:
Tottenham vs. Southampton -
Saturday, 10 a.m. ET - FSC
Spurs' Champions League hopes are hanging by a thread after dropping points against relegation-battler Wigan. At White Hart Lane, Tottenham has a chance to avoid repeating the club's poor finish last season. Andre Villas-Boas is on the hot seat for this one.
Prediction:
Spurs 2-1 Southampton
Columbus Crew vs. New York Red Bulls - Saturday, 4 p.m. ET - MLS LIVE
As poor as the Red Bulls have looked to start the season, the club somehow sits in second place. A win over the Crew would build confidence for rookie head coach Mike Petke, who took some criticism early in the season. (Count me among those early critics.)
Prediction:
Crew 2-2 New York
Liverpool vs. Everton - Sunday, 10 a.m. ET - FSC
Yes, some of the luster of the Merseyside derby has faded with Liverpool no longer one of the top four clubs in England, but its still one of the fiercely competitive fixtures in the EPL. Everton is still clinging on to faint hopes of making the Champions League and Liverpool is playing better without Luis Suarez (is that a message from the players here?).
Prediction:
Liverpool 3-1 Everton