ARLINGTON, Va. -- Jurgen Klinsmann is well aware of the scintillating form of Jack McInerney and doesn't mind the Philadelphia Union starlet being dubbed the "American Chicharito."
"It's makes me happy to hear that," Klinsmann said with a slight grin to small group of reporters during a media symposium held just outside of Washington, D.C.
But let's not get ahead of ourselves, insists the U.S. head coach.
It's a departure from the early days of Klinsmann's tenure, when he was more vocal in endorsing the talents of young up-and-coming American stars. Take Brek Shea and Tim Ream for example.
In 2011, Klinsmann praised Ream as "one of the very promising center backs in this country... I think he's definitely on a very good path." Ream hasn't featured for the national team since that year and his move to English club Bolton is looking more and more like a bust after sporadic appearances. Geoff Cameron, Matt Besler and Omar Gonzalez have all eclipsed Ream on the U.S. depth chart.
The jury is still out on Shea's move to Stoke, another player who initially received plaudits from Klinsmann. After a promising debut as a substitute, drawing a penalty against Fulham in a 1-0 loss, the 22-year-old hasn't been included in the 18 since March 10 despite being healthy. A source close to Shea told me that Stoke's manager Tony Pulis doesn't want to throw a young, developing player into a stressful relegation fight late in the season. The thought process: why risk the confidence of a 4 million euro investment? The same source insists that Shea's situation isn't similar to Maurice Edu's and that Shea will feature more next season.
Still, Shea's lack of immediate playing time has drawn concern from Klinsmann.
"Players make their own decisions and they have to deal with the consequences of that," Klinsmann explained. "Brek Shea badly, badly wanted to go to Stoke. Now he's not playing there. He's not even in the first 18."
Despite a mantra that encourages players to seek bigger challenges, Klinsmann revealed on Wednesday that he didn't encourage Shea to seek a move to Stoke, his comments hinting that the move wasn't a good fit. Rather, he suggested that Shea's move to England was manufactured by Shea and his agents, a growing problem with young American players in his view. Klinsmann cautioned rising players to consider where they are getting their information from.
"They need to understand the role of their agents, who's honest and sincere with them and who's not," Klinsmann stated. "They need to raise questions and be curious. That's what we tell players, to not just listen to what people tell them.
"They need to make their own decisions."
Shea was on last year's disappointing Olympics qualifying squad. The rumor is that certain players saw the Olympics as their big ticket to teams abroad, though players and coaches on that team won't confirm that. However, it is clear that Klinsmann views the U.S. absence as a major development opportunity missed.
"We clearly saw with our Olympic team, they weren't ready to get that exposure," Klinsmann said. "They weren't ready to see themselves on ESPN. They thought they were already there and it was too late to bring them back to the ground. Caleb [Porter, the U.S. under-23 manager] wasn't able to do that in that moment and, boom, there goes your team chemistry."
He added, "That was probably the best Olympic team over the last 20 years. There was so much quality in that team but they didn't get their act together."
Klinsmann is a strong believer that player confidence directly correlates with performance and he explained that the Olympic team failure set back the development of several players including Shea, Bill Hamid and Sean Johnson. Each player struggled upon returning to MLS action. So, Klinsmann's goal now is to make sure the next set of young promising players don't fall into similar pitfalls.
"You want to be careful with the next generation coming through and don't make them, at the age of 19 or 20, something they can't be yet," Klinsmann said. "Give them time, give them the up and downs. Keep them on the ground."
As several U.S. players approach the wrong side of 30, the development of young players like McInerney and LA Galaxy standout Jose Villarreal will be crucial to the national team's player pool. Klinsmann is keenly aware of this. In the past, as shown with the likes of Freddy Adu, Jozy Altidore and Juan Agudelo, the thought process was to give players trials by fire to determine their ability on the national scene. With Villarreal and McInerney, Klinsmann appears content to allow both to work their way up the U.S. youth setup.
It will be a much more measured approach from Klinsmann and the United States this time around.
Follow Alex Labidou on

Free Kicks:
Klinsmann is impressed with Stuart Holden's progress:
"Stuart excites us. He is really coming back. What he really needs is games, games, games - minutes, minutes, minutes. It's looking very positive," Klinsmann told reporters on Wednesday.
Almost two years ago, it seemed unlikely that Holden would ever feature for the U.S. national team again. In fact, his entire career looked in doubt after cartilage damage forced another six-month rehab process for a knee injury. Now, with some games at Sheffield Wednesday under his belt, there's a good chance that Holden could even get a look in this year's Gold Cup.
"He doesn't want a [summer] break! He said, 'I had a break for one and a half years,'" Klinsmann revealed.
No Joe Corona in the Gold Cup:
Many expected Corona to finally get a lengthy look in this year's Gold Cup, but it appears the young Mexican-American will have to continue to wait for his chance. On Wednesday, Klinsmann ruled out Corona and other Liga MX-based players for this summer's competition.
Germany will win 2014 World Cup:
Bayern Munich destroyed Barcelona 4-0 in the first leg of the UEFA Champions League semifinal and Borussia Dortmuch almost replicated the scoreline, beating Real Madrid 4-1. After years of stumbling to the finish line, German soccer looks to finally secure a major competition win that will propel the country to reach its potential. I fully expect Germany to win in Brazil next year, though Mario Balotelli could be on his sane meds again next summer.
It is painful to be a New York Jets fan these days:
So essentially the Jets traded away Darelle Revis, arguably the best cornerback in NFL history, for an injury-prone Dee Milliner and a defensive tackle that no one rated in Sheldon Richardson? [Expletive]. I'd imagine this is how a Toronto FC fan feels. It's going to be a long season for the green half of New York/New Jersey. At least the Knicks are up 2-0 against the Boston Celtics in the NBA playoffs.
Get to know: Tony Beltran


Beltran has been a solid defender for Real Salt Lake over the past five years and he's finally starting to get his due. The right back was called up twice to the United States senior team, getting his international debut against Canada in a January friendly. Beltran shared his perspectives on the experience with Goal.com via email. [Editor's note: Responses have been edited for length].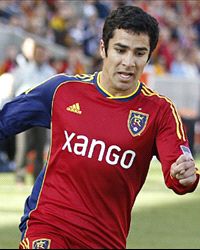 What was your initial reaction to your recent call ups to the U.S. national team? Did you have to participate in any initiation rituals?
My first call up is one of the proudest moments of my career. At first to know I was selected and included in a group that had the opportunity to earn a chance to put on the jersey of our country at the senior level, it was a surge of emotion. I'll never forget how I felt getting that email and walking out of the tunnel before the game versus Canada.
As far as initiations go, it's a little different than, say, college initiation. We're all grown men and accomplished professionals. But all the new guys did have to tell a joke in front of everyone. I remember Will Bruin and I researched the night before and found two good ones on the internet. When it came time to share them Connor Lade beat Will to it and actually said Will's same joke he had rehearsed. The poor guy had to delay until the next day.
What do you have to do to earn more call ups?
This is something that I've thought about a lot since my first camp.
Being involved twice with the national team, I of course want to continue to be involved with that group. The important thing to do is exactly what earned me my first call up in January. To continue to give everything for my club, to try to play every game of the season and consistently get better in my profession. Now that I've been capped nothing changes really.
It's been four years since RSL won a title, is there a concern that the club's MLS Cup win that year is starting to be viewed as a fluke?
Absolutely not. ... That year was an up and down one, full of growing pains and difficulties with injuries, as we were all trying to develop together and justify Jason [Kreis] and Garth [Lagerwey]'s decisions to bring in so many new players. Now since there was so much unfamiliarity, I think it took the full year for us to really gel and understand how to play together. To understand what we were capable of as a collective group.
Sneaking into the playoffs on the last day as the last seed, I remember our captain Kyle Beckerman saying in the locker room leading up to the first game vs. Columbus, "Well, we're here, now we might as well go out and win the thing." And that's exactly what we did. The guys we had, and the mentalities instilled in us from the coaching staff, gave us belief. We were all fighters, and once the soccer came together I'm not surprised we accomplished what we did.
Let me interject and say that four years without trophies is never acceptable, not with the team we have. But in those four years it is clear that RSL has been established as one of the top teams in the league. We've constantly been in the running for the Supporters' Shield, have five straight years of participating in the postseason, and missed out on winning the Champions League by one goal. Constantly I hear other players around the league complimenting our style of play, our stadium, our home atmosphere and coaching staff and entire organization.
The club has been built into a competitor,
in the smallest market in the league
.
Can this team be better than the 2009 title winning version?
In sports and especially soccer it's tough to compare teams of different years. I would say that the team in 2009 did win the championship, and has that over the current team. But it isn't fair or right to say one is better than the other. While now we still retain a good core group from the '09 team, there are a lot of new and young exciting players. Players who are eager to step in and contribute and have shown they are good enough when presented with the opportunity. Because there are so many new faces this year there is again, like in '09, going to be a period of learning and adjustment. But the potential for this group is sky high, and I'm anxious to see what we can do over the course of the season, and confident it will be a success.

What to watch:
Wigan vs. Tottenham, FSC, April 27, 10 a.m. ET
There's a lot of money on the line in this match. For us Americans, the focus will be on whether or not Clint Dempsey can continue his hot form and help Spurs inch closer to the Champions League with a win, but Wigan's Premier League future could be determined in this fixture as well. Latics head coach Roberto Martinez has guided the Greater Manchester side out of threatening situations before, but this team looks gassed. There will be goals in this one.
Prediction: Tottenham 3-1 WiganAthletic Bilbao vs. Barcelona, beIN Sport, April 27, 12 p.m. ET
After years of absolutely dominating world soccer, Barcelona was sent crashing back down to earth by a determined Bayern Munich side. Long-term Barca vet Xavi called the 4-0 result the worst he's ever seen in his 13-year career. Now, Barcelona has to pick itself up against a disappointing Bilbao side that hasn't ever really recovered from losing Javi Martinez. The Catalan club should squeak this one out, even if Lionel Messi and a few regulars sit it out.
Prediction: Barcelona 2-1 BilbaoReal Salt Lake vs. LA Galaxy, MLS LIVE, April 27, 9 p.m. ET
This clash between two of the top four teams in MLS's Western Conference promises to be an electric affair because both sides like to dictate tempo and play ball. Yes, Bruce Arena tends to focus on defense first, but there's no denying the Galaxy's firepower, especially with Landon Donovan starting to round back into form. Then factor in an RSL side that hasn't lost a step despite losing some key vets in the offseason. Very likely, we'll see a draw, but at least it'll be entertaining...
Prediction: RSL 2-2 LA