GERMANY CAN EXORCISE DEMONS OF 2006
The
Klassiker
between
Germany
and
Italy
brings back unpleasant memories of the drama of 2006. Elimination in the World Cup semifinals was probably one of the bitterest moments in the history of the German national team.
At that time, I said that for the young players there would come the chance for revenge. I was too old. But Lukas Podolski, Philipp Lahm, Miroslav Klose, and Bastian Schweinsteiger now have the chance to make the Italians suffer. I envy them. The coaches and almost everyone around the team fumed about it and desperately want to have a different result this time.
And I believe it will happen. In the group stage, every tight situation was decided in our favor and against Greece we played for the first time at our highest pace. Additionally there is the possibility to play in various different ways tactically, with players who know the pressure to perform is high, even after the tournament. They must therefore get the best out of themselves to fight for the right to continue to play in this team.
TACTICAL SURPRISES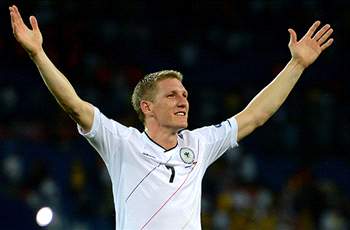 "Schweinsteiger must unleash himself. He can dictate the flow of the game"

The Italian coach, Cesare Prandelli, announced that he will surprise us tactically. I don't think he will play with three at the back, because our offense, man-for-man, is too fast and unpredictable for Italy to take that chance.
It's probable that he will be surprised, because Jogi Low now has many ways to vary his lineup. Schweinsteiger will play from the beginning and will have to unleash himself. He is, though not at his best, still a key player who has more value if he plays from the start because he can dictate the flow of the game.
Will Klose, Marco Reus and Andre Schurrle play again? Given that Klose is experienced in Italian soccer, I think so. Reus was strong and due to his dribbling skill, he is as difficult to defend against as Thomas Muller. With Schurrle, I wasn't so sure, but I will let myself be surprised.
The Italians will certainly press against us at times, because they know that we can get into trouble as we did against the Netherlands. If it should come to a penalty shoot-out, I also think it plays to our advantage: no team has ever progressed to the final following two consecutive penalty shootouts.
SPAIN'S DETERMINATION IN QUESTION
I had tipped Spain as the opponents in the final. Portugal needed a stroke of genius from Ronaldo or Nani to have a chance, which they didn't get.
However, I would like to see what happens when Spain concede the first goal in a match. I see them as not as clearly determined to score as us. Also, without a real striker, it could be very challenging for them to fall behind.