Joachim Low was tetchy. His Germany team had just equaled an international record of 14 consecutive wins, including breezing through the so-called Group of Death at Euro 2012, and here people were asking him why his star player, Mesut Ozil, was under-performing.
"Maybe the coach sees what you do not see," Low said, with the thinly-veiled suggestion being exactly that he sees things those palming voice recorders don't. But his next sentence did at least allow that the Real Madrid playmaker hadn't been at his googly-eyed, cat-purring best. "The problem is not Ozil, it is that his teammates need to make more varied runs to give him more passing options."
Sami Khedira, Ozil's teammate in the Spanish capitol, saw it too.
"We talked immediately after the game against Denmark," he said. "I talked with Joachim Low how to improve the game of Mesut Ozil and bring him more into the game. He performed well, but there was always a little bit missing."
Low promised "an explosion like the one against England in the World Cup" from Ozil against Greece in the quarterfinals. By the next time Low took to the bench, as always adorably matching with Oliver Bierhoff in their tailored pants and pressed white shirts, a new forward line started for Germany. Part of the reason was to surprise Greece (Low: "It's OK to be cheeky"), but another contributing factor was to set up Ozil for a better performance.
Marco Reus and Andre Schurrle stayed wider than Thomas Muller or Lukas Podolski like to. Miroslav Klose replaced Mario Gomez, who had scored a tournament-high three goals, largely because the 34-year-old Lazio striker links up far better with the playmaker 11 years his junior.
And Low's prediction came true. By most statistical metrics, Ozil played twice as well as he had in the tournament thus far.
His completed 109 of 117 passes (66 of 73 in the attacking third) led to nine chances created for teammates, two of which turned into goals. (His group-stage highs were 53 completed passes, four chances created and one assist in any given game.)
"Ozil sacrifices himself for the team. There are moments where he is a genius," Holger Badstuber said. "[Against Greece] he only forgot to reward himself by scoring a goal."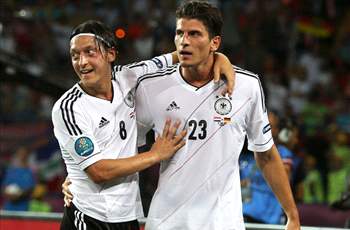 "We have always sought an out-and-out No. 10 and now we have found one"
- Klose

His teammates and coaches purred because they know what Ozil contributes even when he's not at his continent-conquering best.
He hadn't played particularly poorly thus far. He assisted the deciding goal in the 2-1 win over Denmark. Furthermore, Ozil's selflessness helped break down the stodgy teams in the group stage. Check out Germany's second against Netherlands: Ozil drags resident Dutch cruncher Nigel De Jong to the right flank, and Bastian Schweinsteiger pops up in the vacated space to assist Gomez.
Ozil did something similar for Klose's goal against Greece, likely favoring wafting to the right because Philipp Lahm pierces up the left side.
"The goalscorer is always the most celebrated player but few people see the events that led up to the goal, what runs were necessary to make it happen and the work invested in it," Khedira grumbled to
dfb.de
.
Khederia sees it. Ozil too. And Low, when not eating his own boogers, certainly does. He made a point to thank Jose Mourinho for helping develop the midfield pair (Madrid bought both after the 2010 World Cup in what stands as a rare example of a post-tournament purchase paying off.) Now the duo headline a new ethnically-diverse Germany.
The youth system implemented by Jurgen Klinsmann has produced a generation of bright, pacy, scampering young players. As if to emphasize the break for the German teams of the past, this one draws from a range of cultural influences -- the Germans call it "multi-culti." Ozil, of Turkish origin, mutters the Koran under his breath. Khedira's dad is Tunisian; Jerome Boateng's pops is Ghanaian, and his half-brother Kevin-Prince represented Ghana at the 2010 World Cup. Podolski and Klose were born in Poland. Gomez's father and features are Spanish.
"My technique and feeling for the ball is the Turkish side to my game," Ozil said. "The discipline, attitude and always-give-your-all is the German part."
The synthesis has produced 133 assists for clubs and country over the past four seasons. "We have always sought an out-and-out No. 10 and now we have found one," Klose said. The German press expects Klose to continue against Italy in the semifinal since the form of Ozil could be the difference between a trophy and yet another deep run. (Germany finished third in the past two World Cups and as beaten finalist in Euro 2008.)
"I was immensely happy to have shown what I can do at last," Ozil said. "I will demonstrate in the game against Italy that I can put my foot on the pedal."
One imagines Low's post-game presser will feature significantly less tetchiness if that's the case.
Follow ZAC LEE RIGG on

or shoot him an email