La Gazzetta dello Sport
framed the moment on its cover Thursday morning: Mario Balotelli sitting on the training grass, a corner flag extending from his crotch. Balotelli is giggling like only the puerile can. His infectious smile, meticulously hidden by a stern frown on game days, takes up half his face, the part not devoted to the gleam in his eyes.
Photographers snapped many other pictures of the 21-year-old (ostensibly) training Wednesday. Balotelli tripping Antonio Cassano. Balotelli holding Alessandro Diamanti in a headlock. Balotelli lying still on his stomach, arms crossed, as the rest of his teammates do pushups. Balotelli's dyed blond mohawk. Balotelli's mischievous grin.
The overall glee from the snaps contrasts with the last transmitted images of Balotelli. After scoring a seemingly effortless volley against the Republic of Ireland, wrapping a gangly leg around a defender to flick the ball out of the air midflight, Balotelli was irate. Leonardo Bonucci rushed to cover his mouth. "He was yelling something in English, and I didn't understand it," Bonucci said.
It's unclear what exactly the Manchester City striker was raving about. Perhaps, as the swirl of his finger indicated, he didn't appreciate the baiting from fans in the Polish stadium, or the criticism of his first two performances. Another theory goes that coach Cesare Prandelli upset him by benching the precocious talent for the final group stage match.
Either way, the reaction surprised no one. Balotelli doesn't celebrate goals in any way that could be confused with happiness, and his history since emerging at Inter as a 16 year old is littered with petulance.
"Mario is starting to become a man now," Daniele De Rossi said. "When you're 22, it's time for you to start growing up and it's time for him to start taking some responsibility."
De Rossi pointed out that when he was 22, he rammed an elbowed into Brian McBride's nose during the 2006 World Cup, the crimson blood streaming down the American's face matching the color of the card facing De Rossi.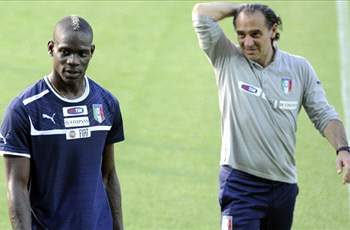 Prandelli, ever composed, didn't seem fazed by the incident. If Italian press reports prove correct, Balotelli will start the quarterfinal against England.
"He has to accept criticism, being on the bench and for the team to demand more from him," Prandelli said. "The day he understands that no one wants to hurt him, but rather that everyone is helping him, then we will have, in Italy, a champion."
That tremendous upside is the reason Prandelli sticks with Balotelli. Most genius comes cracked, and Italy knows this well. Think back to Euro 1988: When Roberto Mancini scored against Germany, he tore off toward the press box, screaming and gesturing abuse toward the Italian hacks.
Now Mancini coaches Balotelli at Man City. Age hasn't so much mellowed the coach as ossified his resolve into something colder, something more quietly assured. Firing someone, hands in pockets, is much more effective than waving a finger in frothy rage.
Mancini, too, knows Balotelli's merits, claiming Italy is strengthened by Balotelli's inclusion. Still, he gave the striker of Ghanaian decent some advice.
"I told him two things: to keep playing like he did when he came on against Ireland, and not to break the coach's balls too much," Mancini said to
La Gazzetta
.
A more recent example of flawed genius is Balotelli's striker partner, Cassano.
Cassanata
hasn't met a coach he didn't want to fight or a pastry he didn't want to eat. But the 29-year-old has matured and is now so indispensable to Prandelli that he starts despite being only 70 percent fit. (The AC Milan forward is recovering from a heart defect that ruled him out of nearly half a year.)
Cassano's personality and influence even have some calling him a leader on the Italian roster and mentor for Balotelli. Not that Cassano's falling for that: "A leader is someone who runs more than the rest, and I don't do that, someone who is always humble, and I am not."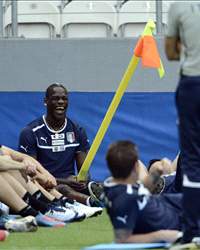 Chased out of Roma, then Real Madrid, then Sampdoria, Cassano doesn't understand all the fuss about Balotelli's apparent immaturity.
"I was 10 times crazier than Mario at his age," Cassano said. "Ask [Andrea] Pirlo, he confirmed as much to me."
The two malcontents will start together against England. Thus far they haven't scored when both are on the field, but the potential for greatness keeps Prandelli persisting with the partnership. Cassano, for his part, delivers for as long as his fitness holds out, slickly probing defenses with his gummy footwork. It's Balotelli who is consistently out-hustled by 34-year-old Antonio Di Natale.
"There are two Marios," Man City teammate James Milner said. "There is one who sometimes turns up in training and it is a bit cold and he is not too interested. The other time he really wants it and he is a special talent."
So which will England defenders have to mark? The boy or the adult? The mad genius or the pouting poseur? Only Balotelli knows.
Follow ZAC LEE RIGG on

or shoot him an email