England's resounding, come-from-behind 3-2 victory over Sweden won't make it a Euro 2012 favorite.
It won't make it the odds-on nation to reach the final. It won't even put it as clear favorite to win its group.
What the win will do, however, is instill an overwhelming amount of confidence in a side that many had hung out to dry before the tournament had even started. It will inspire all 23 men on the roster into believing that they do belong among Europe's best and that a place atop Group D isn't entirely out of the question -- or a place in the final, for that matter.
England, a nation constantly under the microscope mainly for years of underachievement and poor results, showed on Friday that the timeless stigma of disappointment could be a thing of the past.
When the groups for Euro 2012 were drawn last December, many looked upon Group D as an encouraging endeavor for the Three Lions. Placed in a quartet with an always-formidable France side, Sweden and co-host Ukraine, England, according to popular opinion among all in-the-know, was expected to advance to the quarterfinals.
In the six months that have passed, the once-great footballing nation has trudged down a path marred with scandal after scandal, painful injuries to its stars, and the resignation of its high-profile manager just weeks before the team was set to kick off the tournament against the French in Donetsk.
Follow SHANE EVANS on

Against that very same France squad, the Three Lions, who were led by the newly-appointed Roy Hodgson, admitted defeat in the talent department prior to the match and employed an explicitly defensive scheme, that by many accounts worked to perfection. Relinquishing much of the possession to its neighbor to the south, England worked hard and limited Les Bleus to only one goal, earning itself a valuable point in the process.
A moral victory, if nothing else.
Against Sweden in the second fixture, England put forth an effort that felt like a desperate attempt at saving national pride.
Comfortably leading and in control after 45 minutes, the Three Lions quickly found themselves in a 2-1 hole shortly after the break. A pair of botched marking assignments on 34-year-old former Aston Villa center back Olof Mellberg saw the aging, bearded Scandinavian put the Swedes ahead.
Not only had England gone behind, but it had allowed a man known more for tackling than his prowess in front of goal do the damage (though his first was later marked as a Glen Johnson own goal).
The last time England was in this position, going behind in a competitive competition, the foe was heavily-favored Germany and the stage was the 2010 World Cup knockout round. Down 2-0 after just over 30 minutes, the 11 men on the pitch for England were without belief. They knew the task at hand was too much for them to bare. Even after getting a goal back before halftime, it would ultimately be put to the sword by a German side who didn't necessarily want it more . . . but rather believed that to be the case.
History would not repeat itself.
Falling behind to Sweden, a team that a confident and determined England side should defeat, would not break this sometimes comically calamitous band of Brits. The will was there and through a few spots of luck and the unwillingness to keel over, the result was there for the taking. And for Sweden, it was anything but comedic.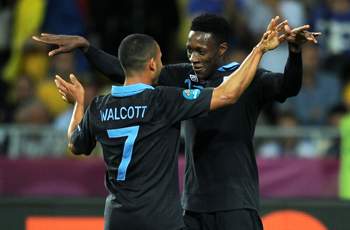 "
It is a whole squad thing. We are a family, we are all together and it is great."



- Theo Walcott



"It is a whole squad thing. We are a family, we are all together and it is great," said match hero Theo Walcott who came on and promptly scored the game-tying goal and assisted on Danny Welbeck's go-ahead strike. "I was sharp warming up so I could be sharp on the pitch. You have to be sharp at this level because it is really tough."
That kind of performance, one that required every England player on the pitch to play well not only individually, but as a team and for each other, was something you wouldn't normally see from this national team. Not in recent years, anyway.
Whether it's been a lack of leadership or direction or the unrelenting pressure for results, this team would have trouble inspiring honey out of a beehive, let alone a come-from-behind victory on a stage as grand as Euro 2012. But something changed on this day in Kiev.
The England team we all knew may not be gone forever, but in this particular match it certainly took a backseat to a group that may know how to quit, but chose otherwise and insisted on fighting until the final whistle.
"It was a game of two halves, but we stuck together and the team spirit shone," Welbeck said after the match. "It's going to be better for us if we get the three points in every single game, and that is what we try to do.
"When we went behind we still had the belief there, we stuck together and as I said before our team spirit shone through."
So while Hodgson nervously gnawed at his fingernails, appropriately emulating the feelings of an entire nation, after Mellberg scored Sweden's second goal, the likes of Joe Hart, Steven Gerrard and 21-year-old rising star Welbeck picked their heads up and refused to surrender. The rest is history.
What comes next remains to be seen. An encounter with the trickiest of enemies on its home soil awaits. And there is still everything to play for: a win or a draw guarantees a place in the quarterfinals; a loss could mean elimination. After shocking Sweden and subsequently sending it back home to the chilly north, does England have enough gas in the tank to overcome Ukraine, the co-host fighting to advance in front of its nation?
Right now, if you ask any of the players, coaches or supporters who flies St. George's flag and sings "God Save the Queen" before kickoff, down to a man, the answer would be an emphatic "yes!"
When England is concerned, that's as unorthodox as it gets.
Shane Evans is a Senior Editor of Goal.com USA. His feature, "The Full English" appears every Friday morning. Contact Shane at shane.evans@goal.com with questions, comments and concerns, follow him on Twitter at https://twitter.com/shanEvans