Croatia
's
Vedran Corluka
has backed
Germany
to be one of the favorites to win
Euro 2012
this summer despite a tricky group draw.
The right back also discussed his nation's prospects entering the tournament, as well as taking a general view of the entire competition in Poland and Ukraine.
Speaking to Goal.com, Corluka said: "I see them [Germany] as one of the favorites. When I see how they play, especially in the qualifications and some friendly matches, when they beat the top teams.
"They are playing so well at the moment, they are so organized, they have so many good players, and especially now, after I came to Germany and played against them I see how well German football is organized and how many good players are here."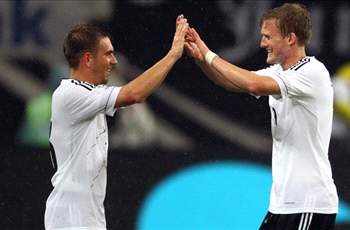 "After I came to Germany and played against them I see how well German soccer is organized and how many good players are here."
Joachim Low's team was drawn in the so-called 'Group of Death' alongside Portugal, Denmark and the Netherlands and Corluka concedes that it could be tough for them to emerge unscathed.
However, if Germany does qualify for the knockout stages, Corluka feels it will be well placed to go on and win the tournament.
"It is a big competition and you never know," he said, "but now, when you look at these two teams it should be realistic for them to play in the final.
"But I think Germany have a really tough group with Portugal, Holland and Denmark, so you never know.
"Maybe, hopefully not, there will be injured players, and so they should be one of the favorites of the tournament, but we'll wait and see.
"I think that Germany and Spain are the top teams at the moment and especially proved that in the World Cup and in the qualifications for the Euros.
"They were the two best teams. I think it will be between the two of them and Holland."
Asked for his opinion on the tournament's best player, Corluka was less sure, adding: "For the player - it is a difficult question, in that kind of competition you never know, maybe a player who no one expects will play the best games of his life."
Corluka featured for every Croatian youth team before making his international bow in 2006 at the age of 20. Since that debut win over Italy in Livorno, Corluka has established himself in the right back position and is aiming for success over the next few weeks.
"My personal goal is, of course, to do well for Croatia," he stated. "We expect to go to the next stage, to pass the group, which is a difficult one, but we believe in ourselves and we think we can do that.
"The spirit in that kind of competitions is always high, especially as Croatia is a country that adores football so much, so I think we'll have a lot of support from our countrymen.
"The spirit in the Croatian team is always good, we just need to prepare ourselves well and hope we won't have a lot of injured players, then I think we can do well."
In a group containing the current world and European champion Spain, as well as the 2006 World Cup winner Italy, Croatia faces an uphill task to qualify from Group C and Corluka admits as much.
He said: "It's a really tough group. I think we have the best team of the world in our group, and Italy always have a lot of good players.
"Ireland haven't been in such big competitions for a long time, I know they'll be extra-motivated, but we have strength and quality in our team. I think we can go to the next stage, it will be difficult, but we'll have to believe in ourselves.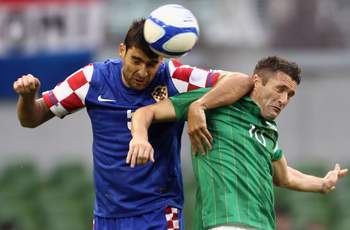 "Croatia is a country that adores football so much, so I think we'll have a lot of support from our countrymen"
"I know that if we don't go to the next stage it will not be a success, but of course, you never know. Like in Euro 2008 you were thinking it was a success to go to the next stage, but then we lost against Turkey, and we were thinking that it wasn't a success.
"So we'll see. If you get a good team in the next stage it can be really difficult, but first goal is to qualify, and then we'll see."
As a tournament outsider and perennial dark horse, Croatia has some way to go to be considered a genuine challenger for the Henri Delauney trophy.
However, when pressed for his preferred final opponent, Corluka remarked: "I think you always want to play against the best team, so probably Spain or Germany, so you could say you've beaten the best team in the world."
The European Championships have provided two shock winners in recent years – Denmark in 1992 and Greece as recently as 2004 – and Corluka believes there could be another surprise in Poland and Ukraine.
"I think it could be Sweden, because we played against them in a friendly match in February, and the beat us easily, 3-1," he added.
"They play really well, and they have [Zlatan] Ibrahimovic up front and so many good players around him, so I think they could do well. They're in a group with England and France, so it will be difficult for them, but why not? I was really impressed with them."
Corluka has spent four-and-a-half years in the Premier League but left his current club Tottenham for a loan spell in the Bundesliga with Bayer Leverkusen in January. His search for first-team soccer has left him in a difficult situation, but one in which he remains mindful.
Asked whether he would like to make his move to Germany permanent, Corluka said: "I would like to stay, because it's a good club, I made a lot of friends here. I like the league as well, so why not?
"I think it is not in my hands, as I'm still a Tottenham Hotspur player, so we'll see what will happen, because Tottenham is a good club as well."