La Roja return to Austria for a training camp as they hope to relive their success in the last continental competition, but face a Korean side which made them suffer a decade ago.
Spain is back. Not only are La Roja Europe's most feared international side after winning the last European Championship and the World Cup two years later, but they have returned to where it all started: Austria and Switzerland.
Vicente del Bosque's side has chosen Austrian village Schruns for their training camp ahead of Euro 2012, scene of Spain's successful sojourn in Euro 2008, when the country ended a 44-year trophy drought by claiming the continental competition under Luis Aragones.
On Wednesday night, the team continues its preparations for what it hopes will be an unprecedented third successive tournament triumph with a warmup match in Switzerland against South Korea.
On the face of it, that friendly fixture may appear to be another positive omen, as Spain beat Korea 1-0 ahead of the 2010 World Cup, when Jesus Navas netted the only goal of the game.
SCANDAL IN SOUTH KOREA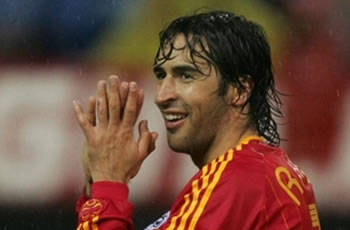 Raul was missing through injury as Spain lost out controversially on penalties, having seen two good goals ruled out in normal time, one after Joaquin's ball to Fernando Morientes had been wrongly adjudged to have gone out of play.
But mere mention of the Asian side is enough to make Spain shudder.
La Roja's failure to produce in major tournaments between their Euro 1984 final appearance and the first-round flop in Portugal two decades later became almost a tradition. Defeat to South Korea in 2002 hurt more than most because of the incredible injustice involved as Jose Antonio Camacho's side lost out on penalties to the co-host in the quarterfinals, despite scoring what looked like two perfectly good goals in normal time.
Ivan Helguera had to be separated from Egyptian referee Gamal Ghandour and later lamented: "We didn't win only because they didn't let us win."
In 2004, Aragones initiated a new process with Spain and after losing to finalist France in the next World Cup, La Roja did win in Austria and Switzerland.
Aragones was back in Schruns this week to take a look at the small village where the legend began and told
Marca
in an interview how he had changed the philosophy of the Spanish side.
The veteran coach claimed he had decided in 2006 that Spain should take advantage of its technical superiority and sacrificed the side's more workmanlike footballers in favor of gifted ball players. He also eliminated the egos.
"As soon as the egos were gone, the triumphs arrived," he explained, although he refused to reveal he had been referring to Raul, left at home for Euro 2008 and never seen again in Spain colors.
Although often considered Spain's finest footballer in history, Raul is associated with the dark days for La Roja. Without him, the team has gone on to claim the European Championship and the World Cup, too.
Now, four years after turning up in Austria for Euro 2008 with a point to prove, Spain is back, and it will hope omens prove true this summer. Just not the ones from 2002.

Follow Ben Hayward on