Although Euro 2012 is still three months away, and the main focus currently lies on the various domestic and European competitions, the key preparations for Poland-Ukraine are well underway.
Qualified nations only have two or three remaining friendlies before the competition kicks off on June 8 in Warsaw, and each coach will already know the majority of the squad he wishes to take.
Goal.com thus breaks down how Euro 2012's top nations - England, France, Germany, Italy, Netherlands, Portugal and Spain - are likely to go about selecting their 23-player rosters.
We move through each positional department - goalkeepers, defenders, midfielders and attackers - and divide the candidates into 'Definites', 'Probables' and 'Possibles'. Definites are those who are pillars of the team, indispensable and irreplaceable stars who will only miss out on the finals in the most extraordinary of circumstances such as serious injury. For example, Xavi of Spain or Gianluigi Buffon of Italy. Probables are those who are likely to go, but are not so indispensable that they are immune to being cut. Possibles are all the players who are fighting for the last places in the squad that are yet to be determined. Underneath these listed candidates, we then explain in detail the reason for our choices.
Since November, when we first presented a list of players who could make it to the European Championship, the situation of a number of players has changed. Below is a full rundown of how Spain's 23 places could be taken now.
| | |
| --- | --- |
| Iker Casillas | Real Madrid |
| Pepe Reina | Liverpool |
| Victor Valdes | Barcelona |

Iker Casillas is still the undisputed first-choice goalkeeper for Spain and only injury will see the captain dislodged from his starting spot at Euro 2012.

'San Iker' is also the Spain captain and after lifting the last European Championship trophy in 2008, and then the World Cup two years later, the Real Madrid goalkeeper will be looking to make it three in a row this summer. And barring injuries, he will be joined on the plane by Liverpool's Pepe Reina and Barcelona's Victor Valdes, with Villarreal's Diego Lopez having drifted out of the picture following his side's poor form in recent months.


| | |
| --- | --- |
| Jordi Alba | Valencia |
| Alvaro Arbeloa | Real Madrid |
| Gerard Pique | Barcelona |
| Sergio Ramos | Real Madrid |
| | |
| --- | --- |
| Andoni Iraola | Athletic Bilbao |
| Carles Puyol | Barcelona |
| | |
| --- | --- |
| Raul Albiol | Real Madrid |
| Sergio Ballesteros | Levante |
| Alberto Botia | Sporting Gijon |
| Joan Capdevila | Benfica |
| Alvaro Dominguez | Atletico Madrid |
| Jose Enrique | Liverpool |
| Carlos Marchena | Villarreal |
| Nacho Monreal | Malaga |
| Martin Montoya | Barcelona |
| Victor Ruiz | Valencia |
| Didac Vila | Espanyol |

Vicente del Bosque has been boosted by the return to full fitness of Barcelona captain Carles Puyol and, if fit, the Catalan defender will be on the plane to Poland and Ukraine.

But Puyol was still recovering from a serious knee injury when the current campaign got underway and Del Bosque will be crossing his fingers that his best center back and defensive lynchpin can survive the rigors of a long season with Barcelona to be ready for the continental competition in the summer.

At this stage, the 33-year-old's recent injury problems make him a probable rather than a definite for Euro 2012, but Valencia's Jordi Alba is now guaranteed a place in Poland and Ukraine after impressing in Wednesday night's 5-0 win over Venezuela when he looked defensively solid and also set up two goals in the comprehensive victory.

Gerard Pique, Sergio Ramos and Alvaro Arbeloa are all definites too, but the last two may see their Real Madrid teammate Raul Albiol miss out after he was dropped from the squad for Wednesday's match, having barely featured for Jose Mourinho's side in recent months.

Albiol could still make the cut, however, if not because most of the other options remain untried at this stage of the preparations, but Del Bosque will probably decide to take less defenders to Poland and Ukraine anyway as midfielders Sergio Busquets and Javi Martinez are both capable of playing at the back.


| | |
| --- | --- |
| Xabi Alonso | Real Madrid |
| Sergio Busquets | Barcelona |
| Cesc Fabregas | Barcelona |
| Andres Iniesta | Barcelona |
| David Silva | Manchester City |
| Xavi | Barcelona |
| | |
| --- | --- |
| Javi Martinez | Athletic Bilbao |
| Juan Mata | Chelsea |
| | |
| --- | --- |
| Santi Cazorla | Malaga |
| Jesus Navas | Sevilla |
| Thiago | Barcelona |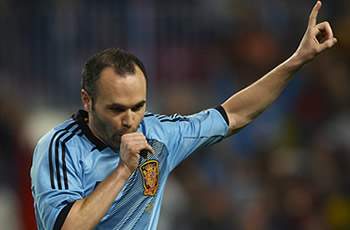 No change at all here, with six Spain midfielders all guaranteed a place at Euro 2012.

Barcelona quartet Xavi, Andres Iniesta, Cesc Fabregas and Sergio Busquets are all definites, along with Real Madrid's Xabi Alonso and Manchester City's in-form winger David Silva.

Iniesta and Silva both scored for Spain on Wednesday, while Fabregas assisted both players before all made way later in the game.

Chelsea's Juan Mata and Athletic Bilbao's Javi Martinez did not feature in Malaga, but both will be expected to travel to Poland and Ukraine.

Barca's Thiago, Malaga's Santi Cazorla and Sevilla's Jesus Navas were all in the squad as well and are likely to compete for a place at the summer showpiece, although Villarreal's Borja Valero now seems unlikely to be selected.

Del Bosque could pick up to 10 midfielders for the finals, however. This is an option because, while Busquets and Javi Martinez can cover in defense, several of their teammates, such as Silva, Mata and Fabregas, are able to operate in forward positions for La Roja.


| | |
| --- | --- |
| Fernando Llorente | Athletic Bilbao |
| | |
| --- | --- |
| Alvaro Negredo | Sevilla |
| Roberto Soldado | Valencia |
| David Villa | Barcelona |
| | |
| --- | --- |
| Pedro | Barcelona |
| Fernando Torres | Chelsea |

Del Bosque will need to give some serious thought to this area of his side ahead of the tournament.

The Spain coach is sweating on the fitness of star striker David Villa, who is continuing his recovery from a broken leg, and will hope the Barcelona man can prove his fitness with a return before the end of the current campaign.

Elsewhere, Alvaro Negredo looks likely to be selected, despite having to pull out of the squad for Wednesday's win due to injury, while Roberto Soldado staked his claim for a place at Euro 2012 with a hat trick after coming on at halftime against Venezuela.

Soldado has therefore gone from a possible to a probable in this list, while the only definite at this stage is Athletic Bilbao's Fernando Llorente.

Although disappointing against Venezuela, Llorente offers Spain a more direct, aerial approach which is a useful tactical variant for Del Bosque in tight games against the physical sides. And the Spain coach is a big admirer of the Basque forward.

There is no guaranteed place for Fernando Torres, however, and the Chelsea man's barren spell in front of goal means he is now merely a possible for Euro 2012, along with fellow World Cup winner Pedro, who also failed to make the squad to face Venezuela on Wednesday.

And with Del Bosque likely to use midfielders such as Silva, Iniesta and Mata in advanced positions, both of those two look set to miss out - at least at the moment.

Follow Ben Hayward on