Yet To Convince
That Cesare Prandelli is the right man to lead Italy has been emphasized by many eminent observers beyond any reproach but the former Fiorentina tactician has yet to settle in. Prandelli's debut as the Azzurri coach ended in a 1-0 defeat to the Ivory Coast in a friendly international in early August and he was just 30 minutes away from suffering a second successive defeat on Friday.
However, Antonio Cassano saved the former world champions against Estonia away from home as he equalized with a header from a corner and then set up Leonardo Bonucci with a brilliant back-heel. He later stated, "Before I used to think about myself, but now I think about the team because the only player who would win a match on his own was Maradona and I am not Diego, even if I used to think I was. Prandelli asked me how I was after my back problems against Estonia.
"I said to him that if he wanted to take me off, I wouldn't have been a problem and after two minutes he substituted me. I've been in and out of the team for years and for the most part it's my fault and I take responsibility for the errors I've made.
"Now I've started well and I hope to stay on the right track. To become a serious player I decided to change. If not, I'd have gone back to being a butcher."
Reflecting on Friday's game and looking ahead to Tuesday's match, Prandelli said, "Once we fell behind we could have lost our heads but we remained calm. But still, Italy can offer much, much more.
"I want to see the desire to create chances and impose ourselves with more courage. And I'm hoping that the fans of Florence will enjoy themselves. It's going to be a special evening for me.
"There are going to be some changes. I've asked for more attention on free kicks and to be more balanced in the middle so as to not put the center-backs in trouble. But these are things you can fix right away. I'm not worried about them."
Qualification In Tatters
The Faroe Islands commenced their qualifying campaign for the European Championships last month and were leading Estonia 1-0 until injury time when along came two goals. That 2-1 defeat was followed by a 3-0 loss to Serbia on Saturday, leaving their hopes and dreams in tatters.
Winning in Italy against the Azzurri is a huge ask for the Faroe Islands but given the Italians' form they will be encouraged to try for something. However, the visitors don't have much history in qualifying campaigns - a UEFA member since 1989, the Faroes have defeated Austria, Luxembourg and Malta - twice.
Furthermore, the Faroes reportedly complained of the poor training ground facilities they were provided in Florence ahead of their match against the Azzurri.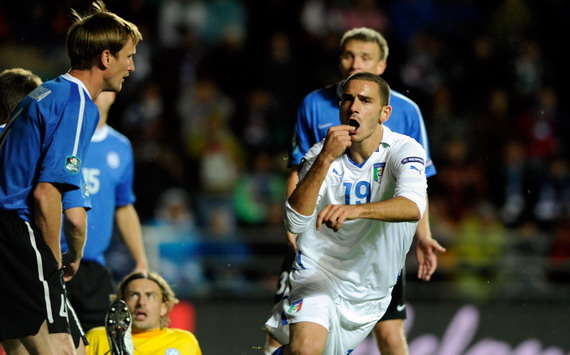 TEAM NEWS

Italy
Bologna goalkeeper Emiliano Viviano could be given his first start for Italy after Salvatore Sirigu's less than impressive performance against Estonia.
Simone Pepe's performance too was uninspiring and he could be forced to sit on the bench. There are also reports suggesting that Prandelli could start with Alberto Gilardino in attack instead of Giampaolo Pazzini.

Probable Lineup (4-3-3):
Viviano; Cassani, Bonucci, Chiellini, Molinaro; De Rossi, Pirlo, Palombo; Cassano, Pazzini, Pepe
Faroe Islands
Joan Edmundsson is going to be the key player for the visitors, who are expected to line up in a flat 4-4-2 system.
Probable Lineup (4-4-2):
Nielsen; Mouritsen, Rubeksen, Davidsen, Gregersen; Tor Naes, Benjaminsen, Petersen, Holst; Samuelsen, Edmundsson
Talk all things soccer with the rest of our readers in the Goal.com Forums and join Goal.com USA's Facebook fan page!