Les Bleus' spiral of misery continued on Friday night, but Goal.com's Robin Bairner believes that 'Le President's' men can pick themselves up.
It's often reflected that the darkest moment of the day is that before the break of dawn. Undoubtedly, no matter what Laurent Blanc's reign brings, les Bleus' nadir was their World Cup disaster, but in terms of an individual result, Friday evening's 1-0 home reverse against Belarus, a side ranked 78 in the world, could be considered a new low.
Blanc's side suffered from similar problems to Raymond Domenech's in that they failed to break down a stubborn defensive line and were lacking in genuine creativity. But it's far too early to be overly negative about 'Le President's' tenure.
After the match the former Girondins de Bordeaux coach said noted that even if his side are struggling in front of goal, it is imperative they keep the backdoor shut. For the most part the coach can be pleased with the defensive contributions of his rearguard, though there can be little excusing Clichy's weakness to allow Aliaksandr Hleb to bustled down the byline with time ticking away to cut a perfect ball back for Syarhey Kislyak to slam into the top corner.
That was the sole Belarusian shot on goal, though admittedly the guests had previously had a good sight of goal thanks to Vyacheslav Hleb's incisive pass to Vitali Rodionov, who shot wastefully wide. Otherwise, les Bleus largely controlled their opponents, something that Domenech's side were not always capable of doing.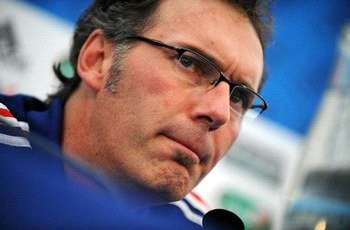 The real worry is the continued lack of goals. France had their chances at the Stade de France, though Blanc could lament several misfortunes in the box, when a ball would bounce just a little awkwardly for a striker, turning a half chance into a quarter chance.
And the former centerback could also point to Loic Remy's early withdrawal as a potentially decisive blow. The Olympique de Marseille man had been a sprightly presence in the opening stages before going off with what appeared to be a groin problem. Though Mathieu Valbuena had his moments, he was not as persistently threatening as his club-mate.
Louis Saha, a second half substitute, would only last ten minutes, tying the coach's hands further, though he would have been encouraged by Kevin Gameiro's brief cameo.
Factors outside Blanc's control also worked again France. Injuries hit the team before kick-off as Karim Benzema and Lassana Diarra were rendered unavailable, while key playmaker Yoann Gourcuff is out due to a FIFA-imposed ban. And that's not even considering the FFF's (French FA) self-imposed suspension on star men Jeremy Toulalan, Franck Ribery and Patrice Evra, who would surely not have been muscled as easily off the ball as Clichy was at the death.
Essentially, this may just seem like a list of excuses for les Bleus, and to some extent it is, but there were a number of factors that played themselves out against the hosts. Yes, there were definite flaws in France's game – their passing is not brisk enough, play is not switched effectively and they are still lacking in real width – but Blanc's tenure is very much embryonic and should not be harshly judged off the back of one competitive loss.
The darkest moment of the day may come immediately before dawn, but dawn does not break in an instant.