New Brazil coach Dunga has turned to some old friends as he attempts to breathe new life into the Selecao, with former World Cup-winning teammates Claudio Taffarel and Mauro Silva among a host of new appointments to the backroom staff.
Former coach Luiz Felipe Scolari and his entire technical team left their respective roles following Brazil's World Cup semifinal exit at the hands of Germany earlier this month.
Dunga, who coached Brazil for four years between 2006 and 2010, was confirmed as Scolari's replacement on Tuesday and wasted no time assembling his technical team, with the Confederação Brasileira de Futebol (CBF) confirming the arrival of 13 new members of staff.
The 48-year-old former goalkeeper Taffarel, who made over 100 appearances for the Brazil, was confirmed as goalkeeping coach.
Mauro Silva, 46, who spent 13 seasons in Spain with Deportivo La Coruna during a glittering playing career that saw him make 59 appearances for the Selecao, will act as an assistant for Brazil's next two fixtures.
Andrey Lopes, Dunga's No. 2 during his time as coach of Internacional last year, is another of the new arrivals.
CBF President Jose Maria Marin, Vice President Marco Polo Del Nero and youth division coach Alexandre Gallo have remined in their position.
The team will assemble for the first time next month when the
Gillette Brasil Global Tour rolls into the United States
, with the Selecao set to face Colombia in Miami on September 5 and Ecuador in New Jersey on September 9.
Below is the complete list of the team's backroom staff.
BRAZIL'S NEW-LOOK STAFF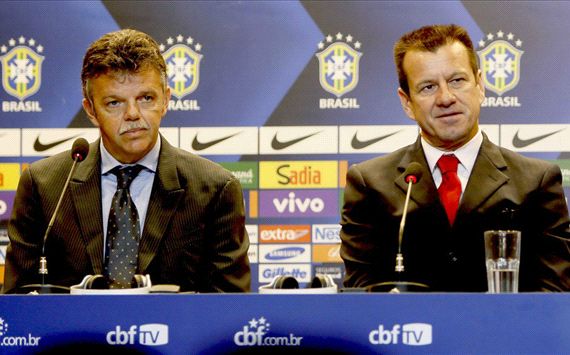 CBF President: Jose Maria Marin
A former Governor of Sso Paulo, Marin succeeded former President Ricardo Ricardo Teixeira in 2012 but will step down from his position at the end of the year.
CBF Vice-President: Marco Polo del Nero
The son of former Brazil international Jose Del Nero, 73-year-old Marco is also a member of the Fifa Executive Committee and current President of the Paulista football federation (FPF). He will succeed Marin as CBF President in January 2015.
Technical Coordinator: Gilmar Rinaldi
Third-choice goalkeeper in Brazil's 1994 World Cup-winning squad, the 55-year-old worked as a player agent following his retirement from the game in 1997. His new role is to oversee all levels of the Brazilian national team, both male and female.
Youth team coach: Alexandre Gallo
Following a playing career that included spells with Atletico Mineiro and Sao Paulo, the 47-year-old began coaching in 2002 under Carlos Alberto Parreira at Corinthians before spells with Santos, Sport, Internacional and Al Ain in UAE. Gallo has overseen Toulon Tournament victories with the youth sides and will lead Brazil's U-23 side in the 2016 Olympics.
Head Coach: Dunga
Captain of Brazil's 1994 world champions, the 50-year-old spent four years as coach between 2006 and 2010, claiming Copa America and Confederations Cup titles before leaving the role after a quaterfinal defeat to Netherlands at World Cup 2010.
Assistant coach: Andrey Lopes
Dunga's former assistant during his time as coach of Internacional, the 40-year-old - affectionately nicknamed cebola (The Onion) - played a role in the emergence of the likes of Alexandre Pato and Nilmar. He will help to oversee the transition of young players into the senior setup.
Interim Assistant: Mauro Silva
Another of Dunga's 1994 teammates, the defensive midfielder retired in 2005 and has been drafted in by the new boss in an attempt to instil a winning mentality in the side ahead of the Copa America and World Cup 2016. He will act as an assistant coach against Colombia and Ecuador next month.
Fitness coach: Fabio Mahseredjian
The 47-year-old has worked with some of Brazil's biggest clubs and was in charge of Brazil's physical preparation during Dunga's previous spell in charge of the Selecao. A keen student of his profession, Fabio has almost as many diplomas as Brazil has trophies.
Goalkeeping coach: Claudio Taffarel
Brazil's goalkeeper at USA 94, he hung up his gloves in 2003 and worked as goalkeeping coach at Turkish club Galatasaray for three years before agreeing this week to join Dunga's backroom staff.
Team Doctor: Rodrigo Lasmar
Part of Luiz Felipe Scolari's medical team at World Cup 2014, Lasmar was one of the few to retain his role and will now take on more responsibility for the physical wellbeing of the players following the departure of his former colleague Dr. Jose Luiz Runco.


Physiotherapist: Gregor de Souza
Administrator: Guilherme Ribeiro
Communications and press advisor: Vinicius Rodrigues
Tactical Performance Analyst: Fernando Lazaro Alves
Chief of Security: Moacyr Alcoforado
Masseur: Luis Sergio Oliveir
Kitmen: Manuel de Souza & Waldecir Leandro Nascimento