In November 2012, with the Confederations Cup just around the corner, the Brazilian football federation panicked.
A few months had passed since coach Mano Menzes had followed up a pitiful Copa America showing by failing to win Brazil's first Olympic gold. But the decision to dismiss him arrived just as he appeared to be to be breathing some fresh air into Brazilian soccer.
After much experimentation, he was beginning to find answers to some long-standing questions with the implementation of a high-pressing approach and a greater focus on possession soccer.
MORE: Beautiful fans in Brazil | Barcelona's new bright kits | Juve's jerseys
Muted political reasons for his dismissal aside, time was running out as the Selecao prepared for a World Cup on home soil and CBF president Jose Maria Marin jumped the gun. He turned back to the tried and trusted Luiz Felipe Scolari, the man behind Brazil's 2002 World Cup glory. A man seen as a winner above all else.
Scolari's tenure came to an end earlier this month following the ignominy of Brazil's 7-1 World Cup semifinal defeat at the hands of Germany and Tuesday saw the return of coach Carlos Dunga.
There had been calls for a major shake-up in the Brazilian game, with local commentators suggesting it was time to turn away from the pragmatic futebol de resultados that for over 30 years has seen the country's coaches value substance over style. Don't be fooled, Futebol-arte or Jogo Bonito hasn't lived here for a long time.
And Dunga's appointment sent a clear message: There will be no revolution.
Pep Guardiola's interest was ignored in 2012 when Brazil turned back to Scolari and CBF quickly dismissed suggestions it may now be set to hire its first foreign coach.
Suggestions that Jose Mourinho or, perhaps more realistically, Clarence Seedorf could lead the team were scuppered when former goalkeeper Gilmar Rinaldi was announced as the new general coordinator of the national team.
"We have a lot of good and well-trained coaches," he said. "I don't think a [foreign coach] would provide what we want right now."
Dunga provides exactly what Brazil wants: more of the same. With that in mind, there were only a handful of candidates.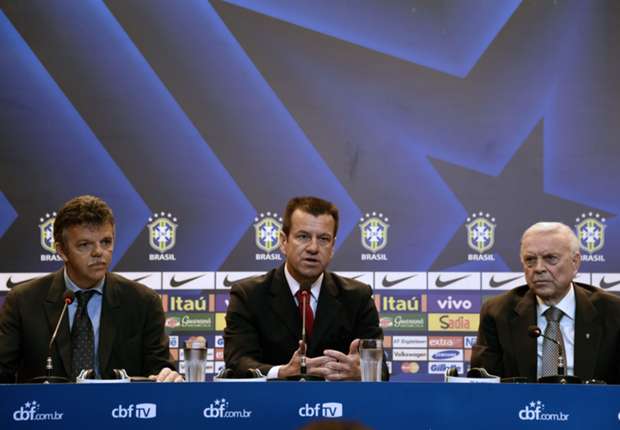 Panic | Brazil has reverted to type in appointing Dunga
Tite, who led Corinthians to a league title and the Copa Libertadores with a reactive, counterattacking 4-6-0, had long been the front-runner for the job. He hasn't worked since leaving the club shortly after defeating Chelsea to lift the Club World Cup.
Muricy Ramalho was also a contender. He guided Sao Paulo to three straight league titles in the middle of the last decade as well as claiming the 2012 Libertadores with a Neymar-inspired Santos, and made his name with rigid collectives who strike on the break or via set pieces.
Neither man offers anything different to Dunga in terms of style, and so Brazilian soccer will continue to wait for a revolution that may never come.
"A goalkeeper saving a ball is also art, a center back recovering a ball is also art," said Dunga at his unveiling.
The CBF has found a safe pair of hands and Dunga's record during his four years as Brazil coach make him as safe as any.
He claimed the 2007 Copa America with a side that was missing a number of its star performers, won the Confederations Cup in 2009 and roared through qualification for World Cup 2010
.
But the limitations of his approach were exposed when his reactive, ruthless counterattacking side went behind against Netherlands in the quarterfinal of World Cup 2010. It was the first time Brazil was forced to chase a game in South Africa and lacked the creativity and invention to find a way back into the match.
Defensive midfield duo Gilberto Silva and Felipe Melo were held up as the symbols of all things evil in the Brazilian game. Dunga was fired in disgrace.
That was his first coaching job. He has hardly worked since. After two years away from the game, he lasted less than 12 months with Internacional. But now he has been handed a chance at redemption.
Faced with failure once more, CBF has reverted to type. And having made that decision, it might as well go with Dunga.