The purpose of this list is to identify players who are excelling at MLS clubs and look like they are making that step towards securing a professional contract.
If you missed
last year's article
, the rules are simple:
1. Only players currently playing for an MLS academy are included – no college kids.
2. MLS rules dictate that a player must spend a year with the team's academy or affiliate before he can sign a contract, so players like LA Galaxy's Jose Villarreal and Javan Torre were not included.
This year's list was more difficult than last year's as MLS academies have evolved at a rapid rate and the options were aplenty for nearly every academy.
While these are only educated guesses, the crazy MLS offseason does typically see a few academy products put pen to paper on Home Grown contracts.
Aaron Kovar, midfield, Seattle Sounders
Aaron Kovar had quite the year in 2011. He was an important piece of the Sounders U-18 team, made a couple of appearances with the U.S. U-18 national team, and played in four reserve games.
The 18-year-old is committed to Stanford next year, but he has the talent to skip the college level. He is extremely gifted with the ball at his feet and difficult to dispossess. He consistently hits a cross as well as any other player in the Development Academy.
His Irish citizenship also makes him an interesting prospect for English clubs, if the opportunity were to arise.
The midfielder is in a difficult position, though, as Sigi Schmid is stingy with playing time for young players, and Kovar will be too old for the Development Academy for next season. He would do well to enter a professional environment soon, but playing time may be hard to come by.
Maikon Orrellana, forward, Real Salt Lake
The El Salvadoran forward has made fans wherever he goes. He plays with a passion that is electric for supporters and energizes his teammates. The scrappy forward possesses a keen ability to change pace and is prolific in front of the net.
The question for Orrellana has always been, "When is he going to sign a pro deal?" The unique situation of the RSL-AZ residency program has made territorial issues part of the equation with any signing.
The forward is highly regarded by the RSL-AZ staff and looks to have a bright future with the Utah club in the coming years.

Jalen Robinson, defense, D.C. United
Robinson was the youngest player on the U.S. U-18 national team that took third place at the Milk Cup this past summer. He started two games and notched the game-tying goal against Mexico.
Coaches cite Robinson's athleticism and ability to play pretty much any position on the field as his best attributes. And while there are others in the D.C. United academy with more appearances at the reserve league level, Robinson is the most likely to be poached by another club.
He has suitors in multiple countries and spent time training with English academies, but the 17-year-old is still verbally committed to Wake Forest according to various outlets.
Robinson is the most pro-ready player on this list. He has the ability to adapt his game to the next level from both a physical and tactical standpoint.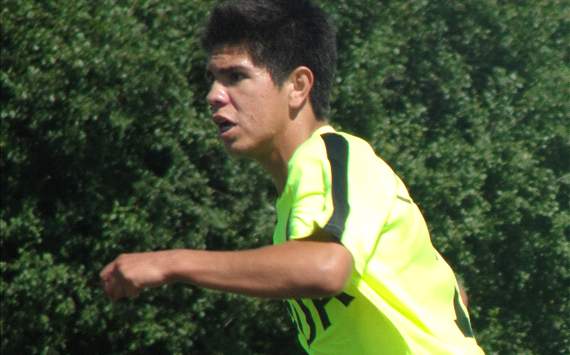 Christian Hernandez, midfield, Philadelphia Union/PDA
ESPN Rise
reported earlier this year that Hernandez had no intention of signing with any college and would be pursuing a professional contract after high school. The 2010-11 U.S. Soccer Development Academy U-18 Player of the Year has shown the skill and determination to take his game to the next level.
This past summer, he appeared with the full Philadelphia Union team during its exhibition win over Everton. Hernandez scored the game-winning goal.
The midfielder is also a product of
the L.A. Galaxy academy
. After spending a year with the Southern California club, he moved to Mexico, but returned to U.S. via New Jersey and latched on with the Union affiliate Players Development Academy.
On the field, he is more an attacking mid than a two-way player. Questions about his physicality may arise when he jumps to the MLS level, but it did not seem to be a problem against the bruising English club.
The Union have done an excellent job giving young players valuable minutes and Hernandez would do well to immerse himself in that environment.
Daniel Garcia, midfield, FC Dallas
Not many realize this but, surprisingly, Daniel Garcia was the leading scorer for the FC Dallas U-18 team last year that included multiple players who had already signed professional contracts. This season, he is once again leading the team in scoring with 10 goals in nine games.
Dallas has not been shy when it comes to handing out Home Grown contracts, with six former academy players already on the full team roster. But, Garcia has given his verbal commitment to UNC, which could suggest he is on the path to classrooms in Chapel Hill before MLS locker rooms.
As for his production on the field, Garcia is a two-way midfielder who has greatly benefited from Oscar Pareja's coaching. When he does progress to the full team, he will find a home at outside midfield with a knack for getting on the end of crosses.
Follow J.R. ESKILSON on