The UCLA Bruins had lofty expectations placed on them from both inside and outside their locker room heading into the 2011 season.
"We will be a real force," UCLA captain Andy Rose told Goal.com during the offseason. "I am excited for my senior season. I think we can do really well. We are not cocky; we work really hard every day. We feel like we can go places next year."
Bringing back all 11 starters from last season's team that made the NCAA quarterfinals had many projecting the Bruins for glory in 2011. Considering the talent on the roster with multiple future professional players and a copious supply of youth internationals, it seemed like close to a sure thing.
However, after two weeks, UCLA was winless and left searching for answers as to what happened to last year's team.
"Soccer is a sport where it takes time to be a good team," head coach Jorge Salcedo told Goal.com last week. "We are only six games into our season. We didn't play any exhibition matches. The three matches on the road are kind of the first stab at what we are going to do."
Those matches left UCLA with losses against Louisville and UC Davis and a draw against Santa Clara. The latter two results coming as among the most shocking results across the nation early in the year.
After the road trip, the Bruins returned to the familiar confines of Westwood and rattled off a three-game winning streak at home.
"We've learned from [the road trip]," Salcedo said. "We have gotten better these last three matches. Tonight's second half [against UCSB] was the best we played all season so hopeful this is a springboard for the next few games."
Leading the suddenly resurgent Bruins has been forward Chandler Hoffman, who was out for much of last season with an injury.
"I thought that the first three games, we didn't play badly, but it was just figuring out how to move the ball and be more dangerous in front of goal," Hoffman told Goal.com after the Bruins 3-2 win over UCSB. "Now, everything is finally clicking and I think we are going to be a really dangerous team."
Hoffman tops the team in goals scored and points, which included a streak of five games where the forward found the back of the net. The goal-scoring run tied the UCLA program record that was previously held by former Bruins greats Joe-Max Moore and Billy Thompson.
"This summer gave me a lot of confidence, scoring a lot of goals," Hoffman said in reference to his stellar play with PDL side Orange County Blue Star. He notched 13 goals in 13 games on his way to a spot on the USL PDL All-League team.
"I had a great preseason and I have just been sharp in front of goal," Hoffman added. "Hopefully, it will keep coming like this."
The USD game on Sunday ended his streak, but the Bruins grabbed another victory to extend their winning run to four games and improve the season record to 4-2-1.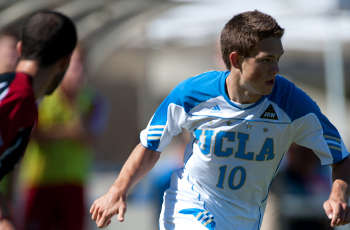 With only three non-conference games left on the schedule, the attention quickly turns to Pac-12 play where UCLA has won six of the last nine league titles but lost out on the championship last year to the Cal Golden Bears.
Last week's victories over two of the top California teams, UCSB and USD, will be a confidence boost heading into the grueling conference schedule.
"Obviously this is only the sixth game of the season, but we feel good about coming out on top," Salcedo said when discussing the message the victory over UCSB sent to potential challengers out west.
A league title is only a step in the journey though; the Bruins envision greater post-season success this year than the quarterfinal finish from last year.
"That is the plan, to go home for the Final Four [where the event will be held this year]," Alabama native, Hoffman, said. "That would be unbelievable."
A long journey awaits the Bruins, with a sleuth of challengers, before they will be close to reaching that goal of lifting the title at College Cup in Birmingham in December.
Given the mettle they have showed responding to adversity early in the season, it looks like they are up for any challenge.
Follow J.R. ESKILSON on