On Wednesday, U.S. Soccer revealed a minor surprise when they included 18-year-old Juan Agudelo on the full team roster for friendlies against Argentina and Paraguay this month instead of allowing him to play with U20 side in the CONCACAF Championships.
The U20 CONCACAF Championship serves as the qualifying event for the U20 World Cup, which will begin in Colombia - Agudelo's birth nation - in late July. Of the 12 teams at the regional tournament, only four qualify for the World Cup so there is a heavy dependence on a good showing from head coach Thomas Rongen's squad.
Agudelo's inclusion on the full team roster is a sign that the federation places a higher value on his potential contributions to that team for the very important Gold Cup – which serves as the qualifying event for the 2013 Confederations Cup – this summer.
It also signifies Bob Bradley winning the tug-of-war against Rongen, leaving a previously very deep U20 roster somewhat shorthanded due to club commitments that kept standouts like Josh Gatt and Fabian Hurzeler with their teams in Europe.
This same dilemma happened in January when Agudelo was called into both the full and U20 camps.
"The agreement for [Agudelo] to come in two days late was based on Thomas [Rongen] feeling that he didn't have his group together all that much," Bradley said to
Goal.com
at the beginning of the January camp.
However, Rongen shouldn't complain too much about losing the Colombia born striker. After all, isn't the point of the U20 team to produce players for the full-team?
Well, in this case, that is not the full story.
Rongen and Bradley subscribe to completely different systems and instruct players in distinctive ways. While the youth coach does sufficiently prepare players for the next level, there is a gap in ideology between the two tacticians that epitomizes the difficulty taking each step higher in the U.S. national team setup creates for players.
From the youngest [U14] to the full national team, each coach has a different idea on how to play the game - from formation to style, they are all unique. This requires players relearning certain preferences at each level to adjust to new coaching.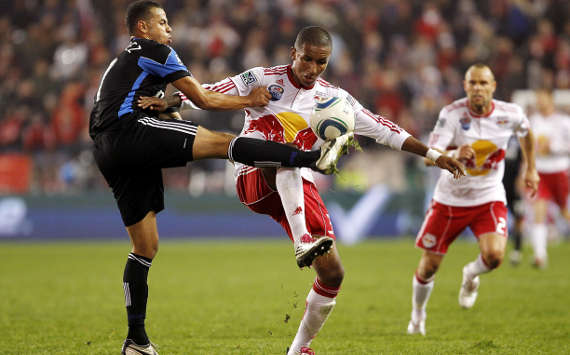 Stylistically, Agudelo's game is more suited to Rongen's 4-3-3 attack-minded, technical play, but given Bradley's trump card as the top coach, he pulls rank. An especially fickle forward depth chart certainly plays a role as well. Bradley has been unable to find a consistent forward since Charlie Davies' tragic injury in October 2009.
However, if Bradley is looking at Agudelo to fill those shoes, he will be sorely disappointed. For all the positives of Agudelo's exuberant game, there is still a lot of room for him to grow as a player. Last year, he hardly played with his club team and only garnered significant minutes during the playoffs for New York. His lack of experience on the field at a high level has been exposed during his brief time with the full national time.
From his oft-mistimed runs to his delay in seeing open teammates, he still needs time to grow before he is ready to be the go-to-player for the full national team. A summer with the U20 team and his club would have been a great opportunity for him to learn from any mistakes quietly, out of the glare of the scrutinizing spotlight.
Bradley's roster for the upcoming friendlies shows he was looking to the future, featuring young players such as Timothy Chandler and Mikkel Diskerud. It is clear the coach thinks Agudelo is part of that future for his side, so the teenager was included without sufficient reps to develop his game either at the club or youth level.
Granted, one could point to using his time with the full team this summer as part of the process of him growing as a player. Pushing talent up to the next level (i.e. playing up an age or against better competition) is a typical ideology for hastening the development of young players. However, it takes patience and commitment to let those players learn on the fly, something rarely seen from full national team coaches.
It would also mean the wunderkind finding enough minutes on the full national team squad in a tournament where results are crucial. Compare this to gaining experience as a guaranteed starter with Rongen's U20 side during qualifiers and possibly the World Cup, where learning and adapting is equally, if not more, important than results.
There is no shame in playing with a U20 squad. Plenty of future world-class talents such as Lionel Messi and Gerard Pique have gone down that route.
Agudelo's previous comments to the media have suggested that he is aware of how significant his evolution as a player is for his professional future.
"I don't want anything that gets me distracted from growing my game," Agudelo said to
Goal.com
at the January camp at the Home Depot Center. Perhaps that unlikely distraction will come in the form of the full team's need for wins in spite of their teen striker's need to rework some tendencies in his game.
For everything that has been written about Agudelo since that sizzling debut in Johannesburg, he fizzled in his appearance against Chile in January. And an injury has kept him sidelined during the pre-season for his Austrian-owned MLS club.
While it could be viewed as a step back to re-introduce Agudelo to the U20 fold at this stage, it is a meaningful exercise for his development. There is guaranteed playing time and an opportunity to diversify (and improve) his talents in meaningful games at that level.
For Agudelo, his time with the U20 team has a limit – that ends this summer – and his spell with the full team will hopefully be there for years to come.
Moving Agudelo up a level early - perhaps to ensure he molds to Bradley's system rather than Rongen's, or perhaps because of worries at forward depth for the Gold Cup roster - smacks of hastiness and lack of foresight. Patience is a virtue. In this case, allowing the teenager to develop at a slower pace would likely be healthier for Agudel's career overall.
J.R. Eskilson is the Youth Soccer Editor at Goal.com. You can follow him on Twitter @NCAAsoccer


Follow Goal.com on

to get the latest soccer news directly. Check out Goal.com's

page; be part of the best soccer fan community in the world!