Last Year's Gatorade Player of the Year, this year's Freshman of the Year
Freshman of the year: Soony Saad, Michigan 22 games played, 19 goals (6 GW), 5 assists
It is only once in a blue moon that a player like Saad comes along. And he came along in a season where freshmen stole the show for many teams. In fact, six of the final eight teams remaining have a freshman (or a few) who play crucial roles in the success of the team.
Saad led the way with 19 goals in 22 games, a Michigan school record. He picked up the Big Ten Offensive Player of the Tournament while leading the Wolverines to the title.
It wasn't a soft schedule either for the Wolverines and Saad. Along with the difficult conference schedule that included five teams who made the second round of the NCAA tourney, Michigan also took on Akron and Notre Dame. Saad scored the lone goal for the Wolverines against those opponents.
The difficulty of opposition, the goal scoring abilities, and the potential to take over a game at any moment made Saad the choice for Goal.com freshman of the year.
Freshmen First Team:Cesar Castillo (Sacramento State)
20 games played, 88 saves, 0.76 GAA, 8 shutouts
A ridiculous statistical year for the rookie between the pipes for the Hornets. Castillo was eighth in the country (for any class) in save percentage (.876). He was also in the top 25 for saves (78). He ended the season with a 0.64 GAA, good for 18th best in the land. He also had eight shutouts and was credited with one assist during his debut campaign. Prior to Sacramento State, Castillo saw some time with the Chivas USA Academy and the Cal North ODP team.
Blair Jeralds (Denver)
16 games played, 1 goal, 1.38 GAA
Jeralds shockingly flew under the radar in his debut season. MPSF doesn't list a freshmen team of the year so he didn't pick up any award there. However, he is a true game-changer at center back. In the NCAA tournament first round game against UCSB, he blocked more than a handful of shots. Jeralds reminded me of a smaller Ike Opara. In the post-game press conference, he claimed he hadn't heard the comparison before but he models his game after the fellow North Carolina native. Prior to becoming a Pioneer, Jeralds played with the North Merk Soccer Club. He was honored as a member of the Development Academy Eastern Conference team of the year.
Andrew Jean-Baptiste (UCONN)
20 games played, 1 goal, 1 assist, 0.34 GAA
Jean-Baptiste started every game and was second on the UCONN team in minutes played. The tall center back from New York has drawn the likely comparison to Kwame Watson-Siriboe from UCONN supporters. As a freshman, he led UCONN to one of the top defenses in the country, only conceding five goals through 18 games. He also chipped in with a goal and an assist. Prior to UCONN, he received a look with the U.S. U18s in April and played in the Development Academy with Albertson SC.
Tyler Polak (Creighton)
20 games played, 2 goals (1 GW), 1 assist, 1.10 GAA
The talented left back has been a fixture on the Creighton squad this whole season. His class, composure, and technique are something you very rarely see at this level especially from a freshman. He was part of a Bluejays defense that gave up 13 goals in 14 games. On the offensive end, he added two goals and one assist to his name in the record books. Prior to Creighton, Polak was a member of the U.S. U17 and U20 teams.
Perry Kitchen (Akron)
22 games played, 4 goals (1 GW), 1 assist
The defensive midfielder from Indianapolis was such an important part of the Akron's season that he only missed 57 minutes in 18 games. That was good for second on the team in minutes played. He was fifth on the team in goals with four. More important than his offense output was his defensive work. His ability to destroy opponents attack allowed Akron to get numbers forward and have the third best scoring offense in the country. Prior to destroying attacks in college, Kitchen was the captain of the US U17 team and a member of the Chicago Magic SC.
Kelyn Rowe (UCLA)
21 games played, 6 goals (3 GW), 9 assists
Rowe is an attacking midfielder who jumped into the UCLA starting line-up from day one. His skill-set put him a step ahead of most freshmen in the country, and a step ahead of a lot of returning players he went up against. Rowe found success almost immediately with two goals and an assist in his first four collegiate games. He rode that wave of success to a 20 point season (6 goals, 9 assists). Before being crowned the Prince of Westwood, Rowe was shredding Development Academy defenses with Crossfire Premier.
Steve Neumann (Georgetown)
20 games played, 10 goals (4 GW), 8 assists
Neumann carried the Georgetown offense for a long stretch of the season. During that stretch, the Hoyas rattled off more than a handful of wins and propelled themselves to a Big East Blue Division regular season title. Neumann was utilized off the bench for almost all of his appearances. He made the most of it with ten goals and eight assists to his credit. Neumann is one of the few freshman who made an impact without Development Academy experience. Neumann played club soccer with YMS Xplosion.
Darren Mattocks (Akron)
22 games played, 18 goals (6 GW), 4 assists
Who would have thought that a freshman would be the leading scorer on the Zips at the end of the regular season? The Jamaican youth international has slotted in seamlessly with the Akron attack. His combination of speed and positioning has let him lead the goal scoring race for the Zips with 18 on the season. With fellow Akron attackers drawing attention, Mattocks has punished defenses relentlessly for leaving him too much space. Prior to Akron, Mattocks played for U21 Waterhouse F.C. in Kingston, Jamaica.
Soony Saad (Michigan)
See Freshman of the Year.

Dylan Mares (Louisville)
19 games played, 8 goals (3 GW), 3 assists
The freshman from Indiana led the Cardinals in goals scored in his first season at Louisville. With eight goals and three assists to his name, Mares was among the top points scorers for freshmen while playing on the top-ranked team in the country. Coach Lolla had such tremendous trust in his freshman that he let the youngster take a penalty kick in the Big East championship penalty kick shootout. Prior to Louisville, Mares played for the very successful Indiana United (formerly Carmel United) in the Development Academy.
Juan Castillo (SMU)
18 games played, 10 goals (4 GW), 4 assists
It was almost a tale of two seasons for the Mustangs leading man. With nine goals in the first two months of the season, Castillo went scoreless for nearly a month before scoring against Creighton in the NCAA tournament second round. The goal against Creighton brought his season total to ten goals and four assists. The goals were tops for SMU, he also led the team in game-winning goals with four. Prior to SMU, Castillo was tearing up defenses with Texans SC DTH in the Development Academy. He has also played with the Olympic Development Program.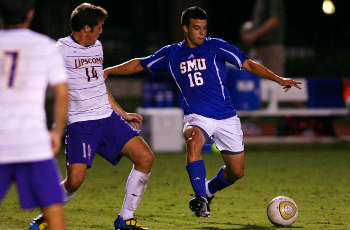 Freshmen Second Team:Kees Heemskerk (College of Charleston)
19 games played, 82 saves, 1.02 GAA, 6 shut-outs
Joe Sofia (UCLA)
19 games played, 1 goal (1 GW), 2 assists, 0.92 GAA
Sebastian Ibeagha (Duke)
16 games played, 1 assists, 0.90 GAA
Bradlee Baladez (South Carolina)
22 games played, 6 goals (5 GW)
Zach Barnes (SMU)
16 games played, 5 goals (2 GW)
Patrick Mullins (Maryland)
19 games played, 5 goals (1 GW), 4 assists
Robbie Derschang (SMU)
18 games played, 5 goals (2 GW), 3 assists
Aodhan Quinn (Bradley)
22 games played, 3 goals (1 GW), 10 assists
Tyler Gibson (Charlotte)
19 games played, 4 goals (1 GW), 4 assists
Itode Fubara (ETSU)
21 games played, 4 goals (2 GW), 3 assists
David Opoku (UCSB)
21 games played, 6 goals (2 GW), 5 assists
Freshmen Honorable Mention:Shaun Foster (Hofstra)
18 games played, 2 goals (2 GW), 1 assist
Alex Hadley (Cincinnati)
19 games played, 1 goal (1 GW), 0.74 GAA
Patrick Matchett (UCLA)
15 games played, 2 assists, 0.92 GAA
Nikita Kotlov (Indiana)
20 games played, 3 goals (1 GW), 6 assists
Gyasi Zardes (Cal State Bakersfield)
18 games played, 5 goals (2 GW), 7 assists
Victor Chavez (UCLA)
21 games played, 9 goals (3 GW), 5 assists
Chris Prince (Wisconsin)
20 games played, 7 goals
Ryan Price (FGCU)
18 games, 6 goals (2 GW)
Tyrone Martin (San Diego State)
14 games played, 1.21 GAA
Last year's winners can be found
here
.
J.R. Eskilson is the youth soccer editor of Goal.com. Follow him on Twitter
@NCAAsoccer
Click here to follow the Goal.com Twitter feed and join Goal.com USA's Facebook fan page!