What and who to look for among the Elite Eight
Four tickets remain for College Cup in Santa Barbara, it all comes down to this weekend as to which sides will claim those tickets. Here is the breakdown of the four games:
Home team listed first (W-D-L)
#1 Seed Louisville's region:
Louisville (18-3-0) vs UCLA (16-1-4)
December 4, 7:00 PM (ET)
Breakdown:
Eder Arreola told reporters after UCLA's 2-1 victory over Dartmouth in the third round about Louisville, "I know they are seeded number one, but we aren't scared about that."
Coach Jorge Salcedo later said that he had seen tape of the top ranked team from their Big East championship game. As this is the first meeting between the teams, it will be up to the tape for the coaches to prepare their teams.
Salcedo has done a good job breaking down tape so far this post-season. He picked the weak spot in the Dartmouth defense by putting Arreola out on the left and funneling his attack to that side. He was rewarded with two goals from the winger.
The tactical acumen by the coaching staff might not be enough to overcome UCLA's ordinary statistics. This team is the most average remaining in the post-season. They ranked in the 40s in both scoring defense and offense.
In comparison, Louisville ranks seventh in scoring defense and 15th in offense. They gained their spot here by holding serve at home with wins over College of Charleston and Ohio State.
Those two wins are the only NCAA tournament victories in Louisville's 31 year men's soccer program history. For head coach Ken Lolla, this will be his second trip to the Elite Eight. He did it in 2005 with Akron.
Players to watch:
Joe Sofia, UCLA, Defense
The freshman center-back has shown an ability to step up in the biggest situations this season. Against Dartmouth, he was given the task of slowing down Lucky Mkosana. A difficult task as Mkosana is probably three to four steps quicker than anyone else on the field.
He held his own against the lone Big Green striker and kept him off the score sheet. Against Louisville, it will be a different challenge with their ball movement and variety of goal-scoring weapons on the field.
The former Irvine Strikers captain will be playing in front of one of the most hostile crowds of his life, but perhaps his experience during the season against UCSB (15,896) and Cal Poly (8,717) will ease the nerves.
Charlie Campbell, Louisville, Midfield
The red-shirt senior had the opening goal against Ohio State on Sunday. It was his fifth strike of the season with three of them coming since the post-season began (Big East tourney counted as post-season).
However, Campbell is highlighted for a different reason. Campbell has the possibility to play in his second College Cup. As a member of Virginia Tech team in 2007, Campbell recorded a team save to preserve a 1-0 win and give the Hookies a berth into the Final Four.
The Cardinals may need those heroics again to hold off a spunky UCLA team.
Prediction:
An early goal for either side will be incredibly important in this clash. UCLA are 15-0-0 when scoring first this season. Louisville are 15-1-0 when netting the opening goal.
UCLA, shockingly, will be the highest ranked team (in terms of RPI) Louisville have faced this season. So, this might be the best test they see to get an adequate read on their actual strength.
The Bruins have a few faults and can be exposed by the right game plan (hint: rely on counter-attacks and crowd the box on corner kicks). The Cardinals' defense has let teams back in the game in both of the NCAA tourney games so they aren't infallible either.
Jorge Salcedo does not get enough credit for shaping this young team into a cohesive group so quickly this season. His experience in this position will shine through in this fixture.
UCLA 2-1 Louisville
#2 Seed Maryland's Region:
Maryland (19-1-2) vs Michigan (16-3-4)
December 4, 1:00 PM (ET)

Breakdown:
Maryland made their fans wait will exasperated breath before clinching their spot in the quarterfinals. A
Taylor Kemp volley from 22 yards
out with two minutes left on the clock would be the difference maker in their third clash against Penn State.
Michigan fans did not have the same anxious feeling against South Carolina in their fixture. Thanks to some stellar play from Justin Meram, the Wolverines cruised to a 3-1 victory over the hosts.
Players to watch:
Zac MacMath, Maryland, Goalkeeper
Michigan love to take shots. They test the keeper early and often. With Meram and the two Saads leading the attack, they can usually find some gaps to rip a shot from distance on frame. It will be up to MacMath to not only provide the spectacular save, but also provide the ordinary save on a slow roller.
It will be a contrast to most games for MacMath who normally only sees a handful of shots per game. He might see up to a dozen against Michigan.

Justin Meram, Michigan, Forward
The senior put on a spectacular show against the Gamecocks in the third round. With two goals to his name, Meram gave the home defense fits all game.
It is the combination of speed and shot that gives defenses so much trouble. Now, he will be facing one of the best defenses he has seen all season in a do-or-die game.
If the senior really wants to boost his draft stock, a good performance at College Park would put him firmly on most teams' radars.
Prediction:
As a fan of the game, I wish both these teams could make College Cup because they both institute a visually pleasing style of play. However, that is not possible so one won't be flying west next week.
Maryland are clearly the stronger side on paper given their strength of schedule and lengthy winning streak.
Michigan have improved their biggest weakness, defense, in their last few outings. The improved play of Latif Alashe is a major reason for the better defensive performances from the Wolverines.
Yet, that defense still is not sharp enough to slow down the Maryland attack. The Terrapins will close down Meram and Soony Saad's space to limit the Wolverine attack.
Maryland 3-1 Michigan
#3 Seed Akron's Region: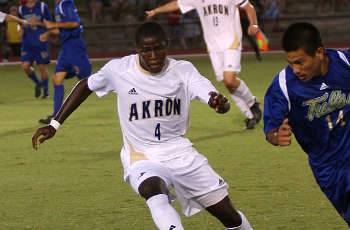 Akron (20-1-1) vs Cal (14-3-2)
December 4, 4:00 PM (ET)
Breakdown:
Probably the most intriguing battle of the Elite Eight. A high power offense (Akron) against a good defense and excellent keeper (California). There is plenty of future MLS talent on both teams.
Akron have a chance to clinch a tie for the longest home unbeaten streak in NCAA history with a win against California. In the last round, they won 2-1 over Indiana to increase the unbeaten streak to 38 games with 27 straight wins.
The Golden Bears have their own streak they have been working on for two years. They are undefeated in their last nine road contests including a 6-2-0 record this season. With a win and a draw in their trip to Indiana at the beginning of the season, Cal have some experience with long flights and playing quality opponents in hostile environments.
Players to watch:
David Meves, Akron, Goalkeeper
For an attack, possession minded team, Meves doesn't normally get much attention. However, with California's strength on set-pieces and ability to punish mistakes, it will be up to Meves to keep the Golden Bears off the scoreboard with some solid play.
Akron have been playing with fire lately letting in late goals to give teams some hope of a comeback. That is the last thing you can afford to do against Cal. The Golden Bears play hard until the final buzzer with a propensity to excel in overtime.
A.J. Soares, California, Defense
The most important thing for any defender to do against the Zips is limit mistakes. Soares has been a model of accomplishing just that as a fixture of the Golden Bears defense.
The senior captain will be tasked with shutting down strikers Darren Mattocks and Darlington Nagbe.
Prediction:
Akron were in the College Cup last year, and they know what it takes to get back there. This is Cal's second trip to the Elite Eight. They last made it in 2005.
California are capable of parking the bus and letting Akron hold the ball without threatening the net. Indiana put down the foundation on how they could steal this one on the road with a stalemate at half.
The most important thing for the underdogs to do to make history is keep this game level until half. If you let Caleb Porter go into the break with the lead, the fixture is pretty much over.
Akron 2-1 California
#4 Seed North Carolina's Region:
UNC (16-3-3) vs SMU (16-1-2)
December 3, 7:00 PM (ET)

Breakdown:
The lone game with any history between the teams. These two played once before - in the quarterfinals of the 2005 NCAA tourney, SMU won on the road 3-2 in overtime.
The host team got here by defeating Georgetown and Michigan State in penalty kicks. So far, they have only socred one goal in two NCAA tourney games. Not the offensive explosion Tar Heel fans were hoping for when this post-season started.
The visitors got here with a penalty kick win over Creighton and then a 1-0 victory over William and Mary in the third round.
Players to watch:
Michael Farfan, UNC, Midfield
Farfan and the Tar Heels' attack are facing a scoring defense that ranked 91st in the country this season. If he can find space, he can jump-start the UNC attack that has been lacking so far in this post-season.
The Cal State Fullerton transfer has a chance to end his career in Big West territory for UNC's third trip to College Cup in as many years. It will be up to his crafty boots to get them there.
Craig Hill, SMU, Goalkeeper
It will be up to Hill to win this game on the road. UNC have not shown much offensively in the post-season, but they are capable of opening up and shattering even the best defenses.
So far, Hill has registered 14 saves in two tourney games. UNC will be ripe for the upset if Hill can make a similar effort from the second round with 11 saves.
Prediction:
This Tar Heels team have battled through countless injuries (and the occasional suspension) this season. They still churned out an excellent year, but they haven't been playing like their normal selves lately.
SMU mixed youth and veteran leadership to charge to the top of Conference USA standings during the regular season. This came as a surprise as SMU finished 6-2-8 last season, good for seventh in C-USA standings.
The SMU defense has done just enough to survive in the post-season. Not sure if they have enough to stop UNC on the road though.
UNC 2-1 SMU
J.R. Eskilson is the youth soccer editor of Goal.com. Follow him on Twitter @NCAAsoccer