Find Part 2 here.
The tournament is down to 32 teams after 16 were sent their marching orders on Thursday. Here is a preview of the second round match ups.
Home team listed first. (W-D-L)
Local Time Given
#1 Seed Louisville's Region:

Louisville (16-3-0) vs College of Charleston (11-3-4)

7:00 PM

Breakdown:
College of Charleston jumped on top of East Tennessee State in their first round matchup and was up 3-0 by half. They are going to need to duplicate that recipe against Louisville. If they can jump on Louisville and push the Cardinals in the opening stages, they could have a chance at the upset. That said, Louisville is the #1 seed and there is a legitimate reason for that. They have been itching to get back at it after their penalty kick victory over Providence in the Big East final.
Players to watch:

Austin Berry, Defense, Louisville
The Cardinals defense has done a great job this season. Berry and his cohorts have been able to shut down some of the most prolific attacks in their region. College of Charleston might not have some of the big names of other programs but they do have some forwards who are very capable of punishing mistakes. It is up to Berry and the other three defenders to limit mistakes, and keep the Cougars quiet in this contest.
Francis Twohig, Forward, College of Charleston
Here is how the box score described Twohig's goal: "Perfect strike to upper right from 35 yards." Twohig came off the bench in the game to provide the wonder strike that proved to be the game winner. He is just one example of the versatile Cougar attack. If Twohig can provide another long-range laser, the Cougars will be looking spry to pull the upset.
Prediction:
Louisville have been close to perfect at home this season. Beyond their record, they have played really well on their home turf and executed their game plan close to perfection. As I have written about before, players like Dylan Mares and others have been much more successful finding the back of the net when playing at home. For the Cougars, this is close to a David vs Golaith match-up. They will need to defend for 90 minutes, something they weren't able to do against ETSU.
Louisville 2-0 College of Charleston
Ohio State (10-3-5) vs Providence (13-3-5)

12:00 PM
Breakdown:
Providence got here by destroying St. Peter's in the first round, 6-2. Providence are riding a 10 game unbeaten streak into this one. During that streak, Providence have played five games on the road, two at a neutral site, and three at home. Ohio State comes into this game after picking up the last seed in the tournament (#16). They entered the tournament on the heels of a penalty kick loss to Wisconsin in the first round of the Big East tourney. Even though Ohio State thoroughly out-played Wisconsin, they couldn't produce the final product.
Players to watch:

Jhojan Obando, Goalkeeper, Providence
Again, the game falls into Obando's lap. St. Peter's didn't present much of a challenge given how quickly the game got out-of-hand. This time, Obando will be called on more often and will likely be depended on to come up with one or two of his patented mesmerizing saves.
Konrad Warzycha, Forward, Ohio State
Last time I wrote about Warzycha, he kicked the ball into an opponent's face and was sent off. For Buckeye fans, let's hope he has a better outing this time. Warzycha is a dominating presence in the midfield. His jaunts into the attack have proven to be bountiful with seven goals to his name.
Prediction:
Ohio State has been very impressive at home this season (7-1-0). The lone draw coming against Akron. Of those eight games, five of them were against teams that made the tournament. There is no denying the fact that this team knows how to protect their home-field advantage. To Providence's credit, they have been no slouch on the road, and many of their games down the stretch have been high pressure contests on the road. Ohio State is going to try to slow the game down and keep it at their pace. Providence is going to force the issue with their wingers going at the Buckeye defense with speed. The game will probably be won/lost in the midfield. Expect a tight contest with chances limited for both teams.

Ohio State 1-1 Providence. Providence wins in PKs.
Notre Dame (10-4-5) vs Dartmouth (11-1-6)

6:00 PM
Breakdown:
Dartmouth looked great in their first round game against Monmouth. They knocked the ball well and had Monmouth chasing the game from the opening whistle. The reward for such a commanding performance, a road trip to Notre Dame for a second round clash. Notre Dame enter the post-season as the ninth seed in the Big Dance. They are led by Bobby Clark, the former Dartmouth legend. These two teams are pretty familiar with each other.
Players to watch:
Daniel Keat, Midfield, Dartmouth
Last time, I gave you Lucky Mkosana as the potential difference maker. He scored a great goal against Monmouth to put the game out of reach. This time, it is up to the midfield general, Keat. He is going to face off against Dillon Powers in the center of the pitch in what could be the best 1v1 match up on Sunday.

Steven Perry, Forward, Notre Dame
Perry is effective because he never gives up on a play. You think the ball is going out of bounds? Well, you better be sure because Perry is going to give his all to get to that ball before it crosses the end-line. The best part of Perry's game is his ability to capatailize on these mistakes. He made his way onto the All-Big East first team by making the most out of his chances.
Prediction:
The Big Green went into Monmouth and had no problem coping with the hostility. So, they should have no problem walking into South Bend and executing their game plan. The problem is Notre Dame coach Bobby Clark will be very aware of their game plan and have it broken down for his players. That said, Notre Dame usually has a no-show game around this time of the year.
Dartmouth 2-1 Notre Dame
UCLA (14-1-4) vs Sacramento State (10-7-4)

5:00 PM
Breakdown:
A rematch of the second round contest from last season. Sacramento State earned their berth into the second round by defeating Santa Clara 2-1 in the first round. Chris Bettencourt was the hero of the game, scoring the game winner with under six minutes left on the clock. For UCLA, they are eighth seed after finishing second in the Pac 10. Not many Bruins will remember that game as nearly half the starting lineup will be freshmen.
Players to watch:

Kelyn Rowe, Midfield, UCLA
Rowe is the creative mastermind that makes the UCLA offense click. He is dangerous anywhere on the field, and has to be accounted for by the Hornets defense. For UCLA to be successful, they are going to create space for Rowe to work his magic. Rowe will look to set up fellow freshman Victor Chavez, who leads the Bruins in goals scored.
Cesar Castillo, Goalkeeper, Sacramento State
Castillo is a freshman who will be playing in the biggest game of his career. He has hit a bit of a rough patch giving up five goals in his last four games. Against Santa Clara, he registered only two saves. He is going to have to come up big against the Bruin high-power attack.
Prediction:
The UCLA defense has been underrated all season. For a relatively young unit, they play like a group of seniors. They will need to limit mistakes and try to slow down the Sacramento State attack. Sacramento State will be playing with revenge on their mind. Some could argue this Hornets team is better than last year's team and the UCLA team is a little weaker. There are quite a few different playmakers on both teams. It might come down to which defense does a better job of limiting those chance's for the forwards. UCLA with the upper hand in defense, and the very slight home-field advantage.

UCLA 2-1 Sacramento State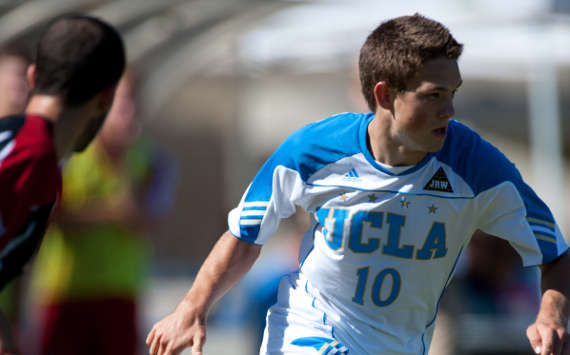 #2 Seed Maryland's Region:

South Carolina (12-2-6) vs Duke (10-4-5)

2:00 PM

Breakdown:
Duke earned their berth into the second round with a come-from-behind victory over Costal Carolina in the first round. They accomplished this without their leading scorer (and nation's leading scorer) Ryan Finley who per a Duke Press Release has been suspended indefinitely due to a violation of team rules. Without Finley, Cole Grossman stepped up to score a brace in the second half to lead the Blue Devils to victory. South Carolina got here by winning the Conference USA tournament and earning a first round bye.

Players to watch:

Blake Brettschneider, Forward, South Carolina
The Gamecocks leading man has been stellar lately. In the last five games, he has three goals and two assists. The senior from Georgia knows the opportunity ahead for the program and himself. With the seven seed, South Carolina would host the third round game if they were able to get past Duke. Granted, he probably is not looking ahead but a third round home game would be great for his legacy in Columbia. It will be up to Brettschneider to make it happen.
James Belshaw, Goalkeeper, Duke
Belshaw had a game earlier this season against Louisville where he registered 15 saves including a penalty kick save. It was one of the greatest individual performances of the season regardless of position. In the first round game, he didn't make a single save. He only saw three shots all game, and all three came in the first half. That is going to change when the Blue Devils face the Gamecocks on Sunday. The Blue Devils will be looking for their British keeper to stand on his head and keep the season alive.
Prediction:
Watching Duke play without Finley was not a pretty sight when they traveled out to Santa Barbara last month. Granted, he did make a guest appearance in that game because he was working through an injury, but realistically, he was not there. The Blue Devils needed his talents up top to keep the defense honest. Without him, this team is going to have trouble breaking down South Carolina. Furthermore, the South Carolina offense is going to venture forward more often than Costal Carolina did in the first round. I still think Duke will keep this close, but don't see them stealing it on the road.
South Carolina 1-0 Duke
Michigan (14-3-4) vs UCF (12-3-4)

2:00 PM
Breakdown:
If I were only going to watch one game on Sunday, this would be the one. UCF really knock the ball well for a college team. They don't get trapped in the route one tactics, and play the simple pass. Their first round clash against USF was a very enjoyable game to watch for a neutral. Both teams tried to keep it on the ground and showcase their technical abilities. UCF was able to pull out the victory because they made the most of their chances on set-pieces. They also dominated play for the most part, but all three of their goals came on set-pieces. For the Ann Arbor squad, they are up against a style of play that they haven't faced since Akron. There are spaces in the UCF defense for Soony Saad, Hamoody Saad, and Justin Meram to exploit, but it is going to be up to the Michigan defense to shut down the sharp passing Knights.
Players to watch:
Soony Saad, Forward, Michigan
Was there any doubt who would be the player to watch from the Wolverines? The freshman sensation has been phenomenal this season. He has 18 goals to his name and he just keeps getting better as the season goes. He scored a goal in every game in the Big Ten tournament including two game winners. Don't know if anyone could stop him at this point.
Nick Keown-Robson, Midfield, UCF
I highlighted the Kiwi in the last round, and he is getting the highlight again. Keown-Robson is much better than advertised. Beyond his absurdly ridiculous 10 goal, 9 assists season, Keown-Robson is a beast. Listed at 6'1, 170, he is built to take a few hits from the Big Ten defenders. He also has tremendous footwork for a big man too. Only a sophomore, we are watching Keown-Robson put it all together in the post-season.
Prediction:
The weather forecast doesn't have any rain/snow for Ann Arbor for Sunday. Advantage goes to UCF if the weather remains in the 50s. That should set up ideal conditions for their style of play. However, it is hard to write off this Michigan team. They have three players who are going to get a long look at the next level. And one player who is playing out of his mind. If UCF could somehow contain Soony Saad, they will be looking at a trip to the third round. Yet, better defenses than UCF have tried that task and failed. So the best bet for the Knights will be to possess the ball, don't let the Wolverines have it. Easier said than done, but if they want to keep Michigan in check, they are going to need to hold a 80-20 lead in possession by the end of the contest. That might be too unrealistic for a college team to accomplish on the road, and going against Soony Saad at this point is like betting against these previews to stay under 3,000 words (you DON'T do it).
Michigan 3-2 UCF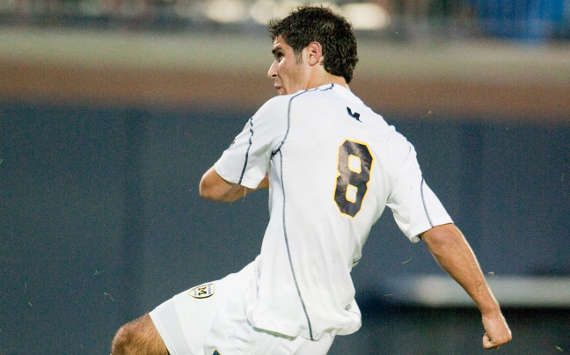 Penn State (13-1-7) vs Old Dominion (10-2-6)

3:00 PM

Goal.com contributor Jake Ullrich
wrote the breakdown for this game, and the player to watch on ODU:
Breakdown:
Old Dominion come into Sunday's match up off one of the best wins in program history. Thursday night, the Monarchs upset the defending national champions 1-0 in Charlottesville, Virginia. The Monarchs, who finished in a tie for fourth place in the CAA, received an at-large bid in the tournament and made the most of it with their first round win. A 62 minute goal by Alex Vaughan and excellent goalkeeping by Evan Newton was enough to see the Monarchs through to the second round.
For the Nittany Lions, they will be looking to avenge the loss last year to the Monarchs in Norfolk. After losing their last match 4-1 to Michigan in the Big Ten final, the Lions need to get an early goal to settle some nerves. If the Lions do get that goal, there is a good chance it will come from forward Corey Hertzog. The forward has scored 17 goals this season and continues to put defenders on their heels."

Players to watch:

Gideon Asante, Midfield, ODU
Asante made a name for himself on the national stage early this year when he scored two goals in the Monarch's 2-1 victory over UNC. Since that victory, Asante has seen much tougher defense as coaches began to set their game plan on stopping the speedy freshman. Even when he doesn't get on the score sheet, Asante is brilliant at running at defenders and taking pressure off the Monarch defense. The Monarchs will need Asante's quickness and finishing ability if they hope to grind out a victory in Happy Valley."
Corey Hertzog, Forward, Penn State
Hertzog has led the Nittany Lion offense through much of the season. Now, they are going to need him to lead them through the post-season. Penn State had an impressive win over Indiana in the Big Ten semifinal, but their loss in the final showed some of the short-comings of the team. It will be up to Hertzog to try to exploit the Monarchs defense and force the visitors to open up to get back in the game.
Prediction:
The impressive road victory by Old Dominion sent some ripples around the college soccer circles. A win here would make a huge splash considering it would give the Monarchs a third round berth and a chance to take on another ACC foe. However, Penn State are a good team at home and will have a decent size crowd in attendance to really make it a home-field advantage. Both these teams can be a bit fiery with their play, so emotions will be running high. It is the defense that keeps their composure who will keep their season alive for another week.
Penn State 2-1 ODU
Maryland (17-2-1) vs Penn (13-0-5)
5:00 PM
Breakdown:
Maryland earned the right to host this game as the #2 seed in the tourney. They won the ACC tournament via a 1-0 victory over North Carolina in the final. It wasn't the best performance from the Terps but they grinded out a victory. For Penn, they enter this game after knocking off Bucknell in the first round of the tournament. It was a good performance from a squad who had struggled down the stretch with only one win in their last four games.
Players to watch:

Matt Kassel, Midfield, Maryland
The former Red Bull academy player commands the midfield for the Terps. He is very gifted with the ball on his feet and possesses a dangerous shot from distance. He presents a difficult mark for many teams, but he is a player that has to be accounted for anywhere inside 30 yards from goal. Look for Kassel to step up and try to control the offense from a deep lying playmaker role.

Ben Berg, Goalkeeper, Penn
Berg posted his ninth shutout of the season against Bucknell in the first round. He made four saves in that contest, and will likely need to make a handful more to keep Maryland off the scoreboard. The senior keeper from Wisconsin has had a career year with 69 saves and a 0.65 GAA.
Prediction:
It takes a very special team to be able to walk into College Park and win. Not to say Penn is not capable of the feat, after all the ball is round and it is eleven versus eleven on the field. It is to say Penn will be in for a very difficult challenge. Maryland will pack that stadium, and they will heckle the Quaker keeper relentlessly. Home-field has been a fortress for Maryland with ten straight wins there since losing their opening clash to Michigan State.
Maryland 2-0 Penn
Become a fan of Goal.com USA's Facebook fan page for all the latest news and insight into everything related to the beautiful game


J.R. Eskilson is the youth soccer editor of Goal.com. Follow him oo Twitter @NCAAsoccer and join Goal.com USA's
facebook page
.