When I spoke to Thomas Rongen earlier this season, he specifically mentioned the fact that U20 coaches keep their eyes out for freshman who burst onto the scene in college soccer. This year, his eyes must be bouncing across the map as debutantes have been all the rage in leading some of the most successful programs. Here are the top 15 freshmen in the country through the first two months of the NCAA soccer season.
The Freshman 15 (stats through October 25):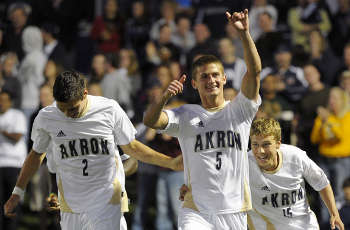 Perry Kitchen, Akron:
4 goals (1 Game Winner), 1 assist. 14 games started.
Kitchen's stats might not look like much, but he has to be in the discussion for freshman of the year. He has slotted into the Akron midfield seamlessly and been utilized as the linchpin of how Akron attacks. With Kitchen sitting in the deep-lying play-making position, right back Kofi Sarkodie is allowed to fly forward and add another dimension to the attack. Kitchen's play has been so consistently superb that U.S. U20 head coach Thomas Rongen singled him out last month to
Goal.com
as a breakout star. The former Chicago Magic and U.S. U17 member has shown his ability to see the game at an level that's incredulous for a player of his age. The gifted vision and ability to disrupt other team's counterattack has kept him on the field for much of the season as he is third on the team in terms of minutes. Akron leaned on the youngster early in the season in one of their most important positions and they will continue to lean on him in the post-season as the games keep getting more intense. If Kitchen's play stands up the rest of the way, he deserves serious consideration for every freshman of the year award.
Dylan Mares, Louisville:
7 goals (3 GW), 2 assists. 13 games played, 9 games started.
Mares is leading the Cardinals in goals and points with only two games remaining in their regular season. Much of that success can be attributed to his play at home, he has scored in every home game he has started for the Cardinals - that includes goals over St. John's and a gamwinner over Notre Dame. It is looking highly likely the Louisville Cardinals will have a few more home games in the post-season and will need his home goal scoring streak to continue for post-season success. Prior to Louisville, Mares was a member of the very successful Indiana (formerly Carmel) United Academy team that won two national championships. Other members of that Indiana United team include Harrison Petts (Indiana), A.J. Corrado (SMU), Nikita Kotlov (Indiana), and Tyrone Martin (San Diego State) who have all successfully transferred to college soccer. One has to wonder if these freshmen are going to make a reunion happen in the post-season with all the success they have enjoyed in their inaugural campaigns.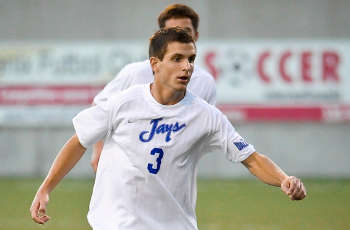 Tyler Polak, Creighton:
1 assist. 13 games started.
Polak has been the best freshman defender in the country by becoming a shutdown back on the left-side for Creighton. His play is so dominant that he has yet to miss one minute of game time this year. That's right, he has played 1199 of a possible 1199 minutes for Creighton. No other player on the Bluejays can make that claim, not even keeper Brian Holt. Polak has only chipped in with one assist, but he isn't an attacking outside back. He is a very sturdy defender who has shown the ability to shut down the best outside wingers in the country. His game is already being viewed for the next level as Creighton has been a breeding ground for future MLSers. They are the only program to put a player in every MLS draft. Polak is also in the contention to get a look with the U20 team as he was part of the squad at Dallas Cup earlier this year, and a fixture with the U17s.

Mamadou Diouf, Connecticut:
5 goals (1 GW), 1 assist. 7 games played, 6 games started.
For the first month of the season, Diouf was among the best five players across the country regardless of class. He destroyed opposing defenses with speed and power. He finished chance after chance in those early games picking up five goals in his first three games. Simply said, no one could mark Diouf through those first two weeks. He was unstoppable. Then, he became stoppable. An injury took him out of the UCONN line-up, and the dynamic UCONN attack had to turn elsewhere for their production. They still did miss the change of pace that Diouf provided and have been shut out in three games since his injury. Had Diouf stayed healthy, he would have been up there challenging Saad, Castillo, and Mattocks for the Golden Boot among freshmen.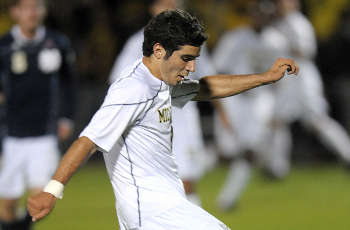 Soony Saad, Michigan:
12 goals (2 GW), 1 assist. 14 games played.
The Gatorade High School National Player of the Year has lived up to the billing and then some. Saad has carried the Wolverine attack through many games, and created a lion's share of his goals by himself. In the 14 games Michigan have played this season, Saad has only failed to register a point in five of them. That includes games against Indiana and Akron where he picked up unassisted goals. The dynamic attacker may be the odds-on favorite to pick up the Freshman of the Year award from many publications and find his way onto many teams of the year. He has been a class above the typical collegiate striker. It won't be long before the agents and professional contracts come calling, and don't be surprised if Saad gets a look with the U20s soon.
Darren Mattocks, Akron:
11 goals (3 GW), 2 assists. 14 games started.
It's his first year, and he is leading the best team in the country in goals and points. There was no question Mattocks would make this list. His 11 goal tally is good enough for second among freshman and tied for sixth among all players. Mattocks, a member of the Jamaica U23 team, has given the already high-octane Zip offense another prolific tool in front of the goal. That weapon has already paid dividends as Mattocks has struck three times in the five games Akron have played against ranked opponents. Prior to the season, head coach Caleb Porter promised the Akron fans if they do what they can off the field, "Akron will not lose at Lee Jackson Stadium." It is the play from Mattocks and Kitchen that is going to make his words ring true.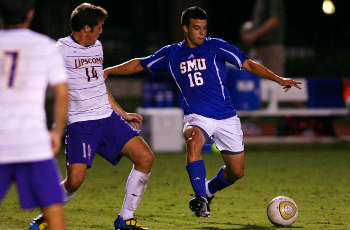 Juan Castillo, SMU:
9 goals (4 GW), 3 assists. 14 games played.
If this were any other year, Juan Castillo would be getting this article all to himself. However, he is one of the many talented freshman to have a successful first half of his debut season. (And for that matter, just one of four freshmen at SMU having a stellar start to their careers.) The former Texans SC forward has been among the nation's leaders in goals all season. And he may be one of the main reasons for the resurgence of the SMU program. It is very rare for a team as successful as SMU to depend on a freshman forward from the get-go, but that was the situation for the Mustangs. Castillo took the challenge and countered with seven goals in SMU's first eight games! During this streak, SMU rattled off a perfect record and cruised to the top of Conference USA standings. Now, teams have wised up to Castillo and he has hit a bit of a rookie wall with only two goals in the last five games. However, even with his lack of production, opportunities have been created for fellow Mustangs and he helped the team to four wins in their last five. Castillo is definitely one to keep an eye on going forward. He has the killer instinct teams desperately need at the next level.
Brian Graham, UNC-Greensboro:
6 goals (1 GW), 3 assists. 13 games played, 10 started.
The rookie forward is tied for tops in goals scored and second in points on the Spartans roster. The Maryland native has found his form recently, with all of his goals and assists coming in the last five games. During this period, UNCG went undefeated, and propelled themselves back into contention in the Southern Conference. The former Baltimore Bays striker joins a long list of players to transition club success into collegiate success. UNCG fans are hoping that success continues, as they will need a positive finish to the season in hopes of an NCAA post-season birth.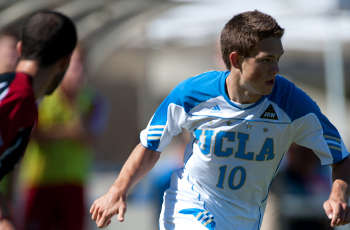 Kelyn Rowe, UCLA:
6 goals (3 GW), 5 assists. 15 games played/started.
In almost every game this year, UCLA have started a handful of freshmen. That's a consequence of seeing many of stars drafted in the MLS SuperDraft the previous year. Even with all those key components missing, UCLA have still rattled off an impressive record and pushed Cal at the top of the Pac-10 standings. One of the main reasons UCLA have been so competitive this year has been the play of center midfielder Kelyn Rowe. The maestro from Washington leads the Bruins in goals, assists, and points. Rowe's play didn't appear out of thin air, he was stellar in the Development Academy last year, leading Crossfire Premier to the U18 National Championship game. If last year's freshman star, Amobi Okugo, would have stayed another year, this could have been one of the most dominant midfield pairings in recent UCLA history.
David Opoku, UCSB:
4 goals, 3 assists. 14 games played, 9 games started.
The Accra, Ghana native is arguably one of the most technically gifted players in the country. Opoku spent much of the first half of the season figuring out his role with the Gauchos. He came to UCSB as a center midfielder, but was put into the leading striker role. He has adjusted to the back to the goal play, but still dazzles the crowd once a game with his sublime skill and no-look passes. He doesn't necessarily have the nose for the goal as most of the great strikers in the country, but his size and skill present a lot of match-up problems for defenses. The issues defenders have with Opoku help create space up top for fellow forward sophomore Sam Garza. Between Opoku and Garza, the Gaucho attack is going to give Big West defenders nightmares for a couple more seasons.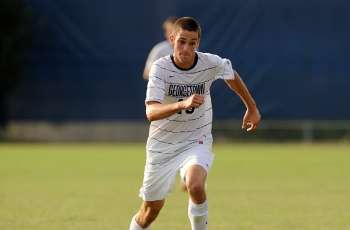 Steve Neumann, Georgetown:
9 goals (3 GW), 7 assists. 15 games played, 1 game started.
Neumann has burst onto the scene in commanding fashion over the last month. Through the first nine games of the season, he had one goal and three assists. Over the next six, he added eight goals and four assists, although he was coming off the bench for the Hoyas. Currently, he is the most productive 12th man (regardless of class) in college soccer. During his offensive explosion, Georgetown have rattled off six straight wins and moved into first place in the Big East Blue Division standings. Georgetown's stealth weapon off the bench won't be a secret for much longer as teams wise up to the substitute's production. It will be interesting to see if he can continue the hot streak against the stingy defense of UCONN on Wednesday and Notre Dame on Saturday.
Aodhan Quinn, Bradley:
1 goal, 7 assists. 15 games started.
With three games remaining on the Braves' schedule, Quinn has already clinched the school record for assists by a freshman. The left footed, center midfielder from San Diego has only missed one game this season for Bradley. He is starting to find his place in college soccer as he has picked up one goal, and two assists in his last four games. The hot streak will need to continue if Bradley players have hope of extending their season. They likely need to win the MVC tournament to grab a post-season invite. With Quinn in the squad, that is a strong possibility as he has lead his high school and club to tournament glory in recent years against heavy odds. The son of former U.S. National team member, Brian Quinn, appears to be a very good piece for this Bradley team to build around in the future.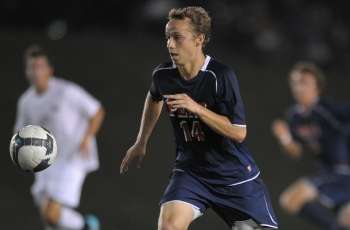 Stephen Baker, Penn:
7 goals (3 GW), 2 assists. 13 games played, 7 games started.
Baker is leading the Quakers. Pun out of the way, the freshman has a nose for the goal and finds himself in the right spot at the right time. That ability has put him tied for first in the Ivy League in goals and third for points. Also, his three game winners have helped the Quakers to the top of the Ivy League standings with three league games remaining. However, Baker has run into a rookie wall since earning the starting forward position against Adelphi. He has only scored once in seven games. Typically, a player of Baker's quality will break through that proverbial wall sooner than later. And the Quakers may need it with four difficult games on the horizon and the post-season around the corner.
Tyrone Martin, San Diego State:
14 games started.
Martin had played every single minute for the Aztecs prior to last Sunday against California. He has been their stalwart defender at center back this season. To ask a true freshman to command the defense is a tall task; however, Martin has responded confidently leading San Diego State to five shutouts and a 1.10 GAA. Even though Martin missed the clash against Berkley, he is still fifth on the team in minutes and the only field player on the Aztecs to play every minute (in the games he was available). Martin was also part of the very successful Indiana United Academy team and has looked comfortable playing at the next level. He has the size to take his game to the professional level, it is a just a matter of developing for a few more years in the collegiate game.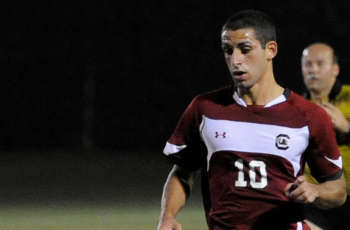 Bradlee Baladez, South Carolina:
5 goals, 14 games played/started.
Baladez has only five goals to his credit, but they have been some timely strikes, since four of them have held up as game winners. That quartet of game winners is tied for best among freshmen with fellow Texas native, Castillo. The handful of strikes is also good enough for tops in goals and points on the South Carolina roster. The word seems to be out among opponents as Baladez has been heavily marked in his last few outings. That still hasn't prevented the center midfielder from finding the back of the net, though. Baladez has good size for a midfielder, and has demonstrated the ability to take over a game at this level. He is a pro-prospect who is definitely on a few teams' radars as he is a former FC Dallas Juniors member.
On the Bubble:
Victor Chavez, UCLA; Joe Sofia, UCLA; George Malki, Cal Poly; Harrison Petts, Indiana; Nikita Kotlov, Indiana; Steven Evans, Portland; Olakunle Banjo, Towson; Gideon Asante, ODU; Harrison Shipp, Notre Dame; Zach Barnes, SMU; Robbie Derschang, SMU; A.J. Corrado, SMU; Austin Oldham, Butler; Adekunle Oluyedun, Butler; Adam Bedell, Detroit; Jordan Tyler, Penn State; Casey Meuser, San Diego State.
J.R. Eskilson is the youth soccer editor of Goal.com. Follow him on Twitter
@NCAAsoccer
and join Goal.com USA's
Facebook fan page
.