In a fast-paced and ever-changing soccer world, the annual
Goal 50
award acts as a useful measuring stick as various players see the value of their stock rise or fall.
While some stars, such as James Rodriguez and Thibaut Courtois, have surged up into the top 10, others like Andres Iniesta and Franck Ribery have been knocked off entirely.
Ribery was actually out of the list in 2012, flew up to No. 2 in 2013 and now finds himself outside of the 50 again this summer. In other instances, players may return after years in the wilderness.
Here, we profile high-profile dropouts and exclusions from the latest Goal 50 list and analyze their prospects in the future.
Barca stars punished for poor season

After failing to win a major trophy for the first time in six years, Barcelona's squad was punished in the 2014 Goal 50.
Only three of its players eventually made the cut: Lionel Messi at No. 3, Javier Mascherano at 25 and Neymar at 30 — with Mascherano rewarded mainly for his influential World Cup performances with Argentina, rather than his displays at Camp Nou.
The involvement of a number of Barca's key stars in Spain's disastrous World Cup defense would not have helped their case either, and
Andres Iniesta
is the most high-profile omission from the Goal 50.
The midfielder was one of only three players — Messi and Cristiano Ronaldo being the others — to have appeared in every one of the six awards from 2008-2013. That streak now comes to an abrupt end, with the 30-year-old dropping from No. 19 last year to no ranking whatsoever within 2014's list.
The chances of Iniesta regaining his place in 2015 do look strong. Barcelona is expected to improve its performances under new coach Luis Enrique, having spent heavily in the transfer market. The Spain international remains the most important creative force in the side and should bounce back.
It is hard to be as optimistic over
Xavi
and
Dani Alves
, however. The Barca stalwarts made each of the first five lists but have now been absent for two straight years. At 34, Xavi was close to leaving for Qatar or MLS this summer and now has less influence on games, finding it tough to press with the same intensity as he did in his peak.
With Ivan Rakitic arriving and Sergi Roberto expected to feature more often, Xavi may be rotated more regularly, while Alves — another player who was below-par last season — also faces an uncertain future amid exit rumors.
Thiago Silva, Alexis Sanchez, Andres Iniesta, Koke, Mario Gotze? Wowwwwwwww... http://t.co/zXxAkLSBAh

— Arthur (@nguyenbrah) July 28, 2014

Cesc Fabregas
and
Alexis Sanchez
have now left Barca and may feel unfortunate to miss out on a place in the 50 after posting strong goals and assist tallies last year. Their absences — along with that of Iniesta — were among the most debated by readers. However, with more important roles at their respective new sides, Chelsea and Arsenal, they have every chance of making a prompt return to the list.
Gerard Pique
,
Jordi Alba
and
Sergio Busquets
are again absent from the top 50 and will be hoping Barcelona and Spain's fortunes improve significantly enough to prevent another year without recognition.
Casillas, Pirlo, Schweini and the seasoned absentees

A number of established star names failed to make the grade in this year's Goal 50 and, as more young talents break into the list each year, it becomes increasingly difficult for them to get back in.
Iker Casillas
is one man who faces a struggle. Having dropped out of the list in 2013 after losing his place in the Madrid goal under Jose Mourinho, things did not get much better over the last 12 months. Carlo Ancelotti opted to stick with Diego Lopez in La Liga. Casillas may have won the Champions League and Copa del Rey, but his performances in big matches were not up to standard.
In the European final against Atletico Madrid, Casillas' mistake on Diego Godin's goal almost cost his side. A dreadful World Cup showing as Spain crashed out in the group stages means his place at international level is now as unstable as it is for his club.
Former Madrid star Michael Owen, though, believes Casillas can fight back, telling
Goal:
"One or two bad games doesn't mean your career is over.
"If it happened to a 20-year-old people would make a different excuse. Just because he is 33, people say, 'You are finished.' I don't think his career is over. He didn't have a good World Cup — he knows that, everyone knows that. But in terms of that finishing his career, then no, I don't believe that is true."
Casillas' club teammate
Xabi Alonso
also pays the price for Spain's struggles despite another influential campaign with Madrid. He was missing in the Champions League final through suspension. Another Madridista,
Luka Modric
, turns 30 next year and was a surprise absentee following a superb season pulling the strings alongside Alonso. A poor World Cup and the sheer abundance of top-class talent in Madrid and La Liga saw him pushed down the list of Spanish-based nominees.
Bastian Schweinsteiger
had an impressive World Cup with Germany and was particularly influential in the final as his side secured glory. Despite not starring as much for Bayern Munich in the past 12 months, he may consider himself unfortunate not to gain recognition for his international displays alone — something that did happen with final rival Mascherano.
Franck Ribery
was No. 2 in the Goal 50 last year but this time he drops out completely. Injury denied him the chance to impress at the World Cup, while fitness concerns and a lack of form meant he was less influential at Bayern this year as Arjen Robben took center stage. Both Schweinsteiger and the Frenchman's chances of a Goal 50 return will depend significantly on how fit they can remain for 2014-15.
Atletico's stunning season — winning La Liga and reaching the Champions League final — was based on an all-around team effort. Veterans
Tiago
and
Gabi
will be disappointed to miss out on individual recognition after both producing stunning seasons in the middle of the park. Their best chance to make the 50 may have now gone and the same can be said for title-winner
David Villa
, who is now moving away from the highest level with a move to MLS, via Australia.
Thiago Silva
must be cursing his luck again after missing out on the list this year. After coming in at No. 8 last year, he led Paris Saint-Germain to the Ligue 1 title and Brazil to the World Cup semifinals. He missed the humbling to Germany through suspension, showing how much his side relied on him. With the relative strength of the French league, however, it appears PSG's stars will need a Champions League triumph to gain further individual recognition compared to their high-profile rivals at Bayern and Madrid.
Pablo Zabaleta
may have also missed a rare opportunity to feature on the list. Despite playing in an unglamorous position at right back, Zabaleta enjoyed an outstanding season for club and country and just missed out on a spot in the 50.
Andrea Pirlo
pays the price for Italy's poor showing at the World Cup. Despite scoring some trademark free kicks and helping Juventus to another Serie A title, in overall terms Arturo Vidal and Paul Pogba were more influential in midfield. Whether he can secure a return to the 50 will depend on the relationship with his new coach Massimilano Allegri, who got rid of him at AC Milan.
Balotelli, Cavani, Ozil and the attackers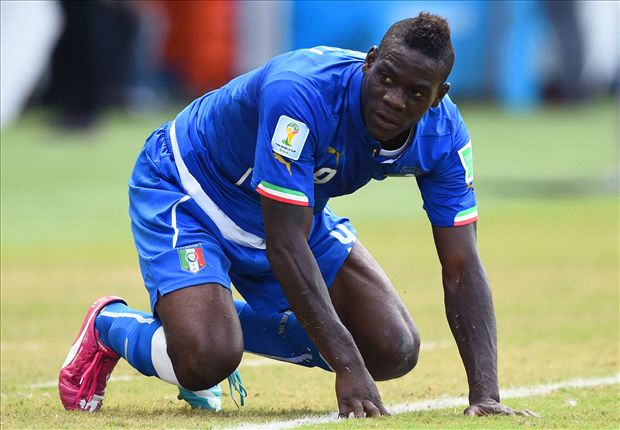 While it is usually easiest for No. 9s, No. 10s and attacking midfielders to gain recognition when it comes to individual awards, there are still a number of classy names missing from our list.
Karim Benzema
is the biggest omission. The striker enjoyed his most influential season to date at Real Madrid, scoring 24 goals and racking up 16 assists as his side won the Champions League and Copa del Rey.
At the World Cup he netted three goals as France reached the quarterfinals, and he had already played a key role in seeing it past Ukraine in a stunning comeback in the playoffs to reach the showpiece event in Brazil. A similar performance next year would make him impossible to ignore.
Fitness is the only reason
Sergio Aguero
misses out on selection. His 28 goals in all competitions helped Manchester City to Premier League and League Cup success, but repeated injuries meant he was missing at key times of the season and short of his best form at the World Cup for Argentina.
Following his impressive end to the previous campaign,
Mario Balotelli
disappointed for AC Milan and Italy in 2013-14. Only 14 goals in Serie A were not enough for a Milan side that needed him at his best. Milan slumped to an eighth-place finish. His national team then crashed out in the group stage, a sad contrast to his individual and team success at Euro 2012. Heavily linked with a summer transfer, Balotelli's immediate future is uncertain. One thing which is known is that he must produce better performances to return to the Goal 50.
Injury also robbed
Radamel Falcao
of the chance to post a prolific first season at Monaco and star at the World Cup. Regular games and goals will surely see him return to the list next year as he looks to make up for lost time.
Edinson Cavani
was played out of position for much of PSG's season and struggled to emerge from Zlatan Ibrahimovic's shadow. Despite scoring 25 goals, the Uruguayan star was not as prolific as he could have been in big games, particularly in the Champions League defeat to Chelsea, during which his missed chances proved costly. That is the area he must improve on next season if he wants to be ranked among the best.
There were few players more divisive than
Mesut Ozil
in 2013-14, and he split opinions again after missing out on the Goal 50. In his debut season with Arsenal, he helped the Gunners to FA Cup success and then went on to win the World Cup with Germany.
WHAT ?!?!?!?!??! NO OZIL IN GOAL TOP 50?!?!??!?! YOU GOTTA BE KIDDING MEEEE

— Yash (@YashRodriguez10) July 28, 2014
Despite that, his individual performances were often called into question, with claims that he went missing when games were going against his side. Certainly, given his price tag and huge reputation, there were times when Arsenal fans could have expected more. Still, an improved second season in England in a strengthened Gunners side will surely be good enough to see him return in 2014-15.
Carlos Tevez
fired in 19 Serie A goals for Juventus as his side was crowned champion. His record in Europe, though, was far less impressive (one goal in 12 games) and he was unable to improve Juve's struggles on the continent. He missed out on selection for Argentina's World Cup squad because of a feud with members of the federation.
Mario Mandzukic
scored 26 goals and helped Bayern Munich to another domestic double last year. In Europe, though, Bayern crashed out to Real Madrid and the club has now signed Robert Lewandowski in what it sees as an upgrade to the position. Having moved to Atletico Madrid, Mandzukic may find it easier to stand out from the crowd as the team's main man in attack. Still only 28, the Croatian has plenty of time to find his way back onto the list.
Mario Gotze
provided the most memorable moment of 2013-14 with his stunning winning goal in the World Cup final. He was on the list last year at No. 26 but falls off this year despite his exploits on the biggest stage of all.
Injuries did prevent him from consistently showing his best form in his first year at Bayern Munich following his move from Dortmund. Fresh off his World Cup heroics, a return to the list next year is certainly possible — providing he can stay fit, play regularly and continue his rapid development.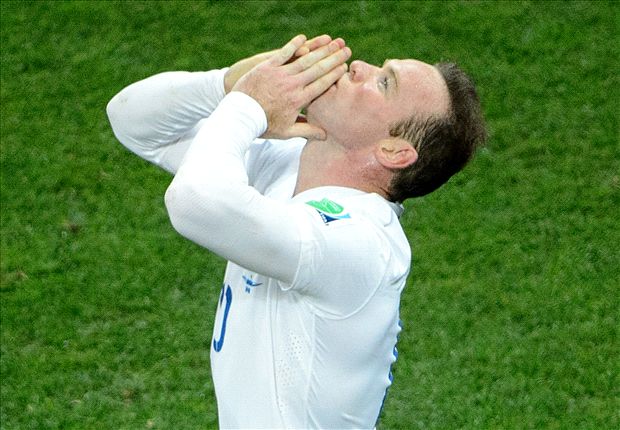 Astonishingly, no English player has gained selection in the latest installment of the Goal 50.
Frank Lampard
— placed at No. 50 last time out — was the only English player to make the list in 2013 and now the nation has reached a new low.
While it is no surprise to see Lampard drop out in his final Chelsea season before moving to New York City FC, it must be a huge concern to Roy Hodgson that few of his key players appeared to progress over the past 12 months.
The performance at the World Cup certainly played a part in the Goal 50 blackout after England finished with just one point from three matches and exited in the group stage, but the decision is also a reflection of the lack of top English talent on show in the Premier League.
Steven Gerrard
had a strong season in a deeper-lying midfield role at Liverpool as Brendan Rodgers' men made a surprise challenge for the title, but a crucial mistake against Chelsea and underwhelming performances in Brazil cost him. With Gerrard now retired from the national team, the Champions League displays he puts in will be the decisive factor as to whether he will be involved next year.
Gerrard's club teammate
Daniel Sturridge
is the most unfortunate of the England crop to miss out on recognition. He scored 24 goals in all competition as an impressive foil to Luis Suarez at Anfield and also netted in the World Cup against Italy.
If he can continue to deliver goals in the absence of Suarez next season and confirm his spot as England's undisputed No. 9, then it is hard to see him missing out again.
Raheem Sterling
also is omitted despite an excellent year during which he established himself as a first-team regular, and you would expect the attacker to jump into the 50 in 2015.
Wayne Rooney's
contract dispute at Manchester United was resolved for 2013-14, but the striker is out of the Goal 50 for the second year in a row, again raising the question of whether his ability can really be compared to some of the world's best players.
The forward finally ended his drought at the World Cup, scoring against Uruguay, but he was unable to prevent his club's slide to seventh place under David Moyes despite netting 19 goals in all competitions.
Rooney faces a vital year if he wants to avoid his career reaching a level of continued decline. He will be hoping to find his spark again under new boss Louis van Gaal and should be capable of returning to the 50 if United can challenge for trophies.
John Terry
and
Gary Cahill
produced a strong central-defensive pairing for Chelsea but have paid the price of their side failing to win a trophy last season.
Ashley Cole
lost his place in the Blues' side but has a chance to work his way into the 50 next season with a fresh start at Serie A title contender Roma.
Joe Hart
won the Premier League with Manchester City but had a spell out of the side midseason after being dropped by Manuel Pellegrini. A more consistent year combined with further medals at the Etihad Stadium would be needed if he is to match the four keepers named in this year's list.
Click HERE to see the full list for the 2014 Goal 50
HAVE YOUR SAY
Do you agree with our list of the world's 50 greatest players of the 2013-14 season?
Get involved via our Goal 50 section this month
. Give us all your views on the debate by commenting below and by getting in touch on
Facebook
or
Twitter
using the hashtag #Goal50.
Follow Chris Myson on