The Belgium defender played in just 21 games last season and has struggled with a series of fitness issues at Arsenal. His signing represents a gamble by the Blaugrana
The last time Barcelona bought a player from Arsenal, it was supposed to solve its problems in central defense.
The notion that Alex Song could cover as a center back always appeared far-fetched, however, and so it proved. Two years on, Barca has gone back to Arsenal once more with another 19 million-euro purchase – this time for Thomas Vermaelen – and it will hope this transfer turns out to be much more successful.
Like with Song in 2012, however, Arsenal boss Arsene Wenger didn't seem too concerned at the prospect of losing Vermaelen.
"It could happen," the Frenchman said on Friday. "I've said since the start of preseason that Thomas could leave us because he needs to play now. He had an outstanding attitude and behavior but he's in a position where it's difficult to stand in his way if he finds an interesting opportunity."
In the end, he had two as both Manchester United and Barca came in for the Belgium defender. But for an initial €15m plus a further €4m in add-ons, the transfer is a risk for the Catalan club and hardly a guarantee as it looks to solve its biggest problem position of the last few years.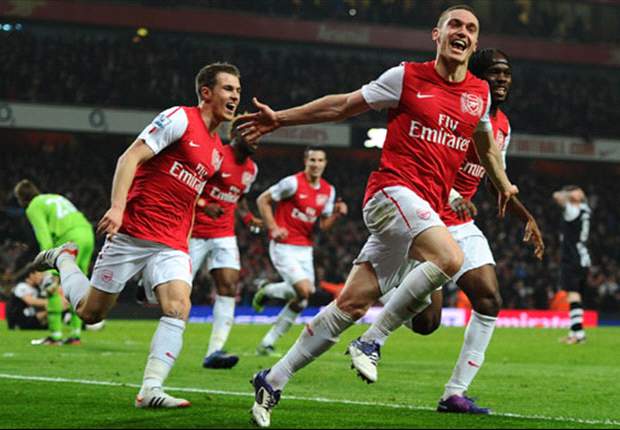 GOOD TIMES
| But Vermaelen struggled with injuries during his Arsenal career
Prior to this summer, the last time Barca bought a center back was when Dmitro Chygrynskiy arrived from Shakhtar Donetsk in 2010. Now, suddenly, it has signed two as Jeremy Mathieu also arrived from Valencia late last month.
Mathieu, however, is 31 in October and has played as a full back for much of his career, while Vermaelen is a player blighted by injuries in recent seasons.
MORE: Biggest summer transfers | Soccer's beautiful fans | WAGs
The Belgium defender was given a rigorous two-part medical by Barca on Saturday and came through it with no new problems, but his injury record in recent seasons is surely a concern for the Catalan club - particularly as he turns 29 next month.
A stress fracture in his lower back saw the former Ajax man miss the start of last season and a knee injury in January sidelined the defender for another 11 games. In total, he played in just 21 of Arsenal's 56 fixtures (and just 14 of 38 in the Premier League). Vermaelen fared better in 2012-13 as he missed just six matches through injury, but was out for 11 in 2011-12 and played only five times in the whole of 2010-11 as a troublesome Achilles problem left him sidelined for 233 days and eventually needed surgery.


A decline in fitness and form meant he was no longer an automatic starter at Arsenal anyway, yet he will now be expected to cut it at one of the world's most demanding clubs.

"It's an honor to play for Barca," Vermaelen told the club's official site on Saturday. "I will be playing with the best players in the world and training every day with those players will help me to grow, to become a better player myself."

He will probably need to. But with Gerard Pique, Javier Mascherano and Marc Bartra already at Camp Nou, Barca could have spent the combined €39m for Mathieu and Vermaelen on a player who will make the position his own, such as Roma's Mehdi Benatia.

But instead – and for the second summer running – the Catalan club has spent big money on a forward instead of ably addressing the area which has so badly needed attention since the decline of Carles Puyol in 2011. And cutting costs in Barca's problem position may just be its downfall once again.

Follow Ben Hayward on