Manchester City comes into the Premier League season as the favorites to retain the title. Manuel Pellegrini and his team restored domestic supremacy at the Etihad last term and the expectation is that they will repeat the trick.
"We're building a club, not just a team that wins trophies every now and again," captain Vincent Kompany said after last season's title triumph. "Every single year I have a feeling that we need to be better, and next year we have to be even better."
City's last defense - under Roberto Mancini - proved to be a lamentable effort. Combined with difficulties in meeting the owners' Champions League objectives, it cost the Italian his job. Those remain the twin ambitions. Both, not one, will define the coming season and Pellegrini's tenure.
City must ensure its domestic juggernaut remains on track while guaranteeing the type of performances which place the club among Europe's elites. It's not an easy balancing act and, to the public at least, Pellegrini doesn't admit where priorities lie. "I don't have a target to win titles. Every time I play a competition, I want to win it," he told the press on Friday.
Though City has had its hands tied in the transfer market this summer due to FFP, it has improved a squad which was good enough to win the league convincingly. Pellegrini was asked to fend off some early criticism as results, particularly away from home, failed to materialize but he remained true to his means. "At the beginning of the season when we had just four points from our first six away games," Pellegrini has said. "That is not too many points for a team that wants to win the title."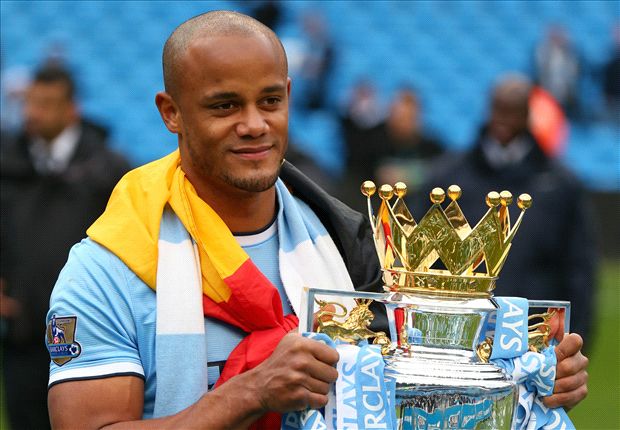 Leader |
Captain Kompany has recognized the need to go further in Europe
A good league campaign is necessary to perpetuate competition in the Champions League so the Citizens can neglect their league duties at their peril. Pellegrini discovered very quickly, away from home in particular, that there is not always a guarantee of three points no matter how modest the opposition.
While last season was about demonstrating that City was capable of returning to the summit, the coming campaign is all about the question of whether or not it can sustain it.
"I think one of the most important things for me is to have an ambitious mind," he told the club's official website last season. "It's very important to win titles. We have already won titles but we must analyse all the good things we did, the bad things and where we must improve. That is the best way to do it so we have a lot of work."
There are two now that feature foremost for City. The maiden league win in 2012 was a statement of intent in English football. The bigger prize - the Champions League - remains a little out of City's reach at this stage of its development but there is no question that it is the one prize that appeals most to City's owners in Abu Dhabi. The investment in Manchester City in 2008 was primarily motivated by a desire to solidify the emirate's image on the global stage. As prestigious as the Premier League is around the world, only the Champions League will bring that kind of kudos.
Club owner Sheikh Mansour told the United Arab Emirates University in November that City's success to date was merely "part of the upgrading of the club to the ranks of those that can compete at tournaments in England and Europe."
There are limitations to what City can achieve on that front this season however. There is a temporary hiatus on the kind of prolific spending that has come to characterise the team over the past half-decade and so changes this time around have been merely cosmetic. What it will take instead to improve their performances in the Champions League this season is a change of attitude. Barcelona, which put City out last season, was proven to be eminently beatable by Atletico Madrid. Nonetheless, last season there remained the doubt in City's mindset that it really belonged at that stage. The gains were modest.
"We were eliminated but I think we made a big step this year in qualifying for the round of 16," Pellegrini said. "We beat Bayern Munich in their own stadium, we were on the same points as Bayern. It was an important step and I hope next year we can continue a stage [further]."
There is still a huge disparity between City's development as a domestic force to be reckoned with and the ability to compete with the best the continent has to offer. Only once has it passed the group stage and fell at the first hurdle. To that end, topping the Champions League group, no matter in whose pot they land, is imperative. A tie such as the Barcelona one cannot be countenanced again so quickly in the knockouts.
If certain sides may roll over in the league, Pellegrini has admitted that games are a lot different in Europe. To that extent, he has to adapt too. His Champions League pedigree is patchy. Real Madrid under his watch were hit and miss in Europe but he does have a strong performance from Villarreal on his CV too.
He has spoken of his hopes to go further in Europe this season but that is the wrong language. Pellegrini is well versed in the art of understatement. He must, however, recognise that his squad the best-paid sports team on the planet and has been lavished with over £1 billion worth of spending. There is an expectation to perform and win.
Mansour went into Manchester City with a 10-year plan comprising sustainability and global success. The City academy is flying high, it has stretched its corporate reach into New York, Melbourne and Japan. But the one thing that will stand City out as a success in the eyes of their owners is to be Champions League winners.
It does not necessarily have to be this year but it will have to go closer than ever before. As Mancini discovered, backward steps will not be tolerated.
"We will continue to try to win the Premier League, the FA Cup, the Capital One Cup and the Champions League," Kompany said at the end of the season. Three down and one to go.