DALLAS — Like many preseason friendlies, the biggest cheer from the crowd at Tuesday's match between AS Roma and Real Madrid was for a player who didn't take the field. In a departure from many exhibitions, though, the most exciting moments did happen on the pitch - even if they weren't supposed to.
No, it wasn't Francesco Totti turining in a Alessandro Florenzi cross with fine finish for the game's only goal that had the crowd alternating between applause and jeers. The moment that really had the crowd buzzing, aside from the videoboard displaying the visage of unused substitute Cristiano Ronaldo, was a parade of pitch invaders.
MORE: Full Goal 50 list | Beautiful people in Brazil
As the match neared a close, wave after wave of fans decided to make a run for it. One carried a Palestinian flag but others' motives seemed less political. Seeking selfies, self-promotion or making statements one after the other juked past the dozens of security personnel and made it onto the Cotton Bowl grass.
"Again?" one member of the Madrid press corps asked.
It's a sight Ronaldo - and the media members who watch him - has grown accustomed to. Ever since a fan hugged him in the title decider of the 2013 International Champions Cup, fans have been making a break for a memorable moment with him and other stars - even at the risk of apprehension.
In truth, the delinquents somewhat sum up the ethos of preseason friendlies in the United States. Fans come to see and to be seen. Without a trip to Europe, fans can't lay eyes on stars like Ronaldo or Totti or show how passionate they are about their favorite La Liga or Serie A team. The clubs make money while also getting players minutes in low-pressure environments. Some who ventured onto the field in Dallas were apprehended, including a female fan who made a mazy run through midfield before being taken down, but there were so many who took the gamble that several made it onto the pitch and then back into the stands with little more than a story to tell or a photo with one of their favorite stars - or at least whichever star was closest.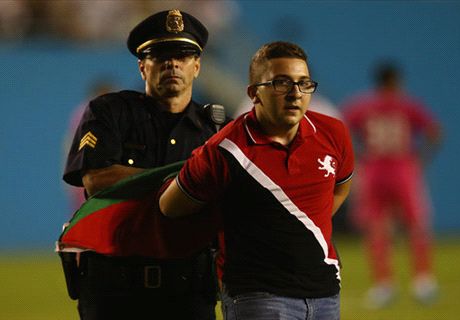 The other drama on the field came before the match, when a scuffle broke out between the two sides. Seydou Keita refused to shake Pepe's hand. Animosity between the two extends back to a 2011 Clasico match when Keita was playing with Barcelona. He alleged Pepe racially abused him during the SuperCopa. That game ended in a brawl that saw three players sent off. Tuesday's match proceeded without any such measures, as Xabi Alonso spoke with Keita for a moment and the contest progressed without incident.
"Champions do not behave like that, and I'd like not to say anything more on this issue," Roma manager Rudi Garcia said in his post game news conference after being pressed on the incident.
The incidents that bookended the game weren't the behavior of champions, but they did give intrigue to a match that was largely void of it otherwise.