BARCELONA -- There was a melancholic mood at Camp Nou. This famous stadium has experienced emotions of all kinds in its glorious history, from epic victories and title triumphs to disastrous defeats, Clasico battles won and lost, successes, failures and much, much more. But surely nothing quite like Saturday.
Fans flocked in numbers to the Catalans' cathedral of football, which on Saturday became a sacred shrine for a man they won't forget but had come along to remember: Tito Vilanova.
Role model and friend for Pep Guardiola, assistant to the former club captain in the club's most memorable era, father figure to many of the current first-team squad, record-breaking coach and often silent symbol, Vilanova was a genius who stood in the shadows at Camp Nou.
On Saturday, over 20,000 people paid their respects to Tito, who lost his battle against cancer on Friday. Fans from many different clubs and countries gathered to leave flowers, wreaths, scarves, shirts and messages for the former Blaugrana boss and his family.
Inside the stadium, the Catalan club opened a space for well-wishers to write their tributes in books laid out on tables, while there was also a large image of Vilanova alongside a candle and Catalan flags, where visitors could line up for a final photograph with a bona fide Barca icon.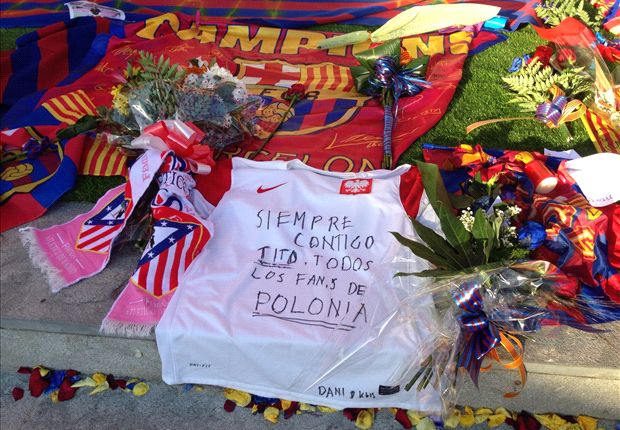 "Always with you, Tito" | A shirt left by Polish fans at Camp Nou on Saturday


Eye contact was frequent. Fans looked at each other but didn't utter a word. It was as if each wanted to know if the other was feeling what they were: sadness, loss and a sense of emptiness. Many sat alone, others stayed all day long. The atmosphere was subdued, somber, strange.
Members of Barcelona's board and players led a procession on Saturday morning to pay tribute to their former friend, coach and, in many cases, mentor. Several were close to tears.
"Everyone in the dressing room is very upset," captain Carles Puyol said. "We have been with him in his fight for two and a half years. It's a big blow.
"It's a very tough moment for the whole of the footballing world, for the dressing room and for those of us who knew Tito personally. It's a really hard time."
Some fans will be back at Camp Nou on Sunday, before Tito's funeral at Barcelona cathedral on Monday, but the players will somehow have to pick themselves up for a tough trip to Villarreal in La Liga - an unenviable task for coach Gerardo Martino, whose pre-match press conference was cancelled on Saturday.
Right now, the game at El Madrigal seems little more than an unwanted distraction but is a chance, perhaps, for the players to get their minds back on what they do best and enjoy most: playing football. After all, that's surely what Tito would have wanted.
Follow
Ben

Hayward on