Even ahead of a predilection for proverbs, an endless cacophony of David Brentisms and the use of envelopes as a motivational tool, the single characteristic most readily associated with
Brendan Rodgers
is his passion, obsession even, with possession football.
As head coach of Swansea City, building on the foundations laid by another pass master, Roberto Martinez, the 41-year-old seduced English football with his flowing, tiki-taka-inspired philosophy. This disciple of Jose Mourinho could scarcely have developed an ideology more opposed to his former mentor's pragmatic identity, as well as that of the route-one style of play usually expected from promoted sides.
LIVERPOOL LATEST

Rodgers was, and is, a rarity as a British manager more preoccupied with "false wingers" than target men, more devoted to slow, patient probing than direct assaults. His aim, both in south Wales and upon joining Liverpool, was to suffocate with possession, to dominate territory and to grind the opposition into submission.
"When you've got the ball 65-70 per cent of the time, it's a football death for the other team," he remarked last season. "We're not at that stage yet, but that's what we will get to. It's death by football. You just suck the life out of them."
The expectation was that Liverpool would grow into a side capable of wielding the same level of control over matches as Barcelona or Bayern Munich, but that has not happened. Rodgers' lofty benchmark of 65 percent possession or more has been hit just three times this term – against Fulham and Cardiff City, the bottom two teams in the division – while the Reds' average possession has actually dropped.
Both Swansea in 2011-12 and Liverpool last season boasted the third best possession in the Premier League under Rodgers' watch. Now his side has dropped to ninth, 3.6 percent down on the figures posted by the Swans two seasons ago and closer to Tony Pulis' Crystal Palace than Pep Guardiola's Bayern.
The number of games in which his side has had the lion's share of possession has decreased too, down from 81.6 percent to 61.5 percent.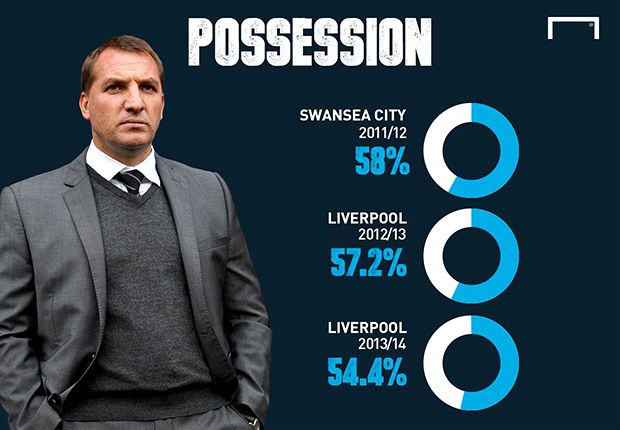 Beyond the statistics, there has been a very clear shift in mentality. Where once the players would have been drilled on the benefits of serenity, of keeping calm and retaining the ball, now Liverpool plays at 100 mph. There's a frenetic, almost reckless energy, a swarm of red shirts, and a once uncharacteristic freedom to take risks, even if it means conceding possession.
It is a remarkable deviation from a manager who so frequently and gushingly extolled the virtues of using the ball as a defensive weapon, a tactic which was not especially admired by the Anfield faithful and had a tendency to brew slow, labored matches.
"We have a default mechanism which makes us hard to beat and we can pass our way into the game again," said the then Swansea boss. "Rest with the ball. Then we'll build again."
This simple notion – if the opponent does not have the ball, it cannot score – worked to the Swans' advantage in their maiden Premier League season, but it is an inherently negative ploy and one which merely gifted opposition defenses more time to organize when Rodgers moved to Anfield.
"I've always worked along the statistic that if you can dominate the game with the ball you have a 79 percent chance of winning a game of football."





- Brendan Rodgers

At Swansea, three of the club's top four passers were defenders – Ashley Williams, Angel Rangel and Steven Caulker, with the back line responsible for 50.5 percent of all passes – but, in Rodgers' second season at Liverpool, midfielders now dominate the passing statistics, with the defense responsible for just 41.2 percent of total passes.
Liverpool patently does not play the style of football Rodgers originally intended, but, given the club's league placing and genuine title credentials, it has quite clearly been a change for the better.
The side plays at an almost unfathomably furious pace, with the formation practically a 4-2-4 at times. Matches are, inevitably, more open – but more fun too, even if it comes at a cost. Liverpool now records fewer clean sheets per game (0.26) than both last season (0.39) and the ratio Swansea maintained (0.31) two years ago.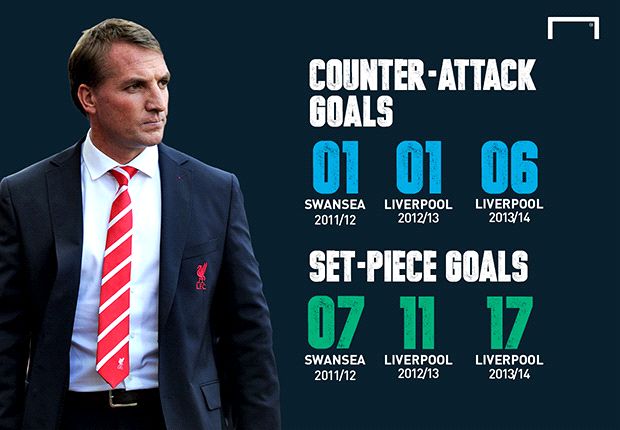 But the Reds are more dangerous and free-flowing than they have been for a very long time. Led by the ruthlessness of Daniel Sturridge and Luis Suarez, the Merseysiders have averaged more shots on target per game (6.8) than any other Premier League side – the fifth most in Europe's top five leagues and twice the figure Rodgers' Swansea managed, albeit with a far superior offense.
The types of goals have changed dramatically, too. Liverpool is now the most potent team in the division from set pieces, up from 10th last season and just one goal shy of matching the number of set-piece goals Rodgers' sides had netted in the previous two seasons combined.
From being a unit that looked to impose its authority on matches, the club is now more reactive. Last season, Liverpool scored just one counterattack goal (ranking joint 18th in the Premier League). This term the team has netted six times on the break – twice as many as any other team in England's top flight. Previously opponents had time to settle, now they are permanently being moved around and pushed onto the back foot.
Perhaps the most interesting question is whether Rodgers' change in approach is by accident or design. Publicly he effuses the same devotion to possession football, yet it is neither the way Liverpool currently plays nor the mode to which the club is best suited.
Recent transfer dealings might suggest Rodgers has voluntarily shed his dogmatic ways. The Northern Irishman described ball-playing sweeper-keeper Michel Vorm's ability with his feet as vital to Swansea's style – "he helps us construct the game from the back" – yet offloaded the remarkably similar Pepe Reina in favor of a player, Simon Mignolet, who is uncomfortable and easily pressured with the ball at his feet.
Philippe Coutinho, meanwhile, is not the dictating, conservative No.10 Rodgers might have been expected to sign. He plays much more in bursts – his 79.1 percent pass success is among the worst in the squad (with only three outfield players less protective with the ball) – but, like the entire team, is happy to risk losing the ball in search of a killer pass and decisive strike.
In typical Rodgers fashion, he once preached that "the problem with being a manager is it's like trying to build an aircraft while it is flying."
The Liverpool boss may have started out constructing an Airbus, built for long hauls and stocked full of DVT socks, but – whether intentionally or otherwise – he has ended up with a fighter jet.
*Statistics provided by Opta
Follow Ewan Roberts on