LONDON-- Belief, like a reputation, is difficult to gain but remarkably easy to lose.
On Saturday morning, ahead of a trip to Anfield, Arsenal and its fans carried justifiable belief that this might just be their season.
Fast-forward to Wednesday night, and that confidence had almost completely dissipated. Instead, there were howls of derision at the Emirates as Mikel Arteta, Per Mertesacker and Laurent Koscielny formed little passing triangles inside their own half, rather than go for Manchester United's jugular.
It was fair to say that belief had deserted the club as swiftly as the team's reputation for defensive parsimony had gone south with the 5-1 thrashing at Liverpool just four days previously.
The grumbles from the Arsenal fans had more to do with a fear that this was the case of a team reverting towards the mean, a support base readying for disappointment.
There are widely considered to be seven stages of grief, and in the space of just a few days Arsenal's fans seem to have gone through shock and denial (phase one), pain and guilt (two) and are stationed firmly in anger and bargaining (phase three).
The next is depression and it could well be that both Liverpool and Bayern Munich, both of which are rampant at present, could provide those in the FA Cup and Champions League within the next seven days.
VIEW FROM THE EMIRATES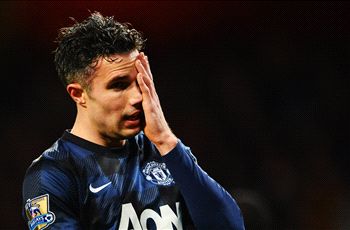 By Declan Taylor

Who would have thought, out of Wednesday's game, that this would be the dud? Manchester United, although the club's performance was abject, will be happiest with this point away from home.

Arsenal attacked for most of the second half but just could not find a way through. The club has now taken one point from its last two in the league – and must now welcome Liverpool to the Emirates in the FA Cup on Sunday. It really is crunch time for the Gunners.
Yet the situation is still potentially salvageable, as Arsene Wenger was at pains to point out post match.
"We have come out of two difficult games and we are still in a strong position," said the Frenchman after a goalless draw that left Arsenal just a point behind league leader Chelsea.
"That is the only positive. We had two bad results but we are still in a position where we can do it."
Of more concern to fans, however, was Wenger's acknowledgment that his team had been "nervous" after its hammering at Anfield. Title winners are not supposed to be wracked with self doubt. Patrick Vieira did not feel nervous. Didier Drogba never seemed nervous. Roy Keane, to misappropriate his comment about Sir Alex Ferguson and loyalty, 'doesn't know the meaning of the word'.
Yet Mesut Ozil, Olivier Giroud and the rest were, according to Wenger.
"I felt we were nervous, yes," he acknowledged. "It is not worrying as we care about what we do and when you concede five like we did on Saturday, we are only human beings. That is always what you get. After the game [where you concede a number of goals] you often don't score as the team was highly focused not to concede today.
"It was important not to lose of course but also not to win. We are a bit short of goals at the moment. You could see mathematically we lost goal scorers with Theo Walcott and Aaron Ramsey. At the moment in games like that you see that."
That is part of the problem as these are failings Arsenal fans have become all too familiar with.
It starts with an injury – for Eduardo in 2008 read Theo Walcott in 2014 – and swiftly leads to a fatigued squad trying desperately to stay afloat.
ARSENAL LATEST

There are other options available to Wenger, and that he chose to make only one substitution was surprising on Wednesday night, particularly with Lukas Podolski, Nicklas Bendtner and Yaya Sanogo all offering similar attributes to a clearly struggling Olivier Giroud.
Wenger will claim defensive resilience was key, and he has learned from the late defeat to Borussia Dortmund when Arsenal conceded after pushing for a victory, but he needed to look past the name and realize a club in seventh place that was devoid of confidence simply had to be beaten.
Arsenal has taken just nine points out a possible 24 against sides in that top seven, and still has trips to Stamford Bridge, White Hart Lane and Goodison Park to come.
That said, the next three league games are against Sunderland, Stoke and Swansea. Win those three and who knows? After all, Wenger's men have been excellent flat track bullies so far this season.
It is impossible, however, to avoid the feeling that things are starting to unravel, that the club is beginning to pay for not purchasing a proven, quality alternative to Giroud – "he did fight very hard and if he keeps that attitude he will score," was Wenger's take on his fellow countryman – and may rue not spending in January.
There is also the underlying fear that Chelsea and Manchester City, in particular, will be much improved next season and that a chance such as this may not come around again in the near future.
Arsenal could yet surprise us all, as the team has for much of the season to date.
The body language doesn't suggest as much, and neither have the performances since Christmas. Momentum is key in a title race and while Liverpool, for example, certainly has it, Arsenal does not.
Is the belief there? At present it is difficult to argue that it is and there is every suggestion that Arsenal will live up to its reputation as a side that is not quite a top-class contender.