Soccer may be a team game, but the Ballon d'Or is an individual award and, with that in mind, one candidate stands above the other two ahead of Monday's ceremony in Zurich. And that's Cristiano Ronaldo.
Last year was the finest of Ronaldo's professional career, with 69 goals in 59 games for Real Madrid and Portugal. The only problem? He didn't win any trophies.
That has led to much discussion about the criteria for the Ballon d'Or. How can Ronaldo win, it has been asked, if he has failed to claim any silverware in the previous 12 months?
Whoever wins Monday, the debate will run and run but, in truth, none of the candidates presents a completely conclusive case this time: Ronaldo enjoyed his best year, yet ended up without a team trophy; Lionel Messi won two titles with Barcelona but missed much of 2013 through injury or played when short of full fitness; Franck Ribery claimed five trophies at club level and was outstanding for Bayern Munich, but the Bavarians' success was owed more to a collective effort and the Frenchman is light years behind the other two in terms of individual performances.
So let's look to simplify what is a commonly complex argument. "The FIFA Ballon d'Or is an association football award given to the player who is considered to have performed best in the previous year," FIFA says on its website. Not the best overall, nor the outstanding player in the year's most successful side, but the player who has performed best in the previous 12 months.
If it were an award for the planet's finest player, Messi would win again. If it were a prize for the standout star in the year's most successful side, Ribery would triumph. But the Ballon d'Or is neither and, trophies or not, Ronaldo was 2013's premier performer.
MOMENT OF THE YEAR: SWEDEN 2-3 PORTUGAL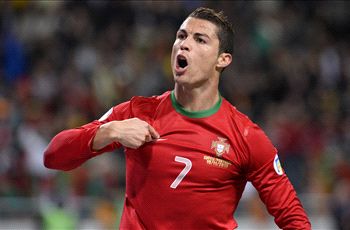 RONALDO: HAT TRICK SECURES BRAZIL BERTH

It lived up to the billing. Portugal against Sweden for a place in the World Cup was a straight shootout between Zlatan Ibrahimovic and Cristiano Ronaldo for a place in Brazil.
And Cristiano didn't disappoint. After heading the only goal in the first leg in Lisbon, the Portuguese netted a stunning hat trick in Solna days later to cancel out Ibra's double and secure qualification for his side, just when it looked as if all may be lost.
Once unfairly dubbed a 'big-game flop', Ronaldo delivered when it mattered most - with the hopes of an entire nation on his shoulders. Brilliant.
At club level, Ronaldo's continued excellence helped Madrid make the semifinals of the Champions League last season and the final of the Copa del Rey, but the Portuguese's performances were merely papering over the cracks as Jose Mourinho's ultimately troublesome tenure finally reached a sticky end in May.
Almost all of the club's players dipped in form in 2012-13 as Madrid missed out on the major prizes. But not Ronaldo. The Portuguese kept scoring and added a new-found maturity to his game, improving his link-up play and showing a generous side seldom seen in past seasons.
And in this campaign, he has enjoyed his best-ever start, despite the deadline-day departure of key associate Mesut Ozil and the teething problems suffered by the team in the first few months under new coach Carlo Ancelotti.
Among the highlights for Ronaldo in 2013 were his double at Camp Nou as Madrid edged out Barca in the semifinals of the Copa del Rey, his hat trick for Portugal against Northern Ireland in World Cup qualifying and his treble for the Selecao to secure qualification in November.
With 10 international goals in 2013 (in nine appearances), Cristiano enjoyed his most prolific year for his country. Those strikes saw him surpass Portugal legend Eusebio (who recently passed away) and later draw level with the nation's all-time top goalscorer, Pauleta, on 47. For Madrid, meanwhile, he hit 59 in 50 games, including 27 in 21 at the beginning of the current campaign.
"If Cristiano doesn't win the Ballon d'Or, I will stage a sit-in [protest]," Ancelotti said in November. No one deserves the prize more than him - he's a model professional."
Portugal coach Paulo Bento also backed his man to claim the award. "For me, he's the best player in the world," he said in December. "It would be unfair if he didn't win the Ballon d'Or."
But it's not just his teammates and coaches. In addition, a number of key figures in the game have also given their support to Ronaldo, including former England striker Gary Lineker, Ribery's Bayern teammate Arjen Robben and, perhaps most surprisingly of all, Argentina legend Diego Maradona.
"Lots of talk of Ribery winning Ballon d'Or. He's had a great year but I think Ronaldo should win. It's for the best player not the best team," Lineker tweeted in November. "Because it's an individual award, I think it should go to Ronaldo. He fully deserves it," Robben said last month. Maradona simply stated: "Cristiano Ronaldo should win. Messi has been injured a lot this year."
After the disappointment of missing out on last year's prize as Messi won for a fourth time in succession, Ronaldo altered his training regime in order to push his body to its physical peak, with high intensity sprinting drills and additional gym sessions to maximize muscle strength. The results on the pitch have been there for all to see.
Despite his brilliance in 2013, some have argued that a victory for the Portuguese in this year's Ballon d'Or would be unfair after the voting process was extended in mid-November to allow his World Cup playoff performances to be considered. What would really be unfair, however, is if the 28-year-old didn't walk off with the prestigious prize for a second time Monday.