PARIS -- After Sweden's failure to qualify for the 2014 World Cup, there were fears that Zlatan Ibrahimovic's morale would be low and his club form would suffer as a consequence of the playoff loss against Portugal.
Just over a week later, it's fair to say that the prolific attacker has already moved on from the devastating defeat.
He netted once in Paris Saint-Germain's 3-0 Ligue 1 win over Reims at the weekend, and then used Wednesday's Champions League encounter at home to Olympiakos to once more confirm his status as one of the world's best.
Ibrahimovic needed only seven minutes to score his 39th goal in 100 Champions League appearances after a pinpoint cross from right back Gregory van der Wiel and was arguably his side's biggest attacking threat until PSG coach Laurent Blanc opted to take him off for an extra defender, Marquinhos, with 11 minutes to go.
The former AC Milan and Barcelona man took his tally in the 2013-14 tournament to eight goals in five games, equaling Cristiano Ronaldo's number in the process, and Van der Wiel - who has assisted four of Ibrahimovic's eight strikes - had nothing but praise for his teammate after the final whistle.
"Is Ibrahimovic the best player in the group stages? You could say that, yes. He scores a lot of goals, so he plays a big role in our success," the Dutchman told Goal. "He is super important for this team. He is a big personality and an amazing player. He has a lot of quality and is a good person as well.
"Everything is going great and we're very happy to have him in our team."
The PSG star himself, meanwhile, is clearly enjoying his fine form and seems to be well aware of what's being said about him when he charges through the mixed zone.
"Thank you, thank you, thank you," were the striker's only words as he raced away from the written press with a big smile on his face.
Although there's plenty of room for debate as to whether Ibrahimovic has indeed outshone Ronaldo in the group stages, there's no denying that the gifted forward has been in sensational form in his past five Champions League games.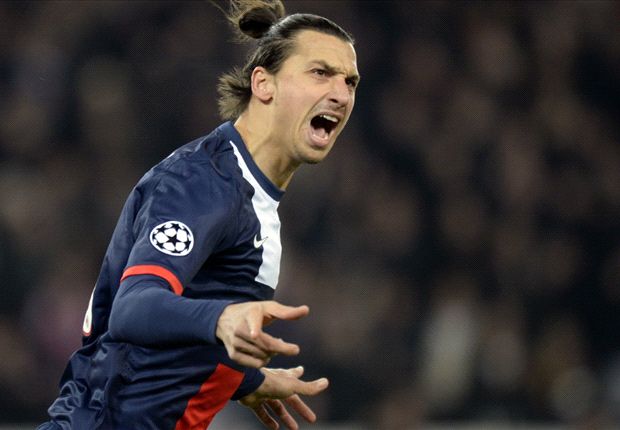 Zlat's how you do it | Ibrahimovic celebrates eighth goal of the tournament
The 32-year-old has often been criticized for his failure to deliver the goods at the very highest level, but he has more than silenced his critics this season.
He didn't score in PSG's opening game away against Olympiakos, but has since netted in each match, opening the scoring on three occasions, while also getting his side's only goal in the 1-1 home draw against Anderlecht.
It was in the away match versus the Belgian champion that Ibrahimovic really showed what he can do, though. Indeed, the attacker put in such a spectacular performance that even the home fans applauded him after he had single-handedly demolished Anderlecht by scoring four goals in a 5-0 rout.
The Sweden star was unable to replicate that feat against the Greeks on Wednesday, but he won't be too bothered that he has not surpassed Ronaldo yet. There's still one more group game to go against Benfica for Ibrahimovic to add to his tally, while the main thing on his mind will have been that the win over Michel's men saw PSG book its ticket for the knockout stages.
The Parisians made it to the quarterfinals of the competition last season, where Barcelona proved to be too strong, and the team is determined to go all the way this season.
"Of course, we have the ambition to do even better than last term. It will not be easy, but I think this team can win it," added Van der Wiel after hailing Ibrahimovic's positive influence. "We have a strong team and don't really fear any one, but we would obviously like to avoid some of the stronger teams for now, like Bayern Munich, Real Madrid, Barcelona."
In order to go all the way, PSG will need Ibrahimovic to be at his very best, though, and the club can only hope that the Swede will take his phenomenal form with him to the round of 16 and beyond.
Follow Stefan Coerts on