Every now and again, moments happen in soccer that drive fully-grown adults to hysterics.
Zlatan Ibrahimovic's fourth goal in a 4-2 victory for Sweden against England was one of those moments.
The Paris Saint-Germain striker capitalized on a poor headed clearance from goalkeeper Joe Hart by overhead kicking into an empty net from more than 20 yards and at an angle, and then the whole world went mad. Here are some of the best quotes and tweets from the world of football on
that
very special goal.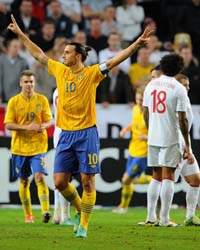 "Sometimes you have to hold your hands up to a special individual performance and that was a world-class performance from a world-class player. It was the best goal I have ever seen."
Steven Gerrard
has created some special moments in his time as a player, but none quite as spectacular as the Swede's stunning strike.
"It was one of those special moments. You're not going to see many of those. Sometimes you've just got to applaud people like that."
Leighton Baines
joins his England teammate in saluting Ibrahimovic's wonder-goal.
"The fourth goal was the crowning glory. It's a wonderful goal to see on a football field. I'd rather have seen it against somebody else other than ourselves but it was a fantastic goal."
England boss
Roy Hodgson
appreciates the goal, despite being on the receiving end of his first defeat over 90 minutes in charge of the national team.
"What have I just seen have to take ur hat off for that #shocked #whataplayer"
Tottenham star
Kyle Walker
, who might have had a first-hand look at Ibrahimovic's goal were it not for an injury, doffs his cap to the striker on Twitter.
"OHHH MYYYY LAAWWWDDDDD!! Zlatan #TakeABow"
...As does an equally flummoxed Arsenal midfielder
Alex Oxlade-Chamberlain
.
"OMG did he just
do that #Ibrahimovic"
Emmanuel Frimpong
joins in the applause for the Swedish star.
"That was obscene. What a goal."
Former England international
Michael Owen
recognized the quality of Ibrahimovic's goal.
"I think it was a nice goal, I enjoy it very much, even if it was a friendly game. It was a nice goal."
Save the last word to the man himself, with an uncharacteristically modest reaction.