LOS ANGELES -- The manager Pep Guardiola most admires is Sir Alex Ferguson. The Scot has overseen a quarter century of unprecedented success at Manchester United. In year-end pictures, the trophies remain as glitzy, with only whitening hair and a perpetually purpling nose marking the progress of time.
Guardiola craved a similar legacy – Americans would call it a dynasty – at Barcelona. One would argue that coaching the greatest team in history should suffice, but Guardiola left after 14 trophies and four years in charge – his back barely holding his torso up straight and his hair prematurely gray. He called the title run-in of the last La Liga he won "barbaric."
Last season, for the first time in four years, Real Madrid won the league.
"The last few years people were saying that no one's going to touch Barcelona, that Barcelona's going to win the league basically every year," LA Galaxy forward Robbie Keane said. Not so anymore.
Now reporters routinely ask Madrid players if a treble is possible – "without a doubt," is Iker Casillas' take – or how far away that elusive Decima is.
"Everybody could have their own opinion whatever team might be the best team in Spain, what team is the best in Europe, in the world. For me," Madrid captain Casillas said through a translator, "my teammates are the best."
In a grueling campaign, Madrid cracked 100 points, a first in a major European league. It also obliterated its own record for goals scored, blasting 121 past opposition goalkeepers over the course of the year.
"When we need to play, we compete and we play. When we need to fight for a certain result, we fight for that result," Pepe said in Spanish from UCLA's campus. "This team, we have shown a huge amount of spirit and companionship. That's why we won the league. For me, it was the toughest one in the world."
It was so tough, Guardiola hobbled off to play golf with his father on a sabbatical. His replacement, former assistant Tito Vilanova, has no first team coaching experience. The future of the Clasico was blown wide open.
Real Madrid is even glancing past Barca in the league, eyeing a 10th Champions League triumph, La Decima.



"For me, the team that we have, the players that we have, the public, the field, the trainer that we have, this team is a European contender."





- Iker Casillas

"We will be ready to compete in all the additional cups and competitions," Pepe said. "This year we know each other a lot better and, I believe, going into the third year with Mister, we will have a lot of his ideals and mentality."
Mister is Jose Mourinho, the enigmatic, handsomely stubbled Portuguese coach. According to former U.S. national team coach Bruce Arena, "every conversation" about the best coach in the world involves Mourinho. "There's nothing I don't like about him," Arena said.
The 49-year-old Mourinho has won league titles in Portugal, England, Italy and Spain. He's won the Champions League with two different teams. Madrid will – inevitably, one feels – be his third.
"He's very good at bringing a group of players together and molding them into a great team," Keane said.
"He's a person who's devoted," Casillas said. "He's a person whose identity is one. He's a person who's been able to develop players. We went many years since we had won anything, but I believe Mister has completed Real Madrid. He has a project in mind, and they're allowing him to do it."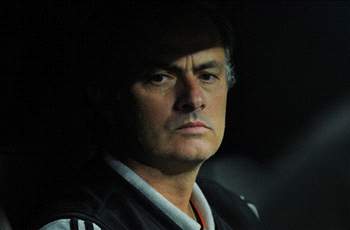 There's one catch to hiring Mourinho. He builds great teams which crumble as soon as he stops holding them together.
Since Mourinho left Inter in 2010 after winning the treble and weeping onto the shoulder of Marco Materazzi, the Milan-based club has rifled through five coaches. It finished sixth in the Serie A last year.
Chelsea burned through coaches at a similar clip immediately following Mourinho's departure. The main fault of the most recent firing – Mourinho's scouting prodigy Andre Villas-Boas – was an inability to smoothly transition away from the roster and style Mourinho left behind a full five years ago.
While in Los Angeles, Mourinho is also throwing a coaching clinic. On a panel, he was asked how he deals with his weaknesses. Mourinho looked confused. "Hide them," he said, according to J.R. Eskilson of Top Drawer Soccer. Then he changed his answer. "But really, I have no weaknesses."
Delightfully brazen, the answer is quintessential Mourinho. His aura allows the public to view him as flawless. The problem is that Mourinho has never stuck around in a gig long enough to have to sustain success. Can he match Guardiola's star-blazing four years? What about longer than that?
"I was watching him throughout the Euros," David Beckham said about Real Madrid's best player, Cristiano Ronaldo. "The first two games people were on his back and it just made me smile, because players like that, they love proving people wrong."
Now that Real Madrid has proven everyone wrong to usurp the best team in the world, can it stay there?
Follow ZAC LEE RIGG on

or shoot him an email