Three goals and an assist in his last five appearances have the world of calcio mourning the loss of Del Piero at the end of the season.
Alessandro Del Piero likened it to pushing through the coats in a closet and stumbling into Narnia. Or, to use another metaphor from his childhood, starting over at the beginning of the next level in a video game, fresh hurdles and bosses to clear.
For the past 19 years, Del Piero has competed in the familiarity of Turin and Juventus. He won't get a chance at year 20.
Back in October, Juve president Andrea Agnelli announced at a shareholders' meeting that this season would be Del Piero's last at the club. The 37-year-old largely stayed silent on the subject until this week.
First, a pre-order for his book appeared with the abstract that began: "After 20 years of an extraordinary career, Alessandro Del Piero leaves Italian soccer."
Then the Juve captain talked to
Vanity Fair
, and later other Italian outlets, about his future.
"It was my dream," Del Piero told
Vanity Fair
, to finish his career at Juventus. "But now things have changed." He wasn't prepared for Agnelli's announcement, let alone for the end.
"Agnelli surprised me," he said. "But a captain must never forget his duties and what he represents. Juventus has taken the utmost to win the league and cup in Italy. We do not need controversy, which, moreover, has never been part of my career."
It's hard to shake the notion that Juve would have wrapped up the title by now with an elite striker. Scratch that: with an elite striker on the sprightly side of 37. Mirko Vucinic (five), Fabio Quagliarella (four) and Marco Borriello (zero) have less goals than midfield options Claudio Marchisio (seven) or Simone Pepe (six). Juventus has remained undefeated in the league largely because it has spread the goals around; 17 players have scored for the Old Lady this year. In Europe, only Ajax's roster boasts more goalscorers at 18.
Alessandro Matri's quietly effective displays and 10 goals led Juventus. But a knee injury and four consecutive starts without a goal saw the former Cagliari striker lose his starting position just as AC Milan ground its way closer to Juve's point total.
Like it has done for nearly two decades, Juventus turned to Del Piero.
The World Cup-winner had made three league starts and scored one goal midway through March. "This has been the most complicated season of my life," he told
Vanity Fair
. "It put in front of me a reality that I'd never known before: the reality of someone who plays little or not at all."
In the past five games, Del Piero has rolled back the clock as smoothly as he rolls the ball around goalkeepers with the inside of his right cleat, the 'Gol alla Del Piero'.
Three goals and one assist in the last five appearances, only one as a starter, have preserved Juve's one-point lead ahead of Milan in the league and ensured progression past Massimilano Allegri's charge in the Coppa Italia.
He isn't bullying minnows, either. The goals have come against the likes of Milan and Inter, the assist versus Napoli. Last week, in his 700th game for the Old Lady, Del Piero scored a cheeky free kick as Andrea Pirlo argued with the referee to provide the 82nd minute winner over Lazio.
It tied him with new Serbia boss Sinisa Mihajlovic on 27 direct set piece goals in Serie A.
That's hardly his only record. He recently overtook Roberto Baggio's 318 goals in all competitions. He has appeared in the most games (700) and scored the most goals (288) in Juventus history. He's scored 187 strikes, many of them sublime, in Serie A.
In the past month, nearly everyone associated with calcio has spoken about the regret of his impending departure, with varying degrees of bitterness.
"It does not surprise me," Marco Materazzi spat out to
Sky Sport Italia
. "Gratitude in soccer has been dead for years."
"He is the history of this club," Pavel Nedved told UEFA's official site. "When anybody in the world says the word 'Juve', they have a picture of Del Piero in mind. I think that says it all."
His old agent Claudio Pasqualin told
TMW
that Del Piero turned down Manchester United and Barcelona in his prime. "He did that for love. His future has to be Juventus."
Pasqualin also said, simply: "Del Piero is Juventus."
If the forthcoming divorce was handled messily, the transition to the reserves probably went as well as could have been hoped.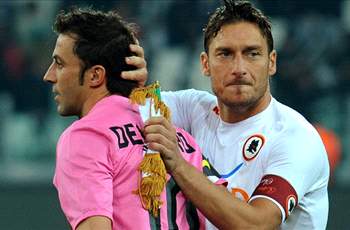 Benching a club icon is never simple. Real flushed several coaches out of Madrid before Manuel Pellegrini finally managed to flush Raul out of the starting lineup. And woe to the coach ill-advised enough to try to ease Francesco Totti away from an integral role at Roma.
Left out of the starting XI a few times earlier in the year, Totti showed up for training with the lone word "Enough" on his shirt. Talks with club hierarchy managed to bring him around, though notably Luis Enrique has relied heavily on the 35-year-old since.
But strong-arm strategies don't become Del Piero, as elegant and classy off the field as on. Antonio Conte couldn't have successfully reduced Del Piero's role without the forward's tacit blessing.
"When you need to score, he's your man," Conte said after the Lazio game. "He has always been, and will always be, an added bonus for the team. If I ask him for a minute, five minutes, eight or a whole game, he always gives 100 percent."
More often, Conte has asked for mere minutes rather than full matches from the man who replaced him as captain. Del Piero has made 16 substitute appearances to his three league starts. (He has started four Coppa Italia matches, though.)
Nary a team will harry as ferociously as Conte's Juve. Prior to the extra-time semifinal Italian Cup win over Milan, cameras caught Conte's motivational speech at training, in which he sternly proclaimed that Milan would have to "spit shit" to win. Del Piero's legs, those gloriously luxurious legs, don't have that kind of pressing left in them.
So what next? Montreal Impact sporting director Nick De Santis said his team's interest was rebuffed with Del Piero more interested in moving to Los Angeles or New York. China and the Middle East are options.
But before any transfers, there are two more potential trophies, starting with a Serie A game against Roma this weekend. Earlier in the season, Del Piero scored against the capital club, bringing an end a 260 day gap without a goal.
Don't expect another school-year length wait for his next strike.
Del Piero begins his book talking about his scholastic days. For an assignment he was asked to write down his preferred future occupation. He gave three options: an electrician like his father, a truck driver or a chef.
"Then I did not have the courage to write: a footballer. I was ashamed of my dream, because it didn't seem like a real job," he said. "Today, to answer that question, I reply that my games are not yet finished."
Follow ZAC LEE RIGG on

or shoot him an email.