The Argentine has created history in the colors of the Catalan club by netting his 232nd goal for at just 24 years of age.
Lionel Messi has written his name into the Barcelona record books once again, after netting goals 232, 233 and 234 for the club to surpass the long-standing total of legendary figure Cesar Rodriguez.
Cesar amassed his tally during a hugely prolific 13-year period from 1942-1955, and his position as the club's all-time record holder has remained unchallenged since.
However, Messi's hat trick in Tuesday evening's La Liga fixture against Granada saw him move above the Spaniard in the standings, achieving the feat in just over seven years of first team action.
The prolific Argentine has now struck an incredible 54 goals in 45 games this season, as the Barcelona aims to close in on Real Madrid at the top of the Primera Division.
It had been believed that Cesar's record had stood at 235 goals, but a recent study conducted
by Barcelona's Center of Documentation and Studies, in conjunction with newspaper La Vanguardia,
confirms that the legendary forward actually netted 232 strikes, and so his total has been reassessed.
BARCELONA ALL-TIME TOP SCORERS LIST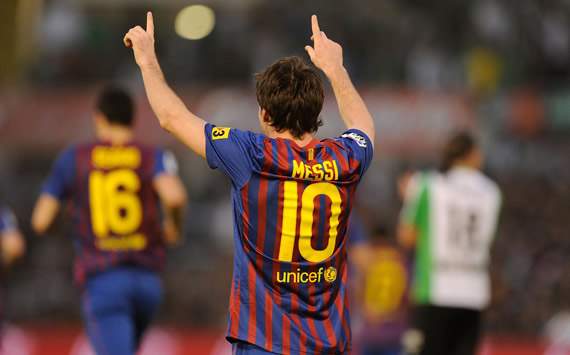 | | | | |
| --- | --- | --- | --- |
| 1= | Lionel Messi (Argentina) | 2005- | 234 |
| 1= | Cesar Rodriguez (Spain) | 1942-55 | 232 |
| 3. | Ladislao Kubala (Hungary) | 1951-61 | 194 |
| 4. | Josep Samitier (Spain) | 1919-32 | 178 |
| 5. | Josep Escola (Spain) | 1934-49 | 167 |
| 6. | Paulino Alcantara (Philippines) | 1912-27 | 137* |
| 7. | Angel Arocha (Spain) | 1926-33 | 134 |
| 8. | Samuel Eto'o (Cameroon) | 2004-09 | 130 |
| 9. | Rivaldo (Brazil) | 1997-02 | 130 |
| 10. | Mariano Martin (Spain) | 1940-48 | 124 |
* Alcantara actually scored 357 goals for Barcelona, but over 200 of those came in friendlies
Follow GOAL.COM USA on