Barcelona fans have thrilled to the genius of a stream of great players down the years: among them Ladislav Kubala, Luis Suarez and Sandor Kocsis in the late 1950s and early 1960s; Johan Cruyff, Johan Neeskens and Hugo Sotil in the 1970s; Diego Maradona and Bernd Schuster in the 1980s; Hristo Stoichkov and Romario in the 1990s; through to Leo Messi, Xavi, Andres Iniesta and Co today.
Ironically, one old hero tended to be forgotten in the stream of high-profile, big-money acquisitions. Maybe because he was Spanish, he did not boast the allure of the imported superstars. Now, finally, Cesar Rodriguez Alvarez is earning a place in the spotlight – thanks to Messi, who is just one goal shy of Rodriguez's all-time Barcelona goalscoring record and could break it against Granada tonight.
This is a little late in the day: Cesar died in the Catalan capital in 1995 aged 74. But those simple statistics also tell the tale of a need to blow dust off the legend.
In effect, Cesar achieved the goal-scoring feats which turned him into the club's all-time leading marksman in the years before television projected wall-to-wall football into the world's living rooms.
Also, in days long before the creation of European federation UEFA let alone the European Championship, Cesar played center forward for Spain on just 12 occasions, scoring six goals. He was in the national team squad which went to the 1950 World Cup in Brazil ... but never played.
Hence his fame and glory was almost all local: a record 232 goals (originally 235 before a Barcelona investigation this week) in 348 competitive appearances for the club between 1939 and 1955 when he began to wind down his career.
Reports from the time hailed Cesar for his pace, his ability in the air – second only in that Spanish era to Bilbao's Telmo Zarra – and a powerful shot in both feet.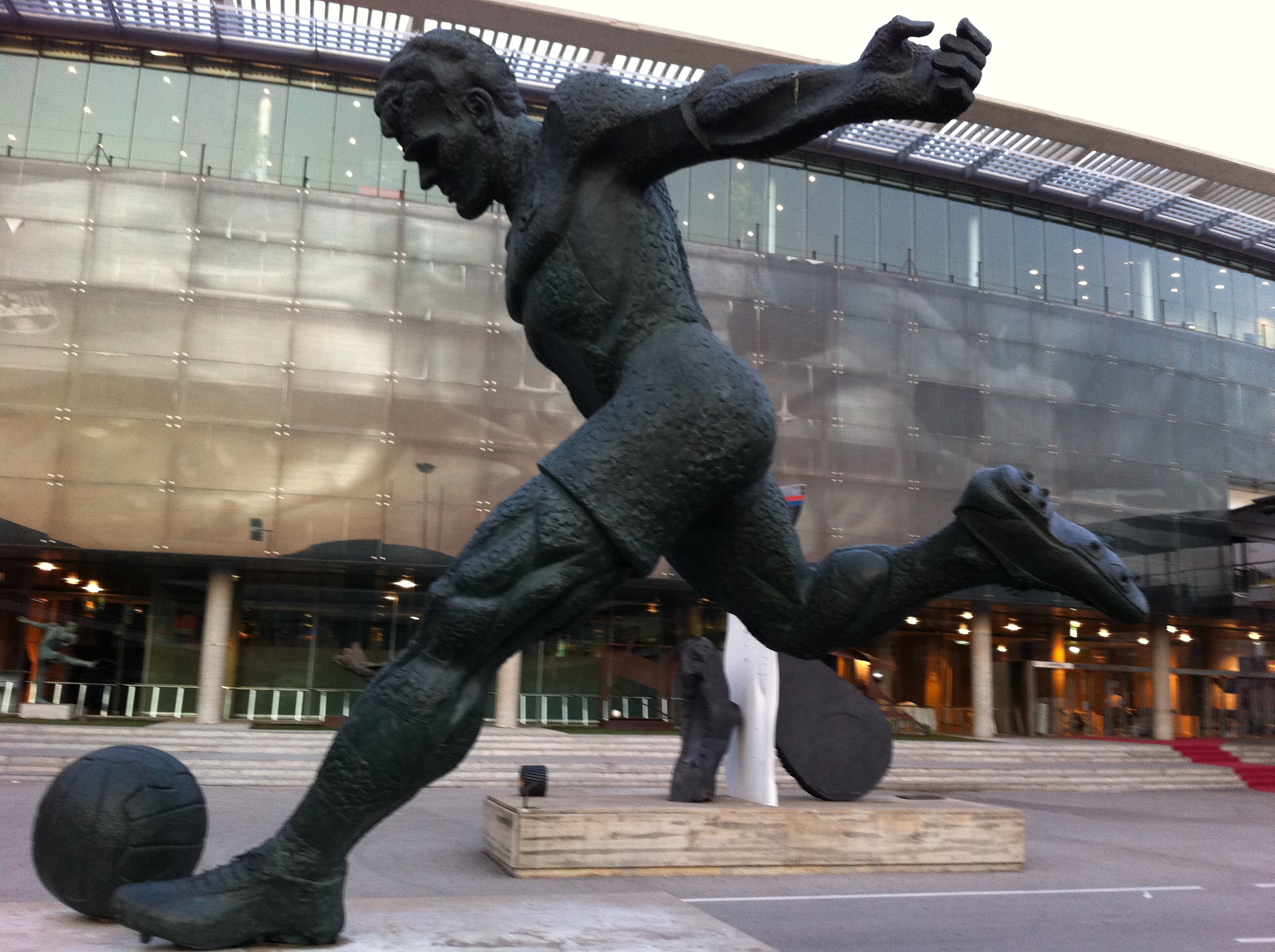 King Kubala | Messi overtook the Hungarian (whose statue sits outside Camp Nou) last year
He started playing with Juventudes in his home town of Leon and transferred to the big-city club in 1939. Compulsory national service saw him stationed in Granada in 1940 so he was loaned to the local second division club and scored the goals which shot them to promotion and a place among the elite for the first time in their history.
Not surprisingly, 1941 saw his return to Barcelona and his claiming the No. 9 shirt for the next 15 seasons – years which brought the club five league titles, three domestic cups and two Latin Cups (an end-of-season mini-tournament which was one of the precursors to today's European club competitions).
Featuring in a legendary forwardline - Basora, Cesar, Kubala, Moreno and Manchon - Cesar was crowned the league's top scorer in 1948-49 when he scored 28 goals.
The late 1950s saw Cesar going home to play for Cultural Leonesa, for Perpignan across the French border then back in Spain with Elche. Here he began a coaching career which reached a peak back at Barcelona in 1963 and 1964. Later came spells with Mallorca, Celta de Vigo, Betis, Zaragoza, Hercules of Alicante and minnows Unio Esportiva Sant Andreu.
BARCELONA ALL-TIME TOP SCORERS LIST

| | | | |
| --- | --- | --- | --- |
| 1. | Cesar Rodriguez (Spain) | 1942-55 | 232 |
| 2. | Lionel Messi (Argentina) | 2004-12 | 231 |
| 2. | Ladislao Kubala (Hungary) | 1951-61 | 194 |
| 4. | Josep Samitier (Spain) | 1919-32 | 178 |
| 5. | Josep Escola (Spain) | 1934-49 | 167 |
| 6. | Paulino Alcantara (Philippines) | 1912-27 | 137 |
| 7. | Angel Arocha (Spain) | 1926-33 | 134 |
| 8. | Samuel Eto'o (Cameroon) | 2004-09 | 130 |
| 9. | Rivaldo (Brazil) | 1997-02 | 130 |
| 10. | Mariano Martin (Spain) | 1940-48 | 124 |
The veteran Spanish sports writer Juan José Castillo once described Cesar as a "devastating huracan."
How would Castillo, who died himself in 2001, have described Leo Messi?
Follow Keir Radnedge on

Keir Radnedge has covered every World Cup since 1966, analysing the international game for newspapers, magazines, TV and radio around the world