Xavi didn't raise an Iberian eyebrow during the Ballon d'Or gala. He knew. Everybody knows; Lionel Messi is the best player in the world.
But Messi also knows, and quickly admitted under the amber-hued lights in Zurich, that his bestness is contingent on Xavi's facilitation.
"I want to share this award specially with my friend Xavi," Messi said as he accepted his record-tying third straight gong. "This Ballon d'Or is also yours. Without your help I would not be here."
Despite Xavi's gushed thanks – "I am honestly and deeply touched. Leo's words are better than getting the award" – he doesn't get to share the FIFA World Player of the Year. It goes to whatever section of Messi's house is designated for all the shiny metal things people keep handing him. Xavi, instead, joins Bernd Schuster as the only one to make the top three in Ballon d'Or voting thrice without ever winning it.
A few days away from his 32nd birthday, the suspicion stomping down the Camp Nou corridors is that Xavi Hernandez's chance has passed. Really, if he ever had a shot, it was in 2010 when he – and not Messi – won the World Cup. The rest of their trophies they share at Barcelona.
Even with a pleasant uptick in statistics this season – five goals and five assists in La Liga thus far, which equals last season's league record of 10 goals created or scored – Pep Guardiola has started rotating his maestro more frequently, easing Thiago Alcantara into the first team and leaning on repatriated Cesc Fabregas to supplement Messi's goal haul.
We have seen Xavi's magnificent prime and are now witnessing his tranquil autumn.
"Xavi isn't better than Messi but, looking at his career, it'd be a disgrace for soccer if he'd never win the Ballon d'Or," legendary Barca player and coach Johan Cruyff, himself a three-time winner, told
EL9
.
But
these sorts of awards
always tend to go to attackers. Since the Ballon d'Or began in 1956 (Stanley Matthews), exactly one goalkeeper and only three defenders have won. Xavi clearly isn't a defender but he plays deeper than the usual winger/striker champ.
Consider: In 2011, according to Opta, less than 18 percent of Xavi's successful passes in the league – of which he regularly clocks over 100 – went forward. It's easier to prevail in individual awards as a trequartista than as a regista.
History will not forget him, of course. This Barcelona team has already entered the discussion for greatest club side of all time, and Xavi, aside from winning the World Cup in 2010, was named the best player at the Euro 2008, which Spain also won.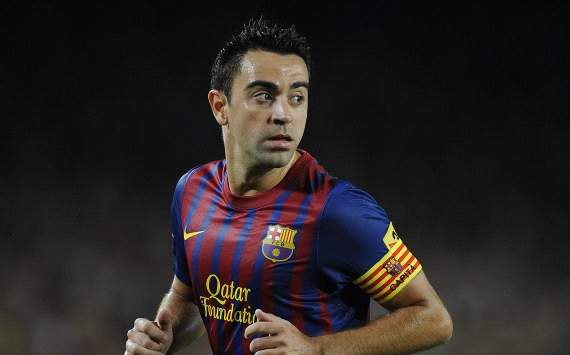 Perhaps the most surefire way the 5-foot-7 midfielder will enter the collective historical memory is as the prototype of Barcelona's and Spain's collective tiki-taka passing game, like Franco Baresi for the selfless pressing of AC Milan and Italy in the early '90s.
Spain won the last two major international tournaments. Pep Guardiola has won 11 of the 14 medals available since taking over as Barca head coach three and a half years ago, including three league titles in a row and two of three Champions Leagues. No one besides him quite expected a generation of diminutive, pale, beguiling kids from La Masia would conquer every major trophy – especially not so thoroughly.
"Six years ago I was extinct; footballers like me were in danger of dying out," Xavi told the
Guardian
last year. "It was all: two meters tall, powerful, in the middle, knockdowns, second balls, rebounds."
Now, club chairmen and coaches across the globe salivate and have to tuck their tongues back in their mounts when talking about recreating a Barca model at their own teams.
"I'd like to see Milan playing like Barcelona does," AC Milan owner Silvio Berlusconi admitted less than a month ago.
The player most associated with that style of play? No, not Messi and his scandalous record of 17 goals and seven assists in 17 league games, supplemented by six goals and three assists in five Champions League games. Not captain Carles Puyol, all bangs and brawn and bravery. Not Andres Iniesta's gasping record of history-altering strikes.
The man who personifies the Catalans' asphyxiating blanket of passes, the one who most artfully uses the half-touch pass, the most intrinsic pinion is Xavi.
Several years ago, when Xavi made a five-man shortlist for an award, the
Daily Mail
led with the headline: "The best players in the world (and Xavi)." Now nobody, not even English tabloids, dare protest Xavi's genius. His Ballon d'Or-less mantle pains even those who win in.
Before the Daily Mail headline, before the swamp of trophies, before Hernandez had even solidified himself in the first team, then-starter Guardiola turned to Xavi on the training ground one day and said, "You will retire me, but Iniesta will retire us both."
Guardiola doesn't get much wrong. But here we are, a series of imitations to Xavi's position crammed into the same roster, and no one has managed to make him obsolete just yet.
Follow ZAC LEE RIGG on

or shoot him an email.