The Uruguayan striker is unavailable at present after being found guilty of racially abusing Patrice Evra, but tells Goal.com he is hoping for success when he returns to the side.
Luis Suarez
is hoping to move on from the controversy of his recent race row and fire
Liverpool
to both a trophy and a top-four finish once he returns from his eight-match suspension.
The striker, who will miss Wednesday evening's League Cup semifinal with Manchester City due to the ban he received for racially abusing Patrice Evra in October, believes Kenny Dalglish's side has the ability to secure silverware for the first time since an FA Cup triumph six seasons ago, as well as to get back into the Champions League.
The Anfield outfit has fully supported the 24-year-old throughout the disciplinary process following his controversial attack on the Manchester United fullback, and he has now insisted that he wants to repay his club on the pitch.
"I want to win a trophy for Liverpool," Suarez exclusively told Goal.com. "When I
 came here the team hadn't been doing so well but we are a much better squad 
now and we are capable of winning a trophy and getting back into the Champions
 League.
"Last year I was lucky enough to win the Copa America with my country,
 something which I never thought I would do and we made history. Now I want
 to win something with Liverpool.
"When I'm back in the side that is the aim and
 would be the perfect 2012 for me."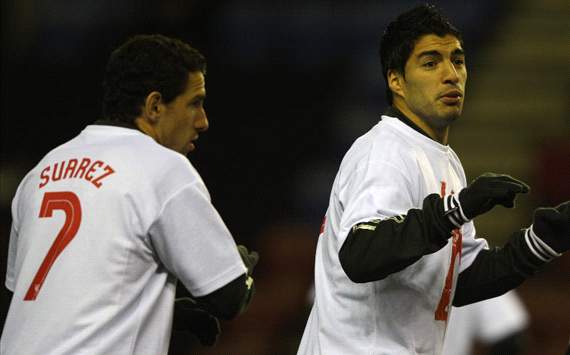 In the spotlight | Suarez has attracted both positive and negative attention this season


Suarez has been a phenomenon on Merseyside since joining from Ajax 12 months ago and, despite admitting to being "extremely upset" over his FA ban, has stated he wants to remain with Liverpool for a long time to come.
"I was so excited to sign for Liverpool, it was a dream come true and I hope for 
a long career with them," Suarez said. "I grew up watching them and they are a club with such a big 
history, especially in the Champions League, and fantastic players."
The Uruguayan also moved to praise team-mate Steven Gerrard, who has recently returned from a two-month spell on the sidelines due to an ankle infection. The Reds captain has been in fine form since making his way back into the side and Suarez is in no doubt that the midfielder will provide a boost to the squad.
"Steven is a great player, I didn't realize how good until I came here," he said. "He trains
 how he plays and is a fantastic player and servant for this club. Having him back 
will help the team."
The forward still has six games of his suspension remaining and will be unable to appear for Dalglish's side until February at the earliest.