In the buildup to the busy festive program of fixtures, both Roberto Mancini and Sir Alex Ferguson - the managers of Manchester City and Manchester United - have reflected on the importance of being top of the table at the halfway stage of the season.
The Italian, ahead of his side's 3-0 win over Stoke City at Etihad Stadium, had spoken of his determination for the club to maintain its current position on top of the standings, while Sir Alex said after the recent win over QPR that he wanted his side to be in first place in time for the new year.
Victory over Stoke ensured Mancini's men will be top of the pile when they are enjoying Christmas dinner, but a slip could have allowed United to pounce after it achieved an impressive 5-0 triumph over Fulham at Craven Cottage.
With such small gaps between the leaders and still almost six months to go until the Premier League trophy is handed out in May, it may seem unusual to be so keen on being top at this stage of the campaign - but how important can being the Christmas No.1 really be?
Recent history shows the side sitting top at this stage of the season has gone on to win the title in five of the last seven campaigns.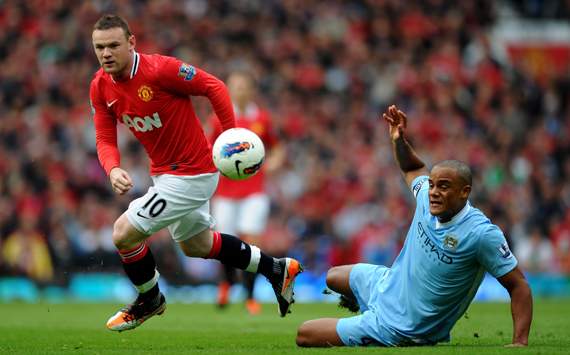 Bragging rights
|
Both Manchester clubs were chasing the Christmas No.1 spot
After having a look at the detail behind that headline statistic, it becomes clear that the win over Stoke on Wednesday night could eventually mean a lot more to Man City than just some additional Christmas cheer.
December 25th

End of season

Pos



P

PTS

Pos



P

PTS

1
Chelsea
18
43
1
Chelsea
38
95
2
Arsenal
18
38
2
Arsenal
38
83
3
Everton
18
37
3
Man Utd

38
77
4
Man Utd

18
34
4
Everton
38
61
The 2004-05 season was the dominant first year of Jose Mourinho's reign at Chelsea. Trying to dethrone Arsenal's 'Invincibles', the Blues knew they had to start fast to prove beating such a strong side to the title was possible. The club had the lead at Christmas after a ruthless start to the season, which set the tone for what was to follow. Chelsea never let go from then on, finishing as champion by a clear 12 points.
December 25th

End of season

Pos



P

PTS

Pos



P

PTS

1
Chelsea
17
46
1
Chelsea
38
91
2
Man Utd

17
37
2
Man Utd

38
83
3
Liverpool
15
31
3
Liverpool
38
82
4
Tottenham
17
31
4
Arsenal
38
67
As champions, Mourinho's men made an even faster start to the season in 2005-06 and had three points more than the previous year, having played a game less. Remarkably, Chelsea led by nine points by the time of festive celebrations and even though the club's final points tally ended up being lower than before, the gap was far too big for the team's demoralized title rivals to recover from.
December 25th

End of season

Pos



P

PTS

Pos



P

PTS

1
Man Utd

19
47
1
Man Utd

38
89
2
Chelsea
19
45
2
Chelsea
38
83
3
Liverpool
19
34
3
Liverpool
38
68
4
Arsenal
19
33
4
Arsenal
38
68
Chelsea went into the next season as a hot favorite to make it three Premier League titles in a row, but Sir Alex Ferguson was a man on a mission and said publicly that to beat the Blues, his side would have to get ahead of them early. Despite being traditionally slow starters, United was able to go on an incredible run of 47 points from a possible 57 to start the campaign and led by Christmas before seeing through a vital title triumph.
December 25th

End of season

Pos



P

PTS

Pos



P

PTS

1
Arsenal
18
43
1
Man Utd

38
87
2
Man Utd

18
42
2
Chelsea
38
85
3
Chelsea
18
37
3
Arsenal
38
84
4
Man City

18
34
4
Liverpool
38
76
One of the two years where the leader at Christmas did not go on to be crowned champion. Arsenal led but then imploded in the second half of the season, winning just one out of eight games in a disastrous spell that included the infamous collapse at Birmingham. Even though the festive leader didn't go on to secure glory, the 2007-08 season at least proved that if you do lead at Christmas, then it really is your title to lose.
December 25th

End of season

Pos



P

PTS

Pos



P

PTS

1
Liverpool
18
39
1
Man Utd

38
90
2
Chelsea
18
38
2
Liverpool
38
86
3
Aston Villa

18
34
3
Chelsea
38
83
4
Man Utd

16
32
4
Arsenal
38
72
At first glance, this campaign appears to make a mockery of the claim you need to be well placed at Christmas to stand a chance of winning the crown. United went from being fourth to champion after a famous late-season surge to deny Liverpool, but in reality things had been close all the way. Sir Alex's held two games in hand over the festive period due to its Club World Cup commitments, having won the Champions League the year before.
December 25th

End of season

Pos



P

PTS

Pos



P

PTS

1
Chelsea
18
41
1
Chelsea
38
86
2
Man Utd

18
37
2
Man Utd

38
85
3
Arsenal
17
35
3
Arsenal
38
75
4
Aston Villa

18
35
4
Tottenham

38
70
After three successive United titles, Chelsea knew it had a tough task on its hands if it wanted to stop United from winning four in a row. New boss Carlo Ancelotti made an impressive start to his career at the helm and he was toasting a four-point lead as he enjoyed his Christmas dinner. That early cushion proved decisive in the end, as only a point separated the two sides come the end of the campaign.
December 25th

End of season

Pos



P

PTS

Pos



P

PTS

1
Man Utd

16
34
1
Man Utd

38
80
2
Arsenal
17
32
2
Chelsea
38
71
3
Man City

18
32
3
Man City

38
71
4
Chelsea
17
31
4
Arsenal
38
68
This time last year, things were looking very tight in the Premier League. Just three points separated the top four, who were all dropping points at an alarming rate, but United had a two-point lead and a game in hand at the top. That advantage, combined with a trademark strong finish to the season, gave the club the league by nine points over Chelsea and City in May.
Current table

End of season

Pos



P

PTS

Pos



P

PTS

1
Man City

17
44
1
???
38
??
2
Man Utd

17
42
2
???
38
??
3
Tottenham
15
34
3
???
38
??
4
Chelsea
16
32
4
???
38
??
Victory over Stoke has given Man City the festive top spot this time around, taking the club onto 44 points, which is the highest tally at this time of the year any side has managed for five seasons.
Given how well the other chart-toppers at this time of the season have done, being ahead of even those past champions could mean this strong start will be decisive for City. A very merry Christmas for the club's fans should, if recent history repeats itself, turn into an even bigger celebration in May. That victory against Tony Pulis' side has just become a little bit more important...
Follow Chris Myson on