BIRMINGHAM - Two weeks ago, Manchester United went to Villa Park and ground out a somewhat predictable 1-0 victory in a game lacking entertainment.
Fast forward to Sunday and Liverpool went to the same ground and instead dominated a lackluster Aston Villa side with incisive wing play and plenty of skill in attack.
However, just as the team's fiercest rival had done, Liverpool kept the home side - albeit one lacking Darren Bent and Gabriel Agbonlahor – comfortably at bay with Pepe Reina not having to make any save of note as he claimed his sixth clean sheet of the season.
In fact, Reina has not conceded more than one goal in any match this season, aside from the 4-0 hammering at Tottenham, and the 13 goals Liverpool has conceded is the lowest total in the league.
It is an interesting statistic and not one which passed Kenny Dalglish by.
"To credit the players, they didn't want to lose a goal either," the manager told reporters after the match. "As well as scoring them, they don't like losing them."
These aren't words you would normally associate with one of the greatest forwards ever seen in this country, but he and his assistant Steve Clarke will have been impressed with the ease with which his side closed out the match in the second half.
But this is nothing new for Liverpool since Jamie Carragher got injured before the match against West Brom, leaving Martin Skrtel to partner Daniel Agger.
After completing a shutout against the Baggies, the Reds' back four, also made up of Glen Johnson and Jose Enrique, has only conceded three goals with the latest being courtesy of Reina's spill against Fulham. The other two came against Manchester City and Chelsea.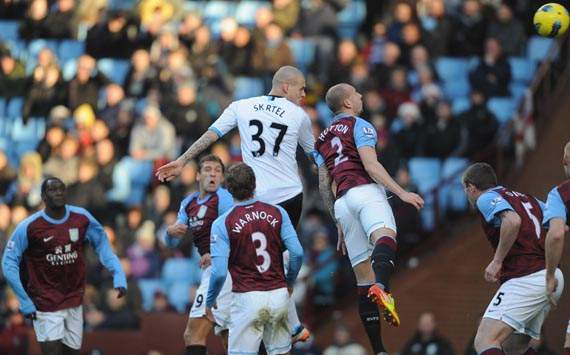 Cruise control | Skrtel's accurate header secured a comfortable away win
Since the Spurs defeat Liverpool has conceded just two goals in five away matches and has now matched the five away wins the club managed last season.
Enrique has impressed since joining from Newcastle and looks to have sorted out the problem position of left back.
However, the most impressive of all the defenders has been Johnson. Labelled as an attacking fullback who was seen as a liability at the back, the former Portsmouth man has continued to bomb forward in attacks, as was shown by his goal against Chelsea.
But the England international can now be relied upon to help out in defense having once again established himself in his favorite position after a spell at left back.
Although the defense appears to have sorted itself out, what must be frustrating Dalglish the most is the man who has impressed Liverpool supporters the most. Luis Suarez began the weekend with 28 shots off target - the most in the league - and a surprisingly low tally of five goals considering his immense talent.
This is a player who scored 49 goals in all competitions for Ajax in 2009-10, a considerable achievement despite the leaky Eredivisie defenses which helped Afonso Alves earn a Brazil cap.
LIVERPOOL'S AWAY DAYS


SINCE DEFEAT AT WHITE HART LANE

Oct 1
Oct 29
Nov 20
Dec 5
Dec 18

Everton 0-2 Liverpool
West Brom 0-2 Liverpool
Chelsea 1-2 Liverpool
Fulham 1-0 Liverpool
Aston Villa 0-2 Liverpool

Yet he only has as many league goals as both Agbonlahor and Bent and two less than Grant Holt, who has spent most of the season on the bench for Norwich City.
Anybody who has seen Suarez play will attest to his brilliance on the pitch and at times it gets tiresome to hear Dalglish and opposition managers have to answer the same questions from journalists about him.
However, he has only bagged two goals since October, a surprisingly low total considering the number of chances he has had and the Merseysiders have only scored 20 from 16 league matches this season, 30 less than league leader Manchester City.
Against Villa the Uruguayan hit the woodwork twice. Once he looked almost certain to score, but could only bend his shot onto the underside of the crossbar with Brad Guzan nowhere near. The other came through his own genius as he chipped the American but saw his effort hit the post and go to safety.
"If we just shave a couple of inches off the post we'd be okay," Dalglish joked after the match. But privately he must be frustrated that his side isn't higher up the league.
He later added: "We say we'll keep trying, because the harder you try the luckier you become. So we'll see what happens. Maybe one day they'll hit the bar and go in."
When that day comes, Liverpool will be a rival for every other club in the Premier League.