MANCHESTER - As Manchester City beat Arsenal to move back to the top of the Premier League, it looked like a case of both sides starting their New Year's resolutions a little early.
The two teams may now be separated by 12 points in the league but it was only David Silva's 53rd minute winner that was to prove the difference at the Etihad Stadium on Sunday, in a game from which both managers can take plenty.
For Roberto Mancini to see his players cast aside the disappointment of having their unbeaten start collapse at Stamford Bridge six days ago will provide the Italian evidence that his side has progressed to a level where its title credentials can no longer be questioned.
Indeed, to knock another side out of what has threatened to become a crowded race for the Premier League crown is a valuable bonus to those in Manchester, but to do so on the back of a turbulent fortnight after having slipped from the top of the table earlier in the afternoon is an even greater boost for a group of 11 players from which only one, Kolo Toure, has previously picked up a winner's medal in the division.
Performances from Mario Balotelli and goalscorer Silva were standout but it was perhaps Samir Nasri who best exemplified what made City so impressive at the Etihad. Against the club which he left on less than cordial terms with in the summer, the Frenchman, like his new teammates, stepped up to the limelight and delivered with so many willing him to fluff his lines.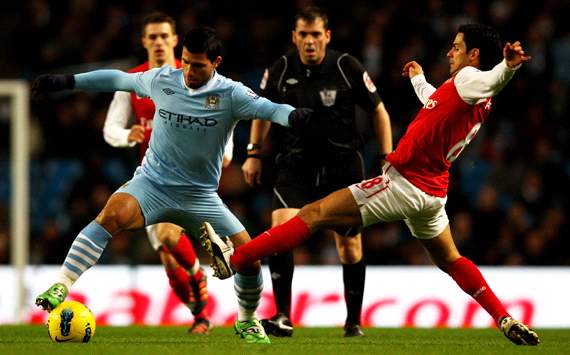 Toe to toe | City won the heavyweight clash but Arsenal showed plenty of fight


As was the case with the Arsenal defenders briefed to mark him, the taunts and boos of the traveling Gunners support simply bounced off the 24-year-old. Nasri was too busy dazzling to play the villain.
The importance of the win was not lost on Mancini, whose behavior in the technical area was probably at its most erratic since its fist-pumping zenith at the Etihad during City's win over Villarreal in October. His praise for his players was unequivocal in the post match press conference - no mean feat for a man who called for more from his squad after a 6-1 win at Old Trafford. That win set the tone for City's title charge. The victory over Arsenal has simply reaffirmed it.
Arsenal's New Year pledge will almost certainly focus on securing a top four spot from now, with even Wenger himself all but confirming that his side was too far behind City at the end of the game to involve itself in the title race.
"Unfortunately for us it was a game we couldn't afford to lose," said the Frenchman. That Arsenal did was not a reflection of its efforts in the blue half of Manchester.
AS TIGHT AS IT GETS AT THE ETIHAD

| | | |
| --- | --- | --- |
| MANCHESTER CITY | | ARSENAL |
| 47% | POSSESSION | 53% |
| 9 | SHOTS ON TARGET | 8 |
| 6 | SHOTS OFF TARGET | 6 |
| 4 | CORNERS | 6 |
| 76% | SUCCESSFUL PASS % | 81% |

It was at times quite difficult to believe that this was the same Gunners outfit that imploded so spectacularly only six miles away at Old Trafford at the end of August, with discipline and durability providing Wenger's side a backbone that it has suffered without for far too long.

The north Londoners' performance against City was in complete contrast to the devil may care showings that contributed to their worst league start in 58 years. Despite having lost more games to any of the other Champions League chasers, the Emirates club looks better placed to push for a spot in the competition now than it has all season.

The nature of Arsenal's perennial transition under Wenger is always likely to frustrate the club's fans, but to see members of the squad other than Robin van Persie shine, albeit in defeat, belittles talk of a one-man team and bolsters top four talk. Wojciech Szczesny, Laurent Koscielny and Gervinho all proved themselves equal to many of City's players for long periods and deserved more than a gallant defeat.

If both sides maintain the level at which they played against each other over the festive period then both will enjoy a very merry Christmas. More importantly, an even happier new year awaits.


Follow Jonathan Birchall on