COMMENT
Reproached on Wednesday and reprieved on Thursday - it's been a week of slopes and peaks for Wayne Rooney in the shadow of the Swiss Alps.
Not only party to his team's first Champions League elimination in the group stage for over half a decade, the Manchester United striker's miss on the half-hour mark away to Basel in midweek has left him as one of those deemed most culpable for what was a shambolic result at St Jakob Park.
The blunder, which saw the 26-year-old miss Nani's devilish cross only one yard from the goalline, was a fluff of the lines so great that it will have no doubt been playing on the mind of Rooney throughout his entire 150-mile journey south through Switzerland to Nyon, home of Uefa's headquarters.
It would turn out to be a trip worth making for the forward, who saw his three-match international ban reduced by a game and with it, his chances of playing at Euro 2012 significantly bolstered. However, having now received a lifeline in European football's corridors of power, Rooney must now give one to Sir Alex Ferguson and his team.
Despite sporadic moments of madness such as the lashing out at Montenegro's Miodrag Dzudovic in Podgorica which led to the ban, Rooney is far more guarded with his emotions than was the case in his youth and as such, one can only speculate on how deeply the prospect of a summer away from Ukraine and Poland was hurting the former Everton man. The evidence, however, seems telling.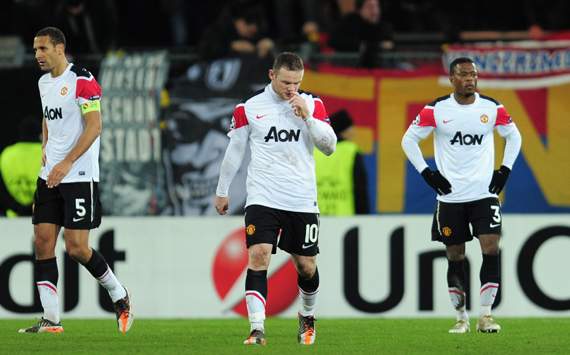 Man in the middle | Rooney's loss of form has coincided with his team's
Rooney had started the season in blistering form as United attacked with abandon. Contributing with a goal or an assist in every single Premier League fixture up until the match in the Montenegrin capital, it was quite simply the best opening to a campaign in his career.
His malaise following has been as troubling as it is astonishing, as, with mirroring consistency, he hasn't directly contributed to a single Premier League goal since.
LOST THAT SCORING FEELING


ROONEY'S RECORD BEFORE MONTENEGRO

GAMES PLAYED
GOALS SCORED
GOALS PER GAME
ASSISTS
ASSISTS PER GAME

9
12
1.3
3
0.3


ROONEY'S RECORD AFTER MONTENEGRO

GAMES PLAYED
GOALS SCORED
GOALS PER GAME
ASSISTS
ASSISTS PER GAME
10
2
0.2
0
0
It is one of a number of components that has contributed to a huge drop in goalscoring form from United, who have gone from averaging just under three and-a-half goals per game prior to that international break to not yet scoring more than one in a league fixture since England qualified for the Euros.
The champions, like Rooney, have gone from storming the barn in the first few weeks of the season to not being able to hit its door with a banjo.
However, with the albatross of the ban now cast to the back of the striker's mind until June and the ultimate wake-up call in Switzerland on Wednesday evening, Rooney needs to start leading by example at United once again or risk having only the FA Cup to chase come the new year.
Manchester City's first XI, like Sir Alex's men, no longer have the distraction of the continent, regardless of how much they'd want it, and are going to take some catching.
In the chase, circumstance dictates that the goalscoring burden will fall heavily on the shoulders of Rooney over the Christmas period. With Javier Hernandez sidelined with an ankle injury until January and with Wolves traveling to Old Trafford on Saturday, United's most talented player must look to end a run that has seen him go eight consecutive league games without a goal.
Sir Alex himself has a part to play. Rooney has at times shown glimpses of brilliance in a deeper midfield position, with comparisons to arguably the finest player at Old Trafford in generations, Paul Scholes, coming with far more regularity than the Liverpudlian's name on the score sheet. With Chicharito out that simply has to change, and United's No.10 needs to be encouraged to lead the line.
Whether the shame of Montenegro has led to caution on Rooney's part or whether his and the form of those around him has left the striker disillusioned, the England star has lacked the fire in the belly that, although cliche to say it, he struggles to shine without.
With goals short in coming and a blip becoming a slump, it would be encouraging for the Stretford End at the weekend if Rooney was to show a little more in the way of needle against Mick McCarthy's side. Defenders don't like him when he's angry.
The fear for those in the red half of Manchester is that the striker's collapse in front of goal will mirror that of last season and snowball into the new year. With Dimitar Berbatov no longer able to deputize and City cruising at the top of the Premier League, a winter of discontent simply can't be accounted for at Old Trafford.
Yet again, it's up to Rooney to lead United's climb back to the summit of English football.

Follow Jonathan Birchall on