The 50 million pound man will have the chance to face his former club for the second time this month, but needs to put on a remarkable performance to prove himself.
When Chelsea signed Liverpool's Fernando Torres for 50 million pounds less than a year ago, observers were torn as to whether those at Stamford Bridge were reasserting their power or exposing their desperation. The Spaniard's form since, in large part, suggests it was quite clearly the latter.
But football clubs are rarely altruistic, especially with their rivals set to benefit, and as the fastest man to reach 50 goals for the Reds before ending up with 65 in 102 games for the Merseyside outfit, last winter's transfer surely shouldn't look like the near-charitable disaster that it is currently playing out to be for those in west London.
The former Atletico Madrid man should get the opportunity to prove that he's not completely gone off the boil against his former club in the League Cup on Tuesday, and having gone from Kop hero to Liverpool's great turncoat, Torres will need to put on an incredible show to prove he's worth the Russian petrodollars.
His current figures at Chelsea however, like those on the cheque that brought him to Bridge, are enough to make even Roman Abramovich wince.
0
- The number of times Torres has scored for Chelsea when he and Didier Drogba have played in attack at the same time.
0
- Assists Torres has made in 10 Premier League appearances this season.
1.7
- Shots-per-game average for Torres since arriving at Stamford Bridge. The striker had an average of 3.9 in his final season at Liverpool, and 3.6 in 2009-10.
2
- Number of league games in which Torres has played the full 90 minutes under Andre Villas-Boas.
2.6
- The average number of goals Chelsea have scored in the games where Torres has netted.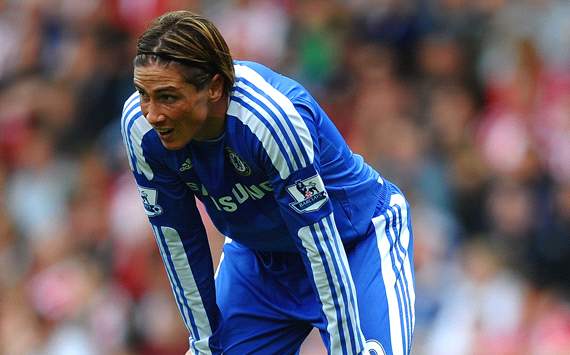 Feeling blue | The 27-year-old is struggling once again at Chelsea
5
- The number of goals Andriy Shevchenko scored in his first 24 games for Chelsea. Torres only managed three.
5
- The number of goals Torres has scored since arriving from Liverpool in January.
6.38
- Torres' average match rating so far this season on
Goal.com
.
9
- Games it took Drogba to reach five goals for Chelsea following his arrival from Marseille in 2004. It took Torres 26.
10
- The number of goals El Nino had at this stage of the season during his first season at Liverpool.
36
- The percentage of Torres' shots that have hit the target since he joined Chelsea.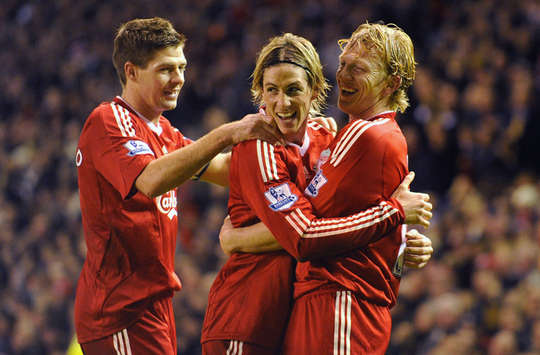 Top of the Kop | Torres was an unbridled success at Anfield
52
- The percentage of Torres' shots that hit the target in his first season at Liverpool.
344
- Number of league minutes since the Spaniard found the back of the net.
365
- Number of minutes on the pitch it took for Torres to reach his current tally of two league goals this season. Daniel Sturridge needed only 193 to get to the same total.
2009
- The year Torres scored his last hat-trick.