Blatter blundered into the recent racism discussions with typical clumsiness, but he's proven far too slippery to let any ill-advised remarks stick.
Sepp Blatter is incredibly good at his job.
Under his megalomaniacal reign, FIFA has grown into a behemoth. The World Cup distended to 32 teams under Blatter's watch and, with the expansion, revenue has also swelled. Recently, FIFA charged over half a billion dollars for the U.S. broadcast rights to two World Cups. Countries will pay tens of millions to lose a bid to host the quadrennial sporting event (Australia sunk an estimated $34 million into bidding for the 2022 edition.)
Those who rival or question the authority of the gregarious and cuddly-soft figure of Blatter are ruthlessly neutered and deposed (see: Bin Hammam, Mohammed). FIFA frequently bullies the governments of sovereign nations that dare meddle in soccer legislation with the (very real) threat of excommunication. Recently, Ethiopia was ejected from African qualification for the 2010 World Cup.
The UN wishes it had the resources and influence of FIFA.
There's a catch: Occasionally, Blatter, as the president and figurehead of FIFA, has to give interviews. Besides his fan-rankling troglodytic attitudes toward technological advancements in officiating, he sometimes says things you'd expect from an embarrassingly bigoted grandparent at the Thanksgiving dinner table.
In the past, Blatter has tacitly given approval to laws that discriminate against homosexuals, explicitly espoused sexism and belittled slavery by comparing professional soccer players, who are financially compensated for exercising roughly two hours a day, with a form of "modern slavery."
On Wednesday, Blatter waded into racism. Oh boy.
"There is no racism," Blatter told
CNN
. "There is maybe – one of the players towards another – he has a word or a gesture which is not the correct one.
"But also the one who is affected by that, he should say that this is a game. We are in a game, and at the end of the game, we shake hands."
Within minutes of the interview, the 75-year-old was backtracking as fast as his chubby calves could handle. He released a statement explaining that
of course
racism exists, and exists within soccer, and would you just look at all the wonderful things FIFA does to combat it?
He – or, more likely, a lackey performing damage control – also posted several 'clarifying' messages on Twitter. An example: "However, - and it is not an excuse - sometimes, in the heat of the moment, things are said and done on the field of play which are wrong." This is akin to the "I can't be racist; I have black friends" argument.
Kick It Out, an organization committed to promoting equality and inclusion in soccer, released a statement about Blatter's remarks. The first line read: "These comments are worryingly out of touch."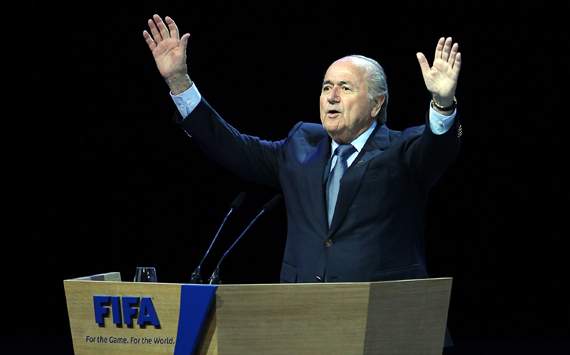 The question regarding racism arose because two of the most popular players in the world's most popular league currently have allegations of racism against them trickling egregiously slowly through the disciplinary channels.
Coincidentally (or conspicuously, depending on how frequently you don tinfoil hats), an hour after Blatter's interview, the English FA released a statement indicating it will charge Liverpool forward Luis Suarez with racism.
"It is alleged that Suarez used abusive and/or insulting words and/or behavior towards Manchester United's Patrice Evra contrary to FA rules," the statement read. "It is further alleged that this included a reference to the ethnic origin and/or color and/or race of Patrice Evra."
Similar to legislative cases, being charged doesn't necessarily mean Suarez is guilty, just that he will now attend a hearing. The incident between John Terry and Anton Ferdinand, which happened a week later, has not progressed to that point yet.
Several aspects bear further inspection here.
1. Of all the places to discuss racism, soccer ranks among the worst. Sport is an alternate universe in which morality is placed aside in favor of the ultimate goal of winning. Fans are tribal, capable of incredible amounts of cognitive dissonance to root for humans such as Terry they, deep down, must know are reprehensible. In the partisan, dichotomous world of sport, nuanced or conducive discussion of something like racism becomes impossible.
Just because Suarez's toes are capable of preternatural things with an inflated sphere of synthetic leather and polyester doesn't mean his brain is incapable of racist thought. But try telling that to a Liverpool fan.
This will not be a learning experience. Barack Obama will not invite everyone involved over to the White House for a beer and a well learned moral lesson. One party will triumph, to the trumpeting delight of that side's fans, and the other will be reviled. (Liverpool demanded Evra be counter-charged if his allegations cannot be proven.) Society will be no better off. In the end, by so prioritizing winning, nobody will win.
Follow ZAC LEE RIGG on

or shoot him an email.
2. Racist (and, likely, homophobic) abuse must happen relatively frequently during soccer games. That these two high-profile incidents came to light was happenstance.
Evra did not want to speak on the record about Suarez repeatedly calling him a word which referred to Evra's race. However, the
Canal Plus
interviewer asked on camera anyways, and, flush with fresh insult and physical exhaustion, Evra spilled.
(Note: Even if the word Suarez used – allegedly the neutral "negrito" – held no malevolent overtones, coupled with other on-field insults or abuse it quickly enters punishable territory.)
As for the Terry case, Queens Park Rangers defender Ferdinand was unaware of any alleged abuse during the run of play, but decided to press charges after a video replay surfaced on YouTube with the Chelsea captain's words easily discernible to lip-readers.
Unlike the monkey grunts or racist chants occasionally heard across stadia in Italy, Spain and Russia, England has largely eliminated terrace racial abuse. What these two incidents indicate, however, is that further work lies in tackling intra-player racism.
3. Racism, though a moral ill, is not in itself punishable; only racist acts are, which makes tolerance difficult to legislate. That adds a sedentary layer of murkiness, though not quite enough to distort how clearly racism is wrong.
If found guilty, Terry and Suarez face hefty fines and multi-game bans (the Bundesliga would implement a six-match ban; Reading's John Mackie was banned for three matches for racial abuse in 2003).
Blatter, of course, is untouchable. He will continue to pay lip service to FIFA's strides to eradicate racism, he'll get his picture snapped with a host of black folks and then he'll lay low until the negative press erodes.
Like racism, Blatter isn't disappearing any time soon.