Ibrahimovic roared back into form just in time to compensate for the loss of Antonio Cassano, replete with filling in for Cassano's autobiography hijinks.
Minutes after winning the scudetto, as Antonio Cassano gave an interview on camera, Zlatan Ibrahimovic stretched out one leg to its full reach and rapped the Italian on the back of the head with his boot. It was pure Ibra: taekwondo kicks, balletic balance, championships, and a heavy dose of assholery – or at least brazen disregard for the egos of others.
The Swedish striker talked about the moment (and Cassano hamming it up with an ice pack later) in a tell-all interview with
La Gazzetta dello Sport
Wednesday. The interview, of course, was to promote his tell-all autobiography entitled "I, Zlatan" (in Italian; the Swedish title is the slight letdown of "I Am Zlatan Ibrahimovic").
Ibra has never hidden his opinions. He solidified his reputation for arrogance at Ajax by mentioning that what others could do with a soccer ball he could do with a tennis ball. But throughout his career, he's backed up cockiness with results, and now has won an incredible eight domestic league titles in a row. Think about it: for nigh on a decade, Ibrahimovic has won the league every single year, in a span stretching across five different teams in three separate countries.
For many of those years, his presence secured silverware seemingly on its own, such as last year when his goals in the first half of the season kept AC Milan afloat as the team gelled under new coach Massimilian Allegri. Or during his spell with Inter when the team played three holding midfielders and only Dejan Stankovic pushed forward to connect with the forwards. Ibrahimovic won the Serie A Footballer of the Year awards in 2008 and 2009.
After one scudetto win under Roberto Mancini, as players filed up to thank the manager, Ibra sauntered up to his coach and said, "You're welcome."
Perhaps the most humorous boast Ibra makes about his time with Inter is an alleged mediator-slash-unifier role he played in conquering racial divides, with the roster splitting naturally into national cliques. "The real challenge was to break up those [expletive] groups. I hated them from day one," Ibra says. Peacemaker is an odd title to wriggle onto his resume, given that Ibra has been caught on film kicking (in the same blackly 'humorous' way he hit Cassano) three teammates since joining Milan and admits to two physical fights in training.
In the first, at Juventus, he punched Jonathan Zebina in the face after a nasty tackle. A poor striker's challenge instigated the second, with Oguchi Onyewu left unamused while still recovering from his patellar tendon tear which ruled him out for nearly a year.
"Zebina went down immediately, not like that animal of an American, who's big like me," Ibra said, before revealing that he broke one of his ribs in the altercation with the American defender, which featured nearly four yards of combined height and took the entire team to break up.
It's no surprise Onyewu was the one shipped out – he had yet to play a league match and Ibra guarantees you the league. Such is the Swede's value that his yearly salary (9 million euros, according to
Gazzetta
) doubles the next highest on Milan (Mathieu Flamini at 4.5 million euros) and is a good 3 million euros more than anyone else in Serie A (Wesley Sneijder and Gianluigi Buffon make 6 million euros each).
With the latest Calciopoli verdict sentencing him to over five years in jail, pending appeal, it's timely to give Luciano Moggi due credit for bringing Ibrahimovic to Italy. Ibra recalls their first meeting in his book.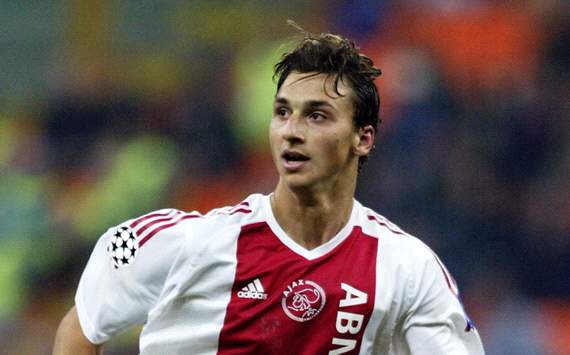 Still with Ajax, they had to meet in secret. Stuck in traffic during the Monaco Grand Prix, Ibra and his agent Mino Raiola got out and ran. Raiola was a touch overweight (Ibra doesn't put it so gently) and was drenched with sweat when they arrived. Moggi, puffing a fat cigar and in an elegant suit, mockingly asked how Raiola's tan was coming along. "You here to give style tips or to talk business?" the agent snapped.
Moggi, as always, was there to talk business. A few months later, Ibrahimovic was passed out in a bathtub, trying to sleep off the shots of vodka David Trezeguet had forced down his gullet after a scudetto triumph.
Raiola may have a few extra pounds, but the same doesn't apply to his client. According to the Milan Lab, Ibra has nearly zero body fat – he's lean and in exceptional shape for having lived three decades. Back from a muscle strain injury, Ibra led Milan to a comprehensive 4-0 win over Catania last weekend, scoring a penalty and setting up two other goals. It served as a clobbering reminder of just how effective Ibra can be when in the mood.
Milan hopes he stays in the mood. Cassano, who has written
two entertaining autobiographies of his own
, will likely miss the rest of the season after a tiny hole in his heart prevented sufficient blood from reaching his brain, causing a collapse and necessitating surgery. Allegri bemoaned losing Cassano during what had been his best season to date.
Milan will add a replacement in January, likely on a loan deal with a clause enabling a permanent move, according to club vice president Adriano Galliani. The names mooted include Didier Drogba, Fabio Quagliarella and Maxi Lopez. The differences in playing styles among that trio shouldn't surprise many – any player brought in will serve to soften the negative publicity toward Silvio Berlusconi, soon to resign as Italian prime minister, first and as a soccer player second. When Allegri first joined, he was handed a roster that included Ibra, Ronaldinho, Robinho and Alexandre Pato and told to make it work.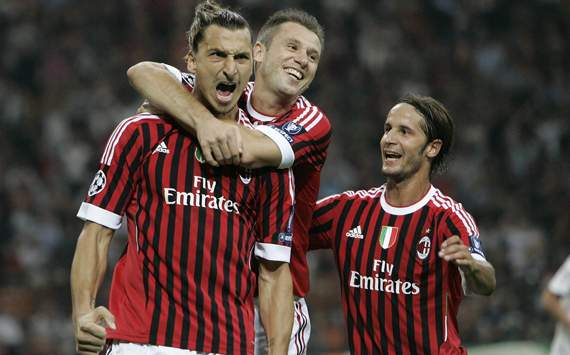 To his credit, Allegri managed, even if he did rely on an agricultural, combine-harvester of a midfield. Whatever new name he finds above the empty locker in the dressing room, Allegri will keep a grin plastered in place and attempt to add to what is now five wins in a row.
One would imagine Berlusconi wants one last crack at Drogba, the object of his lovelorn affection for many years, though the Chelsea striker's age and wage demands could put him off.
Maxi Lopez represents the cheap option, though the Argentine has yet to recapture the form of his first half-season in Serie A with Catania (11 goals in 17 matches). How much of that was a settling issue with his wife, Wanda Nara, still in Argentina starring in an evocative dancing show is unclear. (Humorously, despite her own alleged affair, she hired an old woman named Dorothy to follow Lopez around and make sure he steered clear of any temptations. Recently, during her third pregnancy, she left the show to return to Italy.)
Italian international Quagliarella is the most interesting option. With a similar skill set as newly purchased Mirko Vucinic, Juventus would likely let him leave on loan, and his electric ability on the ball would compliment the more one-paced Ibrahimovic well.
But really, anyone who doesn't begrudge a cleat to the head from a teammate will do.
Follow ZAC LEE RIGG on

or shoot him an email.