The former Manchester United coach who nurtured 'Fergie's Fledglings' has hailed the current crop of Old Trafford youngsters as the best since that celebrated group of players and backed Tom Cleverley to fill the void left by Paul Scholes at United.
Eric Harrison saw the likes of Scholes, Ryan Giggs and David Beckham help United conquer the Premier League and the Champions League after helping them move through the ranks at the club in his role as youth team manager.
And now, as up-and-coming players such as Phil Jones, Chris Smalling and Spanish goalkeeper David De Gea have helped Sir Alex Ferguson's team to make an undefeated start to the season, he has hailed United's rising stars.
"After the so-called class of '92 this is without doubt the best group since then," Harrison told
Goal.com
. "They've got some outstanding players and remind me very much of my team because they are top-class technical players but they are hungry as well. Their work-rate is phenomenal and you have to be like that to cut it at Old Trafford."
Harrison went on to credit the hands-on approach of United's famous managers for the strength of the clubs.
"Sir Alex is totally hands-on and without that the club would not have been as strong as it is at the moment," he said. "Sir Alex is very similar to Sir Matt Busby, who was an amazing man I used to spend as much time as I could with him when he had an office at Old Trafford.
"We used to chat about the Busby Babes and I used to think as youth team coach that we would never get anywhere near them. We got fairly close but I don't think anyone will ever be as good as the Busby Babes. Hopefully this group we have nowadays will get close to the so-called Fergie's Fledglings or surpass them and it will benefit the club immensely because they really have got some supremely talented players."
Several former United players claimed that Scholes would be an impossible act to follow following his retirement when Sir Alex was chasing Inter midfielder Wesley Sneijder, but Harrison believes Cleverley could make up for his absence.
"I think a lot of the likes of Danny Welbeck and Tom Cleverley but Tom is the best in my opinion and that is nothing against Danny because I am sure that both of them will go on to be England regulars," Harrison added. "But Tom for me is without question so good that he is the best young player at United since Paul Scholes, Ryan Giggs and David Beckham came on to the scene.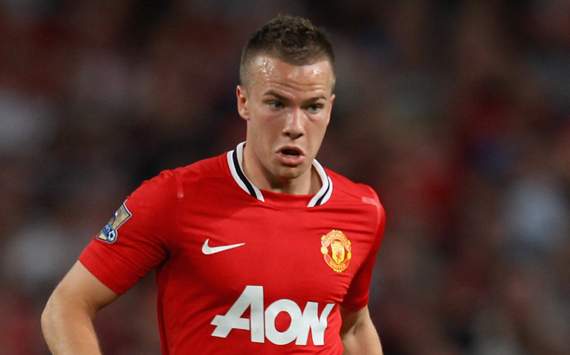 Tom Terrific | Cleverley is rated as highly as Giggs, Scholes and Beckham by Harrison
"He is so special because he is supremely fit, 100 percent committed and he is supremely talented. At the start of the season when he played our passing tempo was so quick it was unbelievable. It was just like it has been in the past. Last season the tempo slowed but with him in the team he speeds it up and so I can't wait to see him back in the team because of those quick, short passes and little one-twos, plus his positional play is great."
Harrison continued his praise of Cleverley by saying that even with the rest of United's young stars, he stands out.
"He is not lightning fast over 100 yards or anything like that but over ten or 15 meters he is lightning," he said. "He has got quick feet and the team look fantastic when he is in the thick of it. I don't want to discredit Danny or the others because there are about half-a-dozen top young players but for me at the moment he is the best.
"And that is saying something because they have some brilliant players like Phil Jones and Chris Smalling who are both talented but they are warriors as well. Phil played at Anfield in a strange position and he told MUTV that he hadn't played in that midfield role since he was at Blackburn. He doesn't care where he plays as long as he plays for Manchester United and it is the same for Smalling. They are gems. They can stay in the team for the next 10 to 15 years."
The former coach also said that he thinks United will be set in goal with David de Gea.
"The goalkeeper showed what he can do at Anfield because he was fantastic," he said. "When he first came he wasn't overawed by the Premier League but he was surprised by the quickness and aggression and a lot of teams have been targeting him aggressively. At first it was a bit traumatic but he will be in the gym bulking himself up and hopefully he will be our goalkeeper for the next decade."
ERIC HARRISON | My top five United youth products ever

"People always talk about Ryan Giggs, Paul Scholes and David Beckham and ask who was the best out of them.
"Even though I worked with them for years it is impossible to pick the best so I bunch them together as a top three because they were all fantastic players with different qualities, plus I have never worked with a group of players who worked as hard as they did. They also made a lot of sacrifices.
"They weren't silly lads - they were straight as a dye. I told them they couldn't go out with their mates drinking and so forth and that they had to isolate themselves and it was all worthwhile."
David Beckham

When David came to the club from London he got really well looked after by the club and the Neville family so he quickly settled down. When he first appeared on the scene he was the same size as Paul Scholes when he was 13 or 14 but then he shot up while Scholesy kept the same physique. From day one you could see his talent because his control and passing was exquisite. Any pass you could think of David Beckham could do it, even as a young boy. He always played with his head up so he could always see a pass. He didn't have searing pace but he had unbelievable stamina. He could run all day. His work-rate was first class and all in all he was and still is a fantastic player.

Paul Scholes

He is the only player I have worked with who has a sat-nav system in his head. Hundreds and hundreds of times I have seen him play and whenever he received a pass from colleagues he was in space and that was the case from day one when we first got him. That looks easy but it is without doubt the biggest problem in English football. Awareness of space and getting into space so it is easy for the colleague on the ball to give you the ball so you are not fighting for the ball. It wasn't something I taught him. That was an instinctive thing that came naturally to him.

Ryan Giggs

He was on the books at Man City but we always knew he was a United supporter and we felt we would get him in the end. The first time I saw him was in the final of the English schools' shield at Old Trafford and I had heard all about him from the scouts. He was playing for Salford boys and he took my breath away. I remember going home that night and saying to my wife, who is not interested in football, that I'd just seen a world-beater. It was the only time I had said to myself and colleagues this kid will be one of the best players the Premier League has ever seen and would be an international. Nothing ever fazed him. He had so much confidence that the bigger the game the better for club and country.


Gary Neville

I helped him along but he made himself into a player. When he was 11, 12, 13 I wasn't sure about him but I never told anyone. When he got to the age of 16 and became an apprentice he was made youth team captain because he had improved so much. He wasn't the best player but he merited the captaincy because of the way he had grafted. When everyone else had gone I used to work with him on simple short passing with both feet and stuff like that. I wanted to get home and have my tea but he couldn't get enough. He would have stayed there all night at The Cliff training ground. He was desperate to make it into the first team.


Nicky Butt

I used to love Bryan Robson and I still think he is one of the best footballers ever but I used to gee up Nicky by telling him to get the old guy out of the team to give him the confidence you need. After Ryan Giggs, who was a year older, he was first to be ready for the first team ahead of the rest of the lads. He went in and never let the side down. People think he was just a hard-tackling, defensive player but he could control and pass the ball as well and didn't get the plaudits he deserved because he was top-class. He is a leader and he could captain any side. He doesn't shout and bawl a lot but leads by example. I have never seen him duck out of a tackle because his commitment was incredible.


Eric Harrison is supporting McDonald's coaching voucher scheme, offering anyone interested or involved in football coaching the chance to apply for one of 500 coaching vouchers each worth £100. Applications are now open at www.thefa.com/yourgame.
How do you stay up to date with football when on the move? With http://m.goal.com – your best source for mobile coverage of the beautiful game.